Spooks galore, and lots of gore! It is that time of year again and Casa Loma is back bringing fright to your autumnal nights. Can anyone do it better than Casa Loma? No.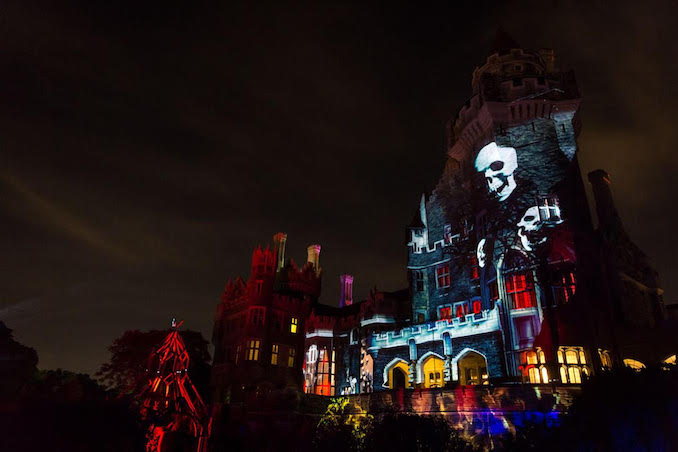 Presented by Captain Morgan, Legends of Horror is suitably legendary. This year's offering brings living wolves, contorting reptiles, skeletons, goblins, ghouls and vampires. You can be sure that all of the things that go bump in the night will be waiting for you around each turn.
Casa Loma is the perfect setting for a house of horrors; it's sweeping grounds are decorated to the nines for a total, all-encompassing experience. I have to say, the outdoor moments were truly my favourite; what is not to love about the backdrop of a lit up castle emerging through the fog? The lighting and projections this year are truly fantastic; what a spectacle!
Speaking of spectacle, the calibre of performance is quite exceptional. You never know when you are going to walk underneath a vampire hanging from a tree, find a living gargoyle eyeing you from the distance, or stumble across a Phantom wooing a ballet dancer in a alcove replete with a sweeping chandelier.  The commitment to their roles is evident and of course, pretty scary! My favourite performance of the night was from a smiling hunchback yielding a pair of scissors. When he caught my eye, he produced further implements of torture, widening his grin. That is the great thing about the actors at Casa Loma; they are more than willing to play with the audience.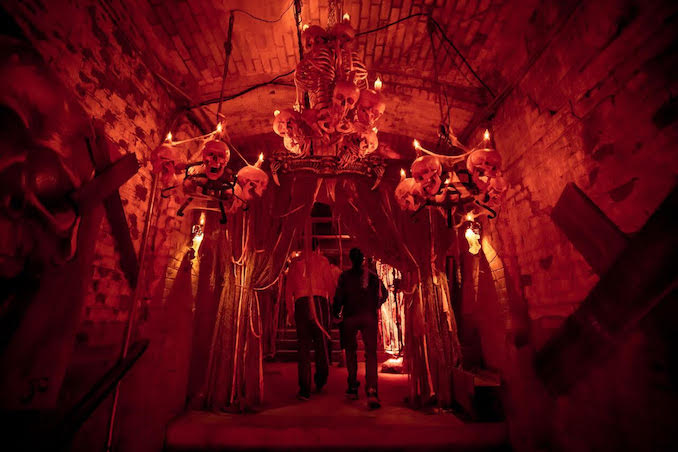 For those of you who love some classic gore as well as a good old-fashioned jump-scare, the Casa Loma animatronics are up to scratch and create some deliciously horrifying scenes. Skeletons in the refrigerator? No problem! Caskets creaking open? You got it! Every moment on your walk through the castle will be a dastardly delight – mark my words!
Should you go if you don't like spooks and horror? No. But this is Halloween! Buck up and prepare for a scare – it's just so much fun!
Legends of Horror runs through October 31st. For tickets and further information, visit their website.