The name says it all. Fuwa Fuwa translates to "fluffy fluffy" in Japanese. It also means "light and airy" and that's exactly how you would describe these perfect and dreamy sweets that have been popping up in the city. My first visit to the Yonge and Eglinton location had me hooked. The latest opening of this Japanese pancake cafe has recently opened at Square One Shopping Centre in Mississauga. Lucky you.
Fuwa Fuwa Japanese Pancakes is nestled in a corner nook just steps across the hall of the mall's Food District — which, by the way, is definitely worth exploring. This small cafe with counter service and a sitting area. The bright yellow and blond wood minimalist interior was a warm welcome on a cold winter's day when we visited. Franchise owner Raji who tells us they had opened the second week of January and now almost three weeks in, they already have repeat and regular customers.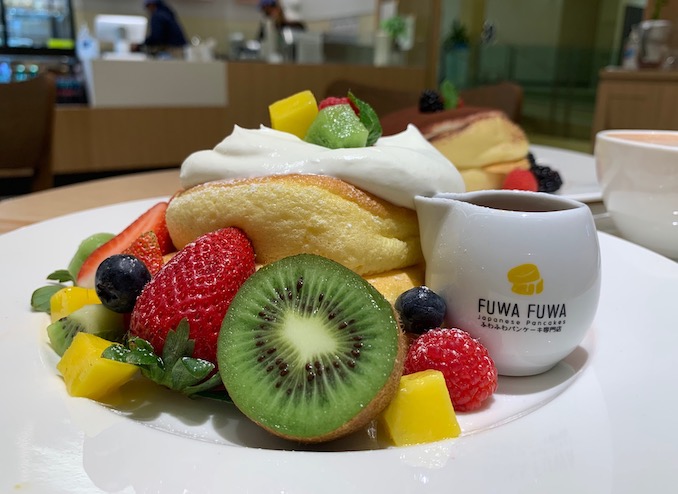 The Japanese souffle pancakes are traditionally served after weddings to symbolize good fortune and bring happiness and now can be enjoyed any time of day for any occasion. But what makes these pancakes so darn good?  The secret is not only in the batter but also in the technique. These Japanese pancakes are lighter, loftier, fluffier with a souffle-like texture. They are also handmade-to-order. A sign at the cash desk lets customers know that the orders will take 20 to 30 minutes and no one seems to mind. Fair warning…and yes, worth it.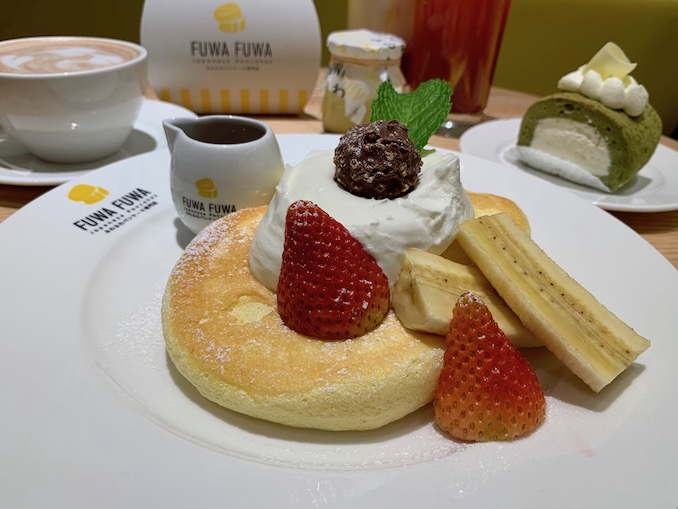 Each dish begins with egg whites whipped to soft peaks, essential to the pancakes light and airy quality. Then, the menu offers up a selection of fresh fruits, Canadian Maple Syrup, house-made sauces and syrups and creams for toppings. The menu offers up a colourful visual and description. Bestsellers at this location so far include the Signature, the Matcha, and the Tiramisu. I'm addicted to the Fruit Forest and the Nutella Banana myself.
Prices for the pancake dishes range from $11 to $16.50. The menu also includes other popular Japanese desserts including slices of pillowy roll cakes, Japanese puddings, and cookies made by a local baker. For drinks, go for the Nutella Latte or the Sesame Latte if you're looking for hot beverages. For cool treats, there are house-made lemonades, sodas (go for the yuzu), and strawberry or mango lattes made with fresh fruit purees (stuff that reminded me of my childhood).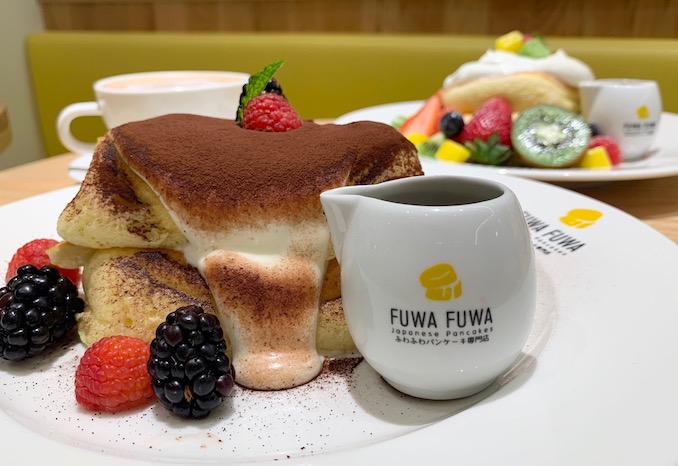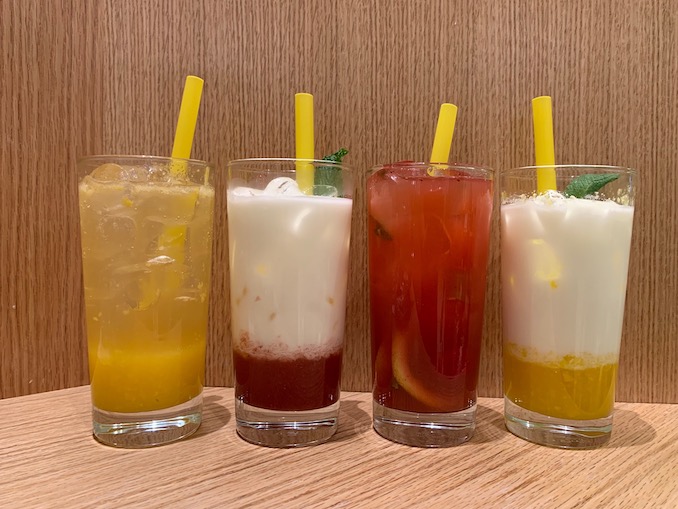 Raji tells us he and his wife had visited the other locations of Fuwa Fuwa Japanese Pancakes and instantly fell in love.  With pure joy in his voice and eyes, he described the texture and the freshness of these pancakes as pure happiness (we know that look). He was also fascinated with the Japanese culture and wanted to bring that sense of appreciation for simplicity and beauty in focusing on doing one thing really well.
Square One Shopping Centre sees 24 million shoppers each year and the food offerings here are a big draw. "Some people will place their order and return," said Raji. "Mornings are steady with customers who will often place their orders, then go do their walking exercises, and return to enjoy their pancakes with their friends."  I get it…and well, #goals.
Fuwa Fuwa Japanese Pancakes, co-owned by Yuka Naka and Benson Lau, has ten other franchise locations poised in the brand's expansion in Ontario and Western Canada.