Gracie is every cat lover's dream. She's a curious and gentle, playful and precious little sweetheart with a kitten's heart. She loves to be snuggled and scratched, brushed and patted and played with. She loves to keep her people company and remind them how much she appreciates them with purrs, head rubs, and lap naps.
Gracie lives for friendship and all the affection that comes with it. She melts when people brush her soft coat and will gently nudge your hand to tell you to keep going. She likes to communicate, but not in an annoying way. A little chirp for the first time visitor, a quick meow for her pal, a purr for anyone who brings out the brush.
Unfortunately, this angel has a URI (upper respiratory infection). Don't worry, it's not as scary as it sounds. We call URIs the "cat common cold". So, sneezing, congestion, coughing, etc. Stuff we've all been through. She's being treated for it right now. If she is adopted before her treatment ends, we will provide her new family with everything they need.
Gracie is a sensitive lady who would appreciate a quiet home where she's given the time she needs to really be herself. She could live with children and even other pets if they both respected her space. She is definitely not the kinda girl who would appreciate being grabbed or picked. She hopes her family will be mindful of this.
Gracie will bring so much warmth, so much tenderness to her new home. With her piercing eyes, beautiful coat, and loving nature, she will melt your heart over and over again. Think you can handle this amount of sweetness?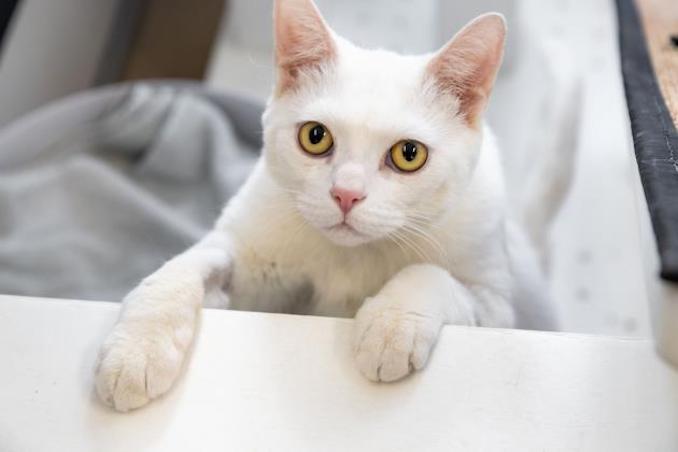 Gracie the Cat
Age: 1 years 2 months
Sex: Female
Size: Small
Colour: White
Spayed/Neutered: Yes
Declawed: No
In order to ensure a smooth and successful adoption, please remember to check all the basic requirements for adopting before coming in to the shelter.
About this column:
Each week we feature animals available for adoption from local shelters in the Toronto area with the hopes that our readers will assist in finding good homes for them. If you, or someone you know, has the resources to take care of one of these animals, please do get in touch with the appropriate shelter via the links provided.