Described as "sickly sweet", singer/songwriter Jadyn Lamb embodies moody electronic pop with a style similar to Lorde and Kate Bush.
Born in Toronto, Canada, beside rattling train tracks and noisy city parks, Jadyn Lamb grew up spirited and loud. Fascinated by music and writing as a child, she quickly fell in love with big stages and crowds. Every summer was spent in a packed bar in Leaside, watching her Father play the guitar and sing songs with his band.
That life-long dedication is paying off and presenting itself, first in the form of Lamb's 2018 debut single "A Day Off," and most recently via the release of singles "Water," "Quiet Zone," "Long Way Home," and now "Bad Sign."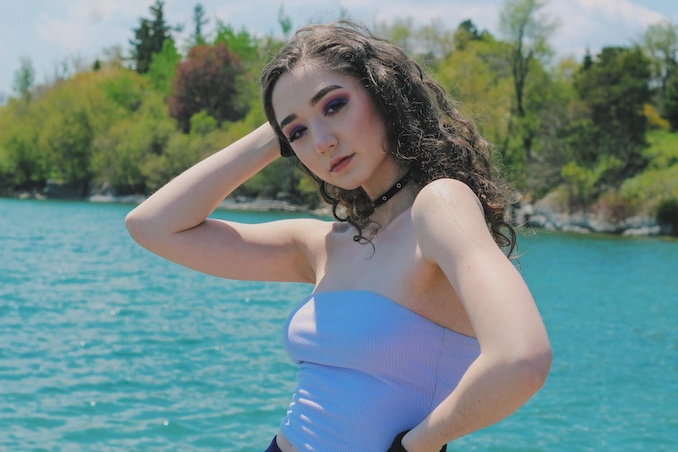 Name: Jadyn Lamb
Genre: Electropop
Founded: 2015
# of Albums: 5 Singles
Latest Release: Bad Sign
Latest Single: Bad Sign
Latest Video: Jadyn Lamb – Bad Sign (Lyric Video)
Favourite Restaurant:
Evviva in Toronto. They saved me from the worst hangover of my life.
Favourite band as a teenager:
Green Day
Favourite band now:
It's a tie between Bon Iver, Dorian Electra, Marina Diamandis, and The 1975.
Guilty Pleasure Song:
Wannabe by the Spice Girls. I was five when I first heard the song, and I've been dancing and singing along ever since.
Live Show Ritual:
On the day of a show, I wake up really early with a lot of nerves. (I'm a bit of a perfectionist.) I'll drink lots of tea, warm up my voice, and dance in front of the mirror. Once I'm at the venue, I push everything out of my mind and focus only on the show. I always bring Lamb Chop, my stuffed animal that accompanies me on stage. After three Vodka Cranberries and a soundcheck, I'm ready to go.
Favourite local artist:
Material City — He's a genius. He's always been there to help me get back on my feet and his dedication to music inspires me every day.
Sneaky Dee's nachos, pasta from Terroni or a superfood salad from Fresh?
Pasta from Terroni all the way. I'm obsessed with pasta.
Queen or College St?
Queen Street! I spent lots of time around Queen St. E for drama and art classes when I was younger. It's home to some great music venues, and the funky shops are an added bonus!
Trinity Bellwoods or High Park, Riverdale or Kew Gardens?
High Park and Kew Gardens! I have a soft spot for nature, and really enjoy going on peaceful walks.
EP or LP?
EP. They're short, sweet, and can be done masterfully. Don't we all love a good teaser?
Early bird or night owl?
EARLY BIRD! GOOD MORNING WORLD!
Road or studio?
Being in a studio puts pressure on me to be perfect, but being on the road isn't always so glamorous. It's hard to choose, but I'll go with the open road! I feel freer to be myself.
Swiss Chalet or Roti?
Roti forever!
Where can we follow you?
Official Site | Instagram | Spotify | Twitter | Facebook
Any shows or albums coming up?
My latest single "Bad Sign" is out now!
Follow me for more new music coming soon!