Weekend brunch has become a ritual in our city. We all know where to get our favourite avocado toast, eggs benedict and that bottomless cup of coffee. But if you're eager to go beyond the hash browns and step into a colourful and exciting culinary world, we highly recommend visiting Kiin. This Northern Thai focused restaurant downtown serves up one of the most exciting brunch menus we've ever come across. And not only that, Executive Chef Nuit and husband Jeff Regular's (Sukhothai, Pai, Sabai Sabai) hospitality is genuinely sweet. They bring you in like family with open arms.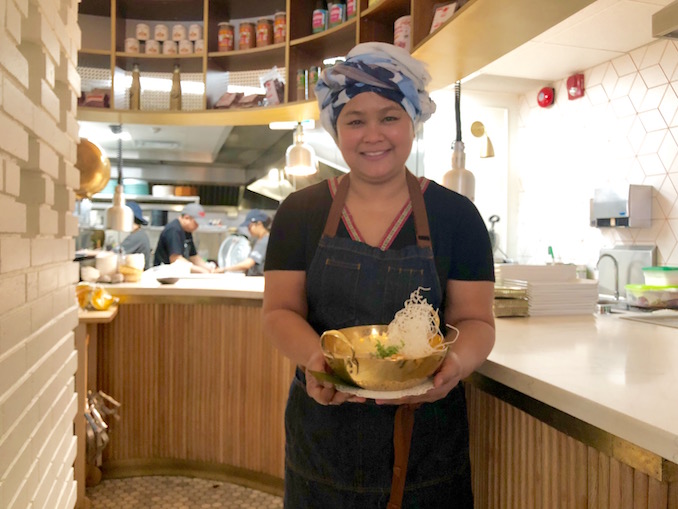 We're all familiar with Thai food and sure we're excited over a good Pad Thai, but here at Kiin, Chef Nuit focuses on royal Thai cuisine where traditional dishes are introduced in unpredictable ways. They've solidified their restaurant's position as go-to for some mouthwatering recipes that has customers drooling at the thought of it. Take for example her Khao Mun Gai – a personal favourite of mine that I always, always order when I'm here. This poached chicken dish accompanied with winter melon soup is pure comfort food. Similar to Hunan or Hainanese chicken rice I grew up with and she tells us it's a dish even her son asks for all the time at any time of day. I'm thrilled it's also on the brunch menu.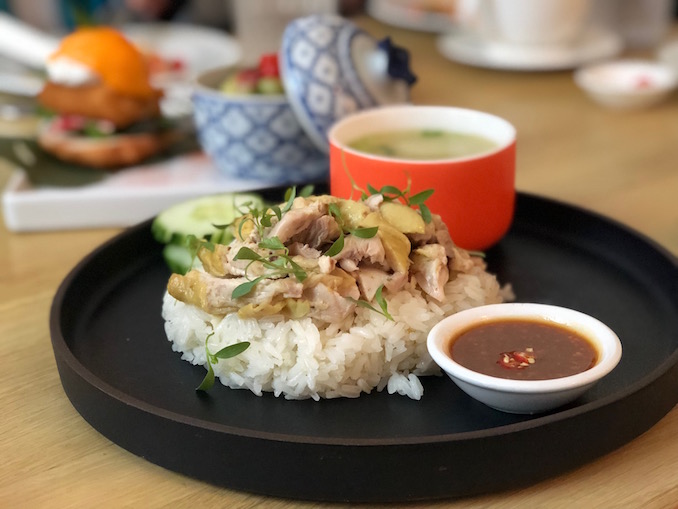 She speaks of each dish on the menu that brings back memories of home. The morsels of personal stories make this menu even more enduring. Coconut Waffles here are reminiscent of those you would get as snacks from the street vendors. Her version here however are made with Jasmine rice flour and loaded with coconut – toasted coconut, coconut sugar and seasonal fruit. Mango, bananas and dragonfruit make for a stunning presentation. She hinted that she's created this dish with a nod to Canadians as well by adding a hint of maple syrup to the coconut cream.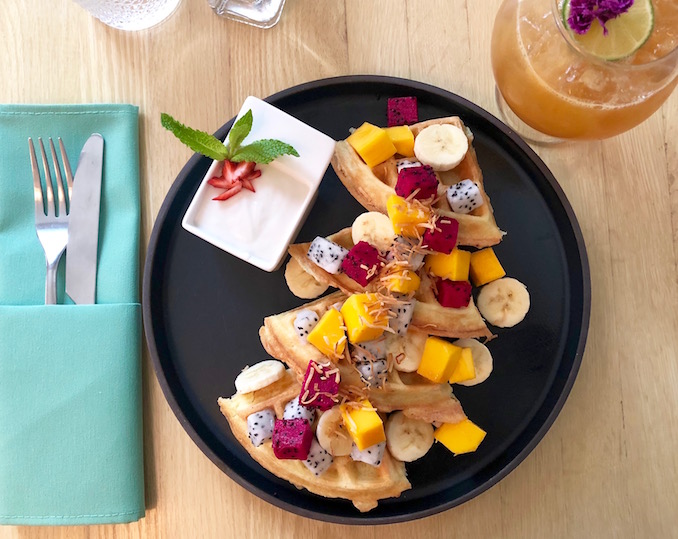 Eggs Benedict explodes in taste and sight. Chef Nuit uses deep fried Basa fish instead of your back-bacon or ham versions found elsewhere. The eggs – yolks so brilliant in orange we had to inquire and it turns out that they are sourced from a local farmer and indeed Chef Nuit selected them for their rich flavour.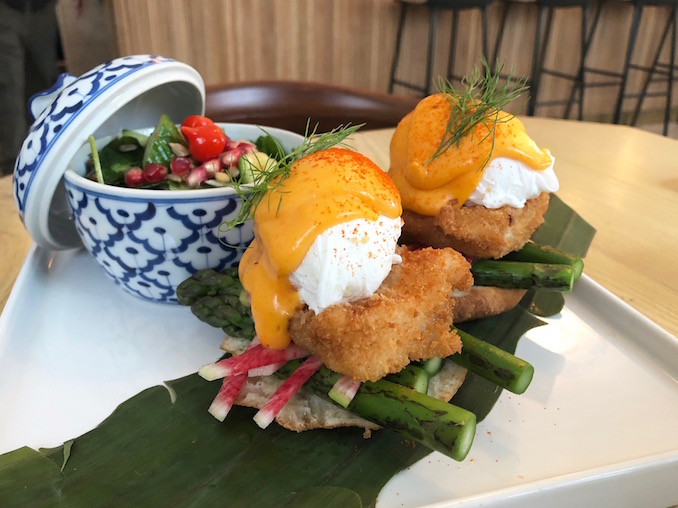 Growing up with congee I was excited to try her Thai take on the comfort thick rice soup. In Cantonese we call it "jook" and in Thai it's similar. Chef Nuit explains that her Thai Rice Congee traditional dish originated from chinese cuisine. Here she layers the flavourful ingredients of chicken, soft boiled egg, thai celery and thai crueller over top the rice soup. Mix it together and you've got another incredible comfort dish.
Chor Ladda is so beautiful. Each rice flour dumpling is filled with peanut, onion, pickled radish and coconut for a lightly savoury and sweet packet that's quickly become a must-order for everyone who visits. Chef Nuit knows her way around dim sum and this version is a pretty showcase of her craft.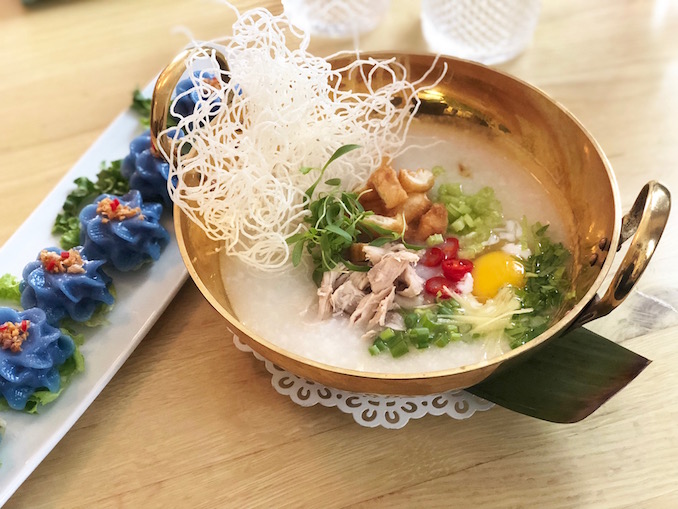 When the Crispy Thai Omelette arrived, Jeff explained it's his all time favourite dish that his wife had made for him many times over. He wanted very much to include this dish on the menu to show a different approach to omelettes. Beautifully presented over a bed of rice with minced chicken and thai basil we can see why!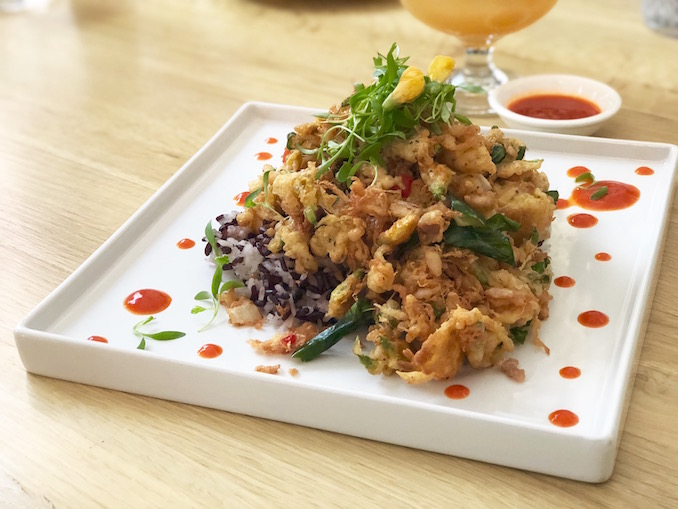 Out of all the dishes, the Kiin Breakfast is probably the one that will satisfy the steak and eggs types who come in after night of revelry. This is the works and you better be hungry! The house made chicken sausage is incredible and grilled steak one two fried eggs  is moist and tender when we tried it. But it doesn't stop there, it also comes with bacon, house salad, thai cruller and tom yum spiced potatoes.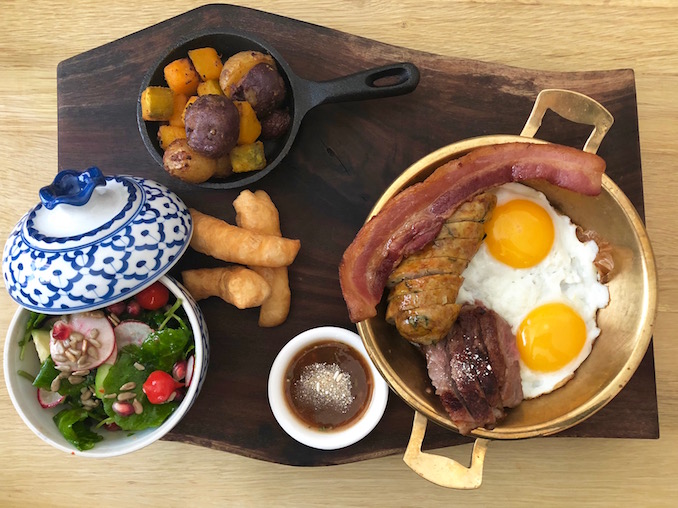 We looked to the Thai Cruller with Pandan Custard as a dish to finish off brunch with a little sweet — and maybe that's more of our routine here of ending with a sweet. Chef Nuit tells us that she often starts with sweet and ends with savoury. Regardless, this dish — we had to have two and I'm pretty sure if no one else was looking, we would have licked the plate clean.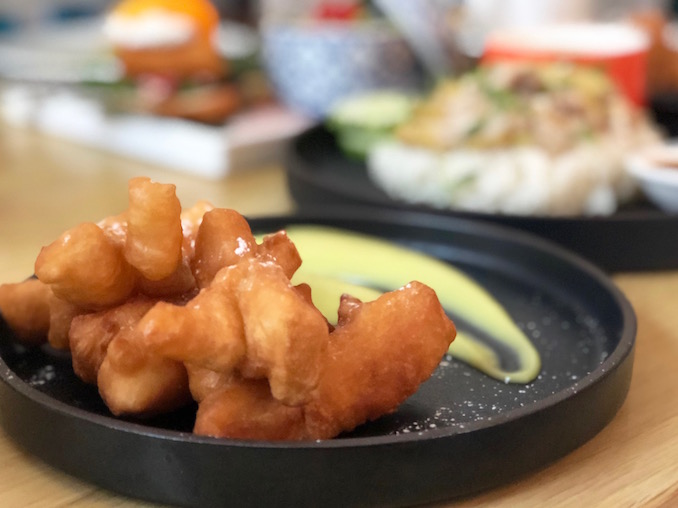 Along side the brunch menu, Kiin offers a cocktail list as well as coffee and teas. Order the Yerba Mate to finish off and to get you out of the food coma. Go hungry. Order everything.
Kiin is located at 326 Adelaide Street West, Toronto. Open for brunch on Saturdays & Sundays from 11 am to 3 pm. Reservations recommended. Visit kiintoronto.com for more details.
*Photo credits: Sonya Davidson