Shaolin kung fu monks on tour for the Toronto premiere of SUTRA, an award-winning collaboration between Internationally renowned choreographer Sidi Larbi Cherkaoui, Turner prize winning British sculptor Antony Gormley and the Shaolin Temple in China. SUTRA is a spectacle of athleticism from 20 Shaolin Temple Buddhist monks, who are not professional dancers. Choreographer Cherkaoui, who has worked with Beyoncé, uses the kung fu skills of the monks and Gormley's stark artwork – 21 man-size wood boxes – to animate a life journey. The show was in Toronto for one night only at the Sony Centre.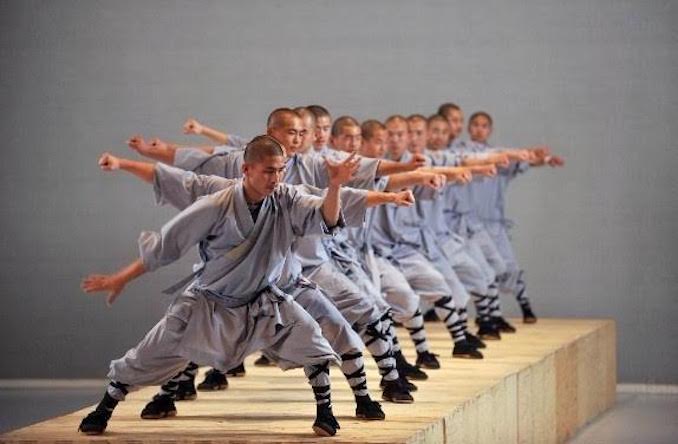 Using Disruption To Connect
SUTRA's abstract storytelling grapples with many big themes; evolution, dictatorship, rebellion, immigration, incarceration, conformity, identity…the hour long performance can feel like you're watching a highlight reel of intense breaking news stories. Gormley's big boxes are used to represent countless objects and ideas; serving as both prop and staging for the 20 monks and performer and dancer Ali Thabet. From beginning to end, the show is a fast paced ballet that reminds you that the pace of life also moves pretty fast. Performer Ali Thabet's character does his best to keep up with the monks as they use their boxes to shape shift through the story. He stands apart from the monks, clearly an outsider. And probably the only figure on stage we can truly identify with.
Thabet is always outside the box, even when he's in a box. And maybe that's the point. Through all of SUTRA's big themes, it tries to connect you with how it feels to be an outsider. The whole show is about representation, connection, and ultimately, unity.
Shaolin: Lifelong Journey  
The warrior monks performing SUTRA are from the Shaolin Temple in China, established in 495AD. The monks follow a strict Buddhist doctrine and kung fu and Tai Chi martial arts are an integral part of their daily regime. In nearly 800 years, there have been over 30 generations of monks. Shaolin kung fu is one of the oldest Chinese martial arts traditions. The monks of the Shaolin Temple regard the perfection of their kung fu warrior skills as their lifelong goal.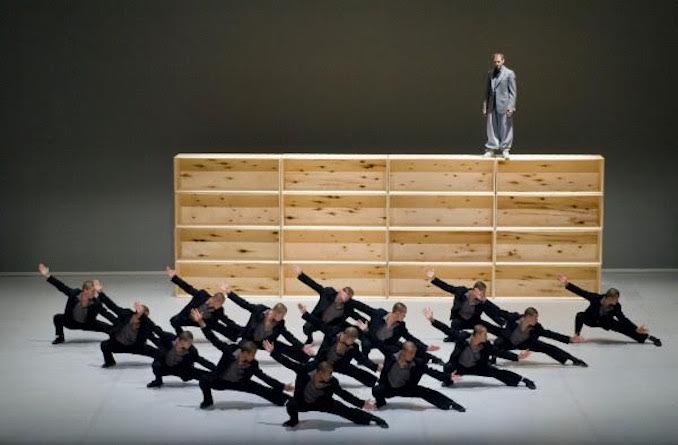 SUTRA originally premiered at London's Sadler's Wells Theatre and has since been seen by more than 200,000 people in 71 cities across 35 countries. The Toronto premiere of SUTRA marks the third and final instalment of the Sony Centre's international Dance Collection for this year. This show is one of four Canadian stops in 2018, including Quebec City, Montreal and Sherbrook.
***
If you enjoy artistic dance performance, here are some upcoming shows you should look into!
May 26, 2018 – Outside Looking In's Annual Dance Performance. Indigenous Youth Dancing to the Music of the 70s!
June 1 & 2, 2018 – Breakin' Convention 2018. The world's biggest festival of hip hop dance theatre returns to the Sony Centre for the Performing Arts. Here is our review from last year!
Fall For Dance North international dance festival is October 2 to 6, 2018. Tickets go on sale June 14th. www.ffdnorth.com
Upcoming Sony Centre shows: http://www.sonycentre.ca/
About Civic Theatres Toronto:
In 2015, Toronto's City Council approved the consolidation of the governance and operations of the St. Lawrence Centre for the Arts, the Sony Centre for the Performing Arts, and Toronto Centre for the Arts into one new organization under the direction of a City appointed board called Civic Theatres Toronto.
SUTRA was performed at the Sony Centre on May 12, 2018, located at 1 Front Street, Toronto.
Sidi Larbi Cherkaoui is a multiple-award winning Belgian dancer and choreographer. Cherkaoui has made over 50 full-fledged choreographic pieces, including Beyoncé's 2017 Grammy Awards performance. Most recently, the two-time Oliver Award-winning choreographer has joined the creative team of the Jagged Little Pill musical, featuring the music of Alanis Morissette's album of the same name. The production will make its world premiere at the American Repertory Theater in Cambridge, Massachusetts in spring 2018.
Sir Antony Gormley is widely acclaimed for his sculptures, installations and public artworks that investigate the relationship of the human body to space. Gormley was awarded the Turner Prize in 1994, the South Bank Prize for Visual Art in 1999, the Bernhard Heiliger Award for Sculpture in 2007, the Obayashi Prize in 2012 and the Praemium Imperiale in 2013. In 1997, he was made an Officer of the British Empire (OBE) and was made a knight in the New Year's Honours list in 2014.
Szymon Brzóska's music for SUTRA crafts a serene score for five musicians, including piano, percussion and strings, which is played live. Brzóska has an established career in creating music for dance.