We've enjoyed a few meals at Colette Grand Cafe downtown and recently learned that the popular French restaurant has expanded to take up space at Holt Renfrew at Yorkdale Shopping Centre. It's a welcomed addition to the fold especially when every sit-down and fast food eatery is packed with hungry spenders and mall fitness enthusiasts (yes, it's a thing). But it's not the only new location, the 180 year old luxury retail announced the new partnership and a total of five Colette Grand Cafes to take over former Holt's Cafe spots including Edmonton, Montreal, Vancouver, and the flagship Toronto store at Bloor Street.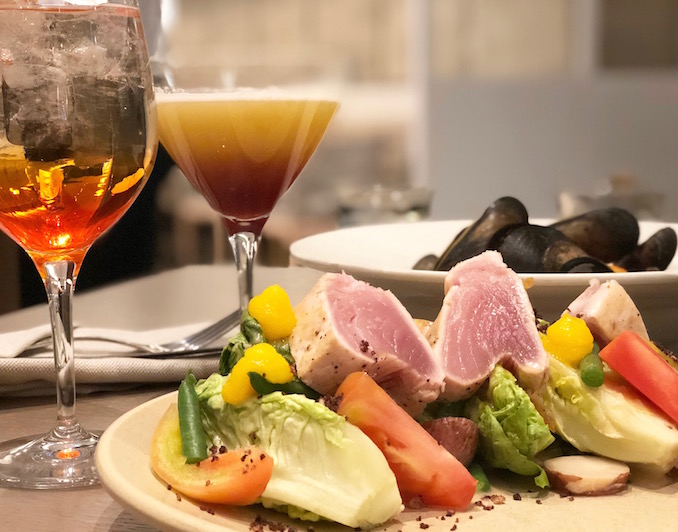 At Yorkdale, the new Colette offers an inviting and relaxed environment on the main floor tucked neatly in the back near the H Project section (worth taking a look-see).  It's a space where you could escape and rest your weary legs from all that walking and the constant buzz of the mall. The feel of the restaurant is sophisticated with warm neutral tones. A few art pieces spotted reflect some of Holt's history in fashion.
The popular French restaurant delivers the same integrity are the original but the menu is concise.  Divided in to six categories, the menu has enough selection without being overwhelming. Appetizer plates to share are perfect for a nibbles with that afternoon break. Small plates are deliciously decent portions — a popular choice is the Beef Tartare that simply melts in your mouth. Salads are noteworthy (that Nicoise was all I needed for lunch) and add ons are available should you feel like something more substantial on the other salads. Sandwiches offers familiar flavours from Mushroom on Toast to Club Turkey Bacon to the Chuck Burger with aged cheddar and smoked bacon. Pasta plates include options from vegetarian to shellfish linguine to flavourful slow cooked veal ragu on cavatelli. Larger plates is where you'll also find French bistro favourites including Steak Frites, Poulet Rosti, and a scrumptious Pacific Cod that won't slow you down when you continue on your shopping mission.
The cocktail list is concise as well. When we saw the list we immediately thought of  Audrey Hepburn or Grace Kelly elegance. Nothing compares to that calibre of class. Here you'll find cocktails such as a French Martini (Vodka, Chambord, Pineapple) or the Lavender Aviation (Gin, Maraschino, Violette Lemon, Lavender) or even an easy-on-the-eyes, and lips, Rossini (Strawberry, Prosecco).
Chef Tyler Shedden is at the helm as Culinary Director overseeing the menu development. No stranger to the restaurant world, his career includes working with Chef Gordon Ramsay at The London when the restaurant earned two Michelin Stars. He's worked with Daniel Boulud in New York and in Toronto at the Four Seasons Hotel. Aside from overseeing Colette kitchens at Holt's, he's also involved with The Chase, The Chase and Oyster, Kasa Moto and Little Fin. Raised in BC and working in the fish and shellfish industry as a youngster makes it no surprise how much he's committed to Ocean-Wise sourcing for his seafood.
Colette Grand Cafe, Yorkdale is open 7 days a week during store hours, brunch on weekends. See what else is on the menu here.