Street artist Colette Miller is known globally for her inspirational wings artwork which have become human sized interactive pieces that we often find people photographing themselves with. She's transformed walls with her painted wings that first started in Los Angeles in 2012, aka the "City of Angels". Today, her wings, collectively part of the Global Angel Wings Project, can also be found in Kenya, Australia, Taiwan, France, Hawaii, Japan, Italy and other places.
This week, Miller unveiled her first set of wings in Canada at the newest Calii Love (First Canadian Place)  location to add to her  roster.
When we had learned she was coming to Toronto to create this new work we were interested in hearing more about the Global Angel Wings Project.  We admitted to Miller that we're drawn to her wings even on our travels, but the opportunity to learn more about her work brought meaning beyond the Instagrammable posts.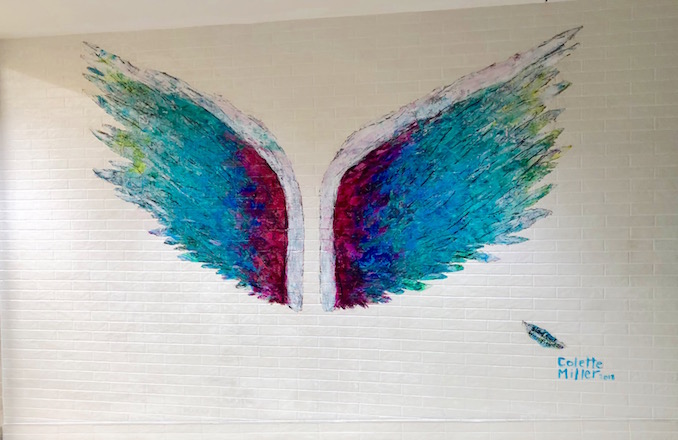 So, why did you start creating these beautiful wings?
It was maybe late 2011 and I was meditating a lot. I thought a lot about life and humanity. As I drove around L.A., the City of Angels, and wings kept coming to my mind. I kept imagining them big on the buildings. I did them with in mind to remind humanity of our true divine self. I believe that even though we are all scarred in some way and have layers of complication, we are still human. But I do think there's a collective similarity in love in everybody regardless of race or religion or wherever you are in the world.
Are there angels amongst us?
Yes, I think so and we can be them. We can be proactive to remind us that we are these angels of this earth even for one moment. Just take a pause. That's what the wings stand for in The Global Wings Project. I've done them in different places around the world.
How do you decide where to put your wings?
Of late it's been commissions and requests. There's been multiple unique collaborations where someone will approach me but I have done them on my own like after the riots in Baltimore and I've done them in Kenya. I did it for the street kids because some of their friends have been murdered. I learned in Kenya they now have a boxing club named after the Wings project.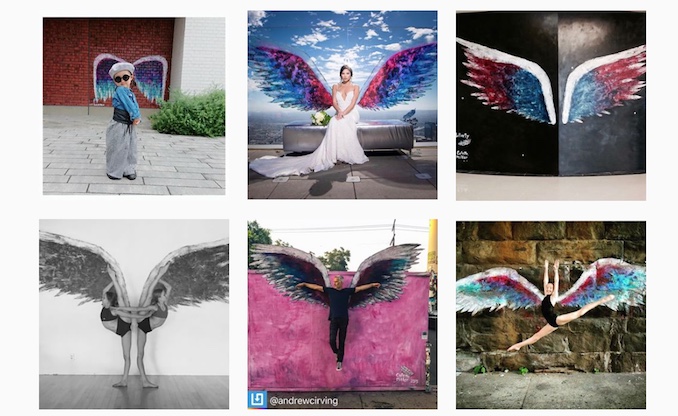 Are there certain colours that you like to work with and are then intentional?
The first few I did, I thought of the higher chakras. The higher colours are in indigos, blues and purples.  I also use gold and white. The colours are suppose to mean self realization and enlightenment. I was drawn aesthetically to those colours but I'm now also drawn to the painting as a whole that will work in balance, making it feel complete.
And what's your process?
I create these by painting and wheat pasting so it's half done in studio and then finished on-site. I've painted a couple straight on but I like the effect with the paper. I do them on multiple types of surfaces like brick, wood, tile, cement or steel. I sand, cut, paint and sculpt them. I usually varnish and seal them. I also UV protect them.
How did this collaboration with Calii Love happen?
They had seen some of my previous work in L.A. and they contacted me and asked me to do these wings at this new location. It's the first pair in Toronto. Actually in Canada!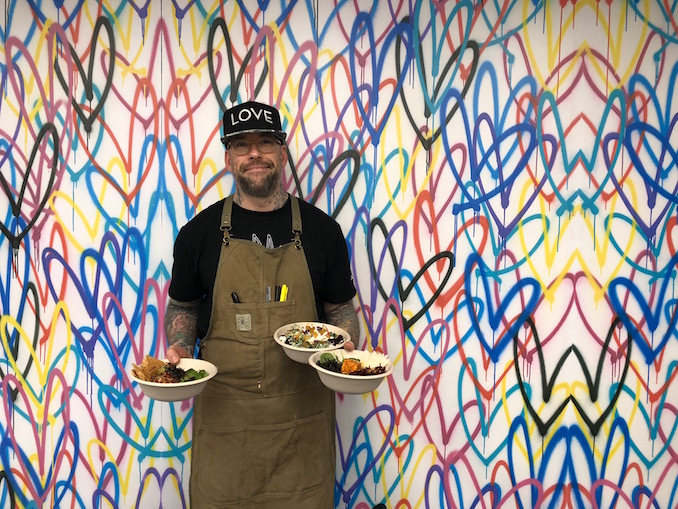 Calii Love at First Canadian Place, it's the third location for the "good vibes only" casual eatery. Known for their whole body wellness, Calii Love brings a new level of consciousness to food using sustainable and fresh organic ingredients daily.
On board is new lead Chef Michael Parubocki (Planta, Momofuku, Kasa Moto, and Truffles Four Seasons). He's brought some additions to the menu that offers on-the-go professionals in the area with even more healthier options while keeping energy and focus in mind. "This menu is designed for people to not only eat healthy but also to feel the feelings defined on the menu itself. In a world filled with negativity, we want to create a positive culture and love movement," said Dan Gunam, co-founder of Calii Love.
A lot of the menu additions takes inspiration from Chef Michael's experience in the kitchen and infusing it to the existing menu. Also keeping it light and balanced playing on a variety of elements of texture and taste bringing the best of each ingredient and how they work with others.
This new location's larger open kitchen concept will also include on-site food classes and workshops.
The menu itself still continues to offer their much loved smoothie and poke bowls. Tip: be sure to order a cup of their comforting bone broth too! Here are  a few bowls we also tried at the new location…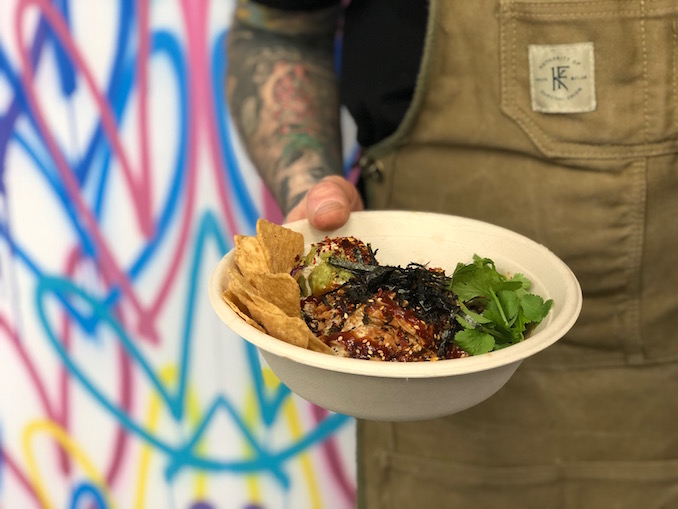 The Empowered Signature Bowl: baked salmon, spiralled beetroot, warm quinoa, black rice, asian pear, Sriracha, roasted peanuts and a soy lime vinaigrette. Filling and delicious!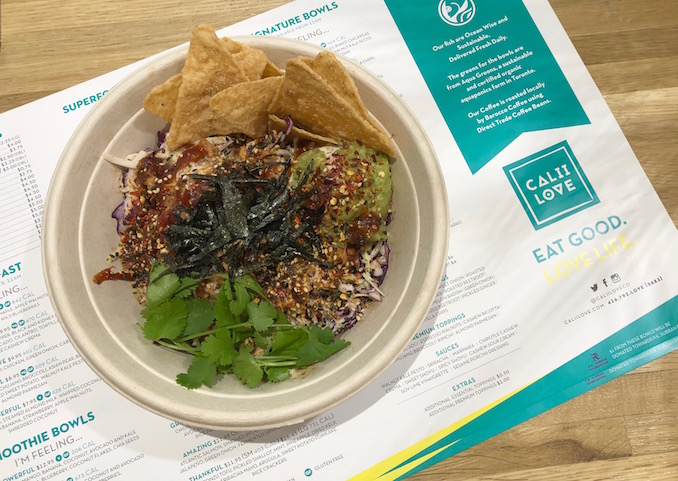 The Adventurous Signature Bowl:  bbq jackfruit, smashed avocado, lime jicama, cabbage slaw, sesame porcini dressing, lentil chicharron. It tastes like pulled pork & slaw but it's all vegan!
The Strong Signature Bowl: raw rainbow carrots, toasted farro, crumbled feta, roasted beetroot, toasted sunflower seeds, golden raisins in a Zuzu yogurt dressing. It hits a lot of marks with sweet, salty, light texture, crunchy, soft, raw, and cooked.
If you would like to learn more about Colette Miller's Global Angel Wings Project and where else in the world you can find them visit her website colettemiller.com
To learn more about Calii Love visit their website at caliilove.com