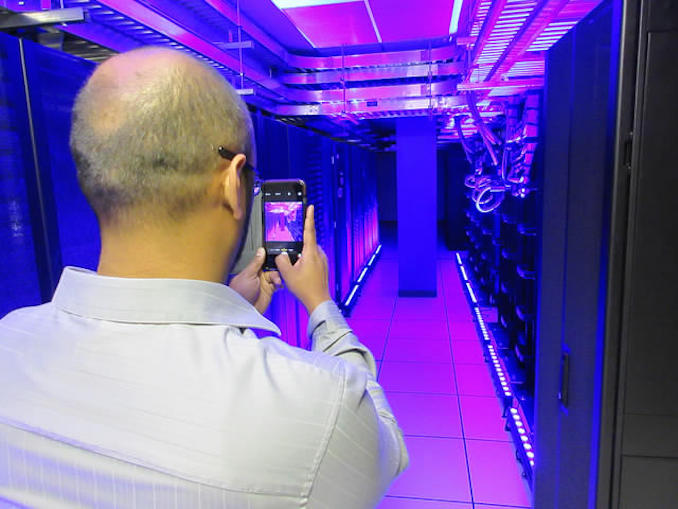 There's a new cloud in Toronto. On Thursday, May 14th, 2015 TeraGo Networks Cloud Services dept hosted a Grand Opening exhibition to debut their new 18,000 square foot data centre.
The nebulous concept of 'The Cloud' has gotten a lot more concrete these days as real systems are saving Canadian businesses time and money. Over the last decade these services have evolved from catchy industry buzzwords to essential business solutions. Today more than one third of all data created either lives on, or was passed through the cloud. Because utilizing this cost saving technology allows businesses to reduce operational costs while increasing their overall efficiency, more and more firms are making the switch to 3rd party data warehouse providers. As data volumes continue to increase, having the ability to manage and safely transmit information becomes a critical part of the Canadian economy.
The giant purpose-built facility on display was just recently acquired by TeraGo Networks. As a point of pride, the tour guides mentioned that the structure was originally designed and built by Blackberry. Because it was tailor made specifically for the business of hosting data online, it offers many advantages to existing structures, which in most cases were retrofitted to the task. In this respect the TeraGo Networks #WhereDataLives event on May 14th was engineered to showcase a state-of-the-art facility and highlight its advantages to businesses seeking superior data management. Technology geeks can get more of the details and see original pictures taken inside the data center on Backbone Magazine.
Deb Lewis of CityEvents in Toronto put the show together very efficiently by hiring the best people to execute a simple, slightly purple vision. The event started at 4pm as IT executives entered the well decorated office reception area, lit with purple coloured led sconces and generously dressed with tropical plants. After they found the bar and received free beverages, these guests were offered a multitude of delicious snacks carried about by The Food Dudes. At four thirty pm over a hundred people mingled about in front of two over sized projection screens and tweeted messages to friends on the Twitter Wall provided by Surround Internet Marketing company.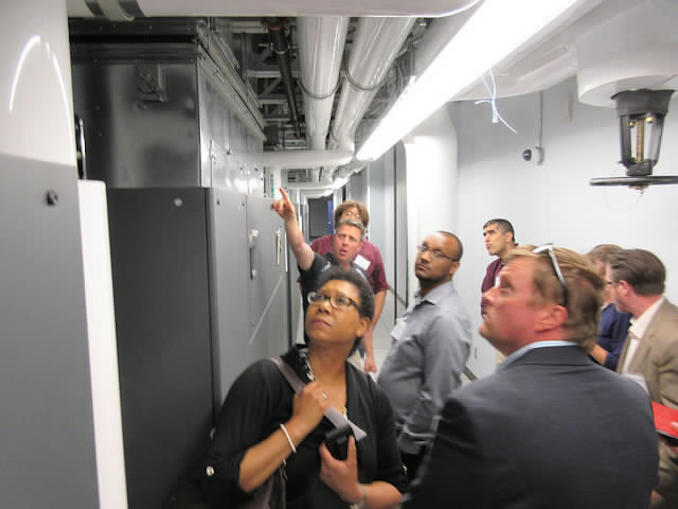 May 14th Open House tour offered the public a chance to inspect every single room in this otherwise forbidden space.  All attendees were shown a fully functioning data center from the external power station right up to the cabinet room.  TeraGo owns all its own national infrastructure and data centre facilities.  Their unique suite of solutions ensures data is transported and stored with no risk of compromise or loss between the client company's premises and their own data centres. This can include fixed wireless technology and other Star Trek like futuristic systems they may use to make their best in class premium service offerings.
Outside the glass and metal box building, there's a white concrete shed stuffed full of generators, sitting idle.  Here are ten 600 kVa diesel powered units which can be running at maximum capacity (4.8 MW total power total) in less than two minutes. The facility has state-of-the-art UPS or Uninterrupted Power Supply technology which provides high density, true double-conversion on-line power protection for servers, voice / data networks. The greener aspects of this new data center were recently highlighted highlighted on Greenmoxie: Green Clouds in Canada.
Are they worried about a data terrorism? The facility is well protected from cyber-thieves with myriad threat assessment protocols and filters, and its well guarded from physical human thieves with uniformed guards. Under normal circumstances the in-house security systems demand visitors use multi-factor access authentication. TeraGo offers clients 24/7 video monitoring and manned security, and 24/7 monitoring by their Network Operations Centre. Plus there are trained security guards patrolling the site, at the complex's main entrance, and in the loading bays.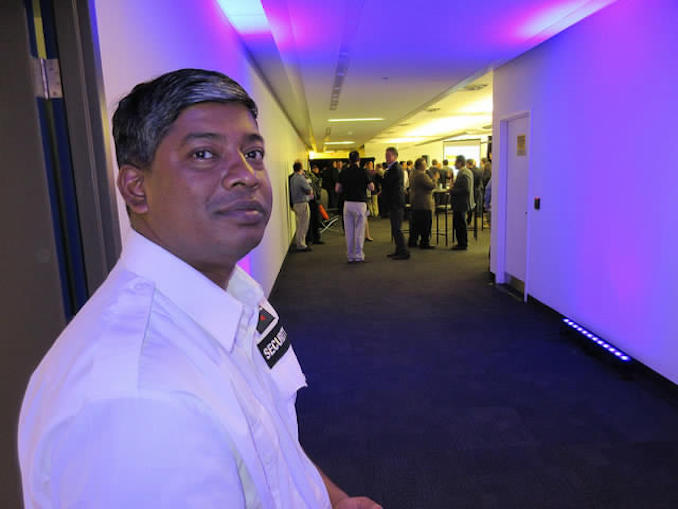 The number one obligation for any modern cloud storage provider is to ensure all client data is stored in the right environment. The cabinet room in this building was specially constructed with 30" raised floor to allow power and facilitate perfect ventilation in the room.  In-row cross connects with engineered cable plant to all cabinets in place, while the in-row Remote Power Panels (RPPs) allow for more efficient power monitoring and distribution. LED back lighting is also present in each cabinet.
Redundancy is a big word inside data centres. In this case it means every cabinet in the server room includes both A and B power that can support up to 42 rack units each. The railings are depth adjustable, allowing tenants to customize the space needed for their equipment. TeraGo Network's new Mississauga data center is a Tier 3 capable facility equipped with 2N power, cooling and connectivity infrastructure, to provide very high levels of reliability. Should there ever be a fire in the data center, a FM-200 fire suppression system would be activated which includes Very Early Smoke Detection Apparatus (VESDA) and remote monitoring software and protocols that are continuously improving.
TeraGo Networks builds and maintains carrier-neutral facilities all across Canada. The new Mississauga colocation facility has a fully-redundant diverse fibre core fed from multiple providers. In addition to being fully SSAE16 Compliant they also offer support for a PCI Compliant environment, and standard rack PDUs or custom power circuits are also available.
Stewart Lyons Gave The Opening Speech
Stewart Lyons is the President and CEO of TeraGo Networks and described the evolution of the digital services sector and how TeraGo itself is steadily growing larger by offering incentives and mutually beneficial relationships, and by offering attractive solutions with superior service to enterprise. He referenced TeraGo's acquisition of Rackforce Networks in March 2015, commenting on how RackForce was formerly Canada's largest cloud service provider, and is now again part of the largest outfit in the nation.
One lucky attendee won a new Apple iPad! After his stirring introduction Stewart Lyons pulled a business card out of a hat, and a well known IT manager at a client company won the prize. She accepted the gift at the front of the room to great applause. Below is a photo of Toronto corporate events planner Deb Lewis with the talent, the star of this particular show, Philbert Shih.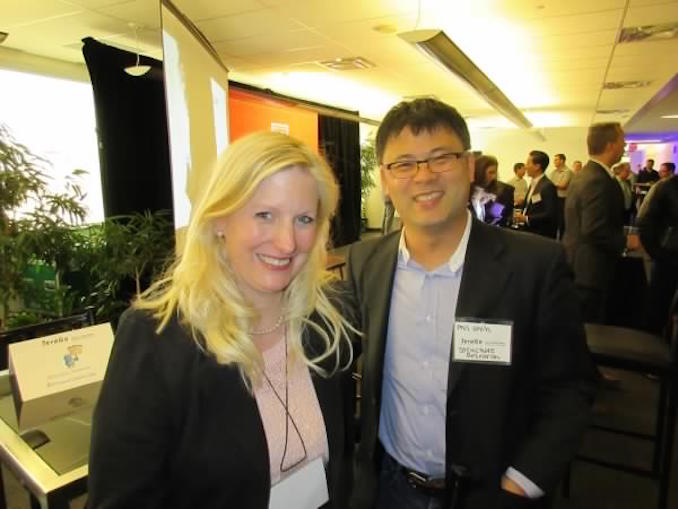 Philbert Shih Spoke About Cloud Service Providers in Canada
Phil Shih is the Founder and Managing Director of Structure Research, and is a frequent contributor to technology magazines.  As such he's built a big following on Twitter @phils88888 from which he frequently lectures telecommunications corporations and other Fortune 500 firms on how to build better data centers. Fortunately he didn't do that here. On this occasion he outlined our nation's cloud service industry as it exists today, and gave some insights into its growth in North America and in emerging markets including China, South America and Africa.
Halfway through his twenty minute speech Phil got some laughs when he showed a hype graph by Gartner Research which shows where and how 'the hype' around the cloud meets the actual business reality. He also harvested smiles and chuckles from the audience when he was describing the reasons why so many businesses finally migrate to the cloud after delaying the transition for a decade. He recreated some of the typical conversations he's heard in boardrooms over the years as he explained how the increasingly complicated logistics of maintaining equipment and staff in the 'server room' distract businesses from their core goods and services offerings.
Today TeraGo Networks has approx 4,100 business customers and growing in 46 major markets across Canada including Toronto, Montreal, Calgary, Edmonton, Vancouver and Winnipeg. TeraGo Networks is a Competitive Local Exchange Carrier (CLEC) and was selected as one of Canada's Top Small and Medium Employers for 2015.