The stars were out in full force once again for the 43rd edition of the Toronto International Film Festival. We had an incredible opportunity to attend the very intimate "Coffee with Creators" sessions for Max Minghella's directorial debut of the pop culture film TEEN SPIRIT. In attendance included Elle Fanning, Zlatko Buric, Clara Rugaard, director, writer and screenplay Max Minghella, producer Fred Berger, and cinematographer Autumn Durald-Arkpaw.
The film is about dreaming big and perseverance. Violet (Elle Fanning) is a shy teenager who dreams of pop stardom as an escape from her small town life with the help from an unlikely mentor. She enters an international singing competition that tests her talent, ambition and integrity.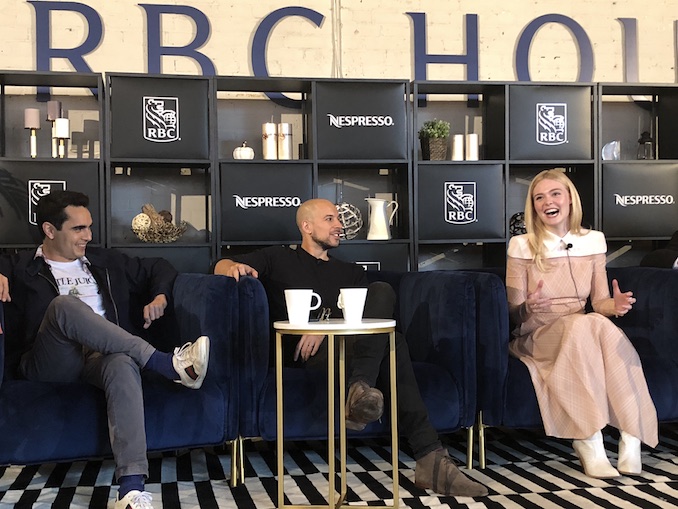 During this fun coffee session with the cast, we had a chance to learn more about the making of this film…
Max Minghella was inspired by his love for pop culture and music when he decided he wanted to write and direct this musical film. "The movie is shamelessly selfish. It's infused with my love for pop music and I love stories about different cultures." says Minghella. "Most of all I love the story about the relationship between these two people against a backdrop of a big singing contest."
For his directorial debut, why this story and how did he decide the setting to be in a small European town? Minghella explained that his father, British film director, playwright and screenwriter, Anthony Minghella (The English Patient, The Talented Mr. Ripley, The Reader) grew up in Ryde on the Isle of Wight, a small town so it was a nod to him.  He says inspiration came from his  immigrant upbringing as we later found out about his Italian roots. His mother, Carolyn Choa, a dancer and choreographer, moved to England from Hong Kong, was also credited for giving inspiration especially for the sense of  search of solace amidst feeling displaced.
Elle Fanning plays the lead character  of an aspiring singer. In real life, Fanning says she's always thought of musicians as the real celebrities. When asked how she prepared for her role as Violet, Fanning credited Jack Antonoff and Katy Perry's documentary Part of Me as her inspiration.
Fanning also sayid she had to listen to herself sing in preparation and rehearsals. "There are a lot of technicalities to it so I was forced to listen to all my mistakes," she laughed. But she was cautious that her role was  a growing performer. Each song was meant to be a gradual lead up to a confident singer. She explain that even though that was the character, she herself, was also growing the same way that Violet was.
Was singing something she's wanted to do? Yes! Fanning tells us it's been a dream, or more fantasy, of hers to be on stage and singing in front of an audience. "I think most people have this dream even if they can't sing," says Fanning. "We actually had an audience, but wait…I guess we paid them to listen to me sing!" she laughs. When asked about her secret karaoke song of choice, she mentioned it would be "No One" by Alicia Keys.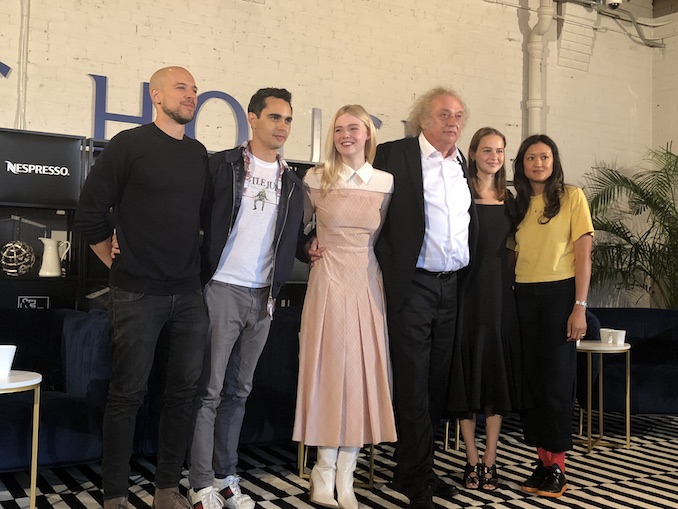 How did they pick the songs for this film? Minghella explained how they were very precise in how the songs fit into visioned the film's story line. He explains that he's obsessed with editing and had a sense which parts of every song and chorus would fit into the structure of the film. "Just like a mixtape you don't want the soundtrack to feel abrupt or erratic. Every song drives the narrative forward." He also said the selected the songs had to be timeless so even in five years the audience would still enjoy the songs. However, he did admit to selfishly including one of his favourite Ariana Grande songs in the film.
Producer Fred Berger, ( La La Land), says making a musical movie is like making three movies on top of each other. He explains it's like prepping an entire movie from head to toe.  They have to prep the music by pairing, prepping the people, rehearsing and they have to know the music before they even start shooting. Then there's sometimes the dance component which is another layer.
Minghella is recognized for being in front of the camera with his character Nick Blaine on The Handmaid's Tale. He was also in the film The Social Network that portrayed the founding of Facebook. Now that he's had a taste of being behind the camera, will Minghella pursue more directing roles? He said he definitely wouldn't rule that out. "This movie is so personal and I'm so proud of it. I hope I get to continue and do more."
What did it mean for Minghella to premiere his film at TIFF? He told us that he's been living here for three years filming The Handmaid's Tale, he felt it was really important to open the film here. "It's not just a lovely audience but I think here, they embrace international stories about people from different places in the world as well as female driven stories. What seems to still be hurdles will hopefully soon see more change and be embraced."
Coffee with Creators supports the future of film and shines the spotlight on the creators who are driving it forward. Nespresso, who just joined as the Official Coffee Sponsor of Toronto International Film Festival is a long-standing sponsor of film festivals globally including Cannes, Berlin and TriBeCa. RBC has been a Proud Sponsor Toronto International Film Festival for 10 years. Together they co-hosted this series exclusive to invited media only in partnership with Deadline Hollywood.
We thank them for inviting us to this and other Coffee with Creators sessions during TIFF 2018.