Meet Miro, the charming feline with a heart that's slowly opening up. This sweet kitty may start off a bit nervous, but he's making remarkable strides in the comfort department. Miro's love for catnip and treats is undeniable – they're the key to his heart.
During a recent visit, Miro surprised everyone by coming out into the open, responding to the simple gesture of finger rubbing with an eagerness for pets. He spent quality time head-bopping, rolling around, and leaning in for more affection. Although he eventually retreated to his cat tree during a work session, he couldn't resist the allure of a squeeze treat and more pets.
Playtime might not be at the top of Miro's list, but he's a pro when it comes to seeking out pets. During the visit, he actively approached for attention, even looking for treats before they were offered. Miro's sociable nature shone as he pushed into petting immediately and rolled around, hinting at his desire for belly pets (even if they were resisted).
After a satisfying meal, Miro's playful side emerged, especially with a peacock feather stealing the spotlight. The joy continued as he indulged in churu treats and graciously accepted head and chin scratches.
While Miro may dabble in laser pointer fun, his true bliss lies in the warmth of human affection. If you're looking for a companion who craves pets, adores treats, and is on the path to overcoming initial shyness, Miro might just be the perfect addition to your home. Witness the transformation and share your heart with this delightful cat!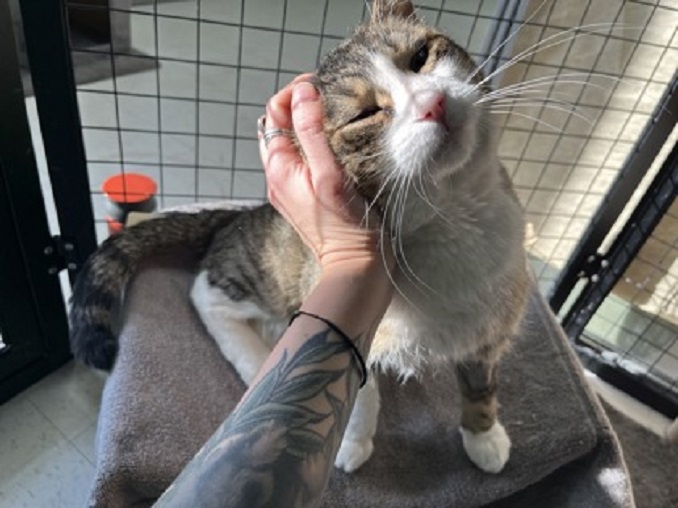 Miro
Breed: Domestic Shorthair, Mix
Age: 4 Years
Sex: Male
Size: L
Colour: Brown / White
Spayed/Neutered: Yes
Declawed: No
For Toronto Humane Society's complete adoption process, please click here to learn more about how you can make this companion, a forever friend!
About this column:
Each week we feature animals available for adoption from local shelters in the Toronto area with the hopes that our readers will assist in finding good homes for them. If you, or someone you know, has the resources to take care of one of these animals, please do get in touch with the appropriate shelter via the links provided.