When I became a "dog mom" it opened up a whole other world. Suddenly, there was everything for dogs. So much that Harley and I were even invited to The Morning Show on Global one year for segment to showcase amazing pet gifts for the holidays. Then, came Santa visits that quickly became a big deal across the city!
Designated places, dates, and times are now being offered where you can bring your pets, to meet Santa and get your photos done too. Some are visits in beautifully designed photography-like studio spaces and others are in-store or malls. There are also special events. Be sure to check their sites for details!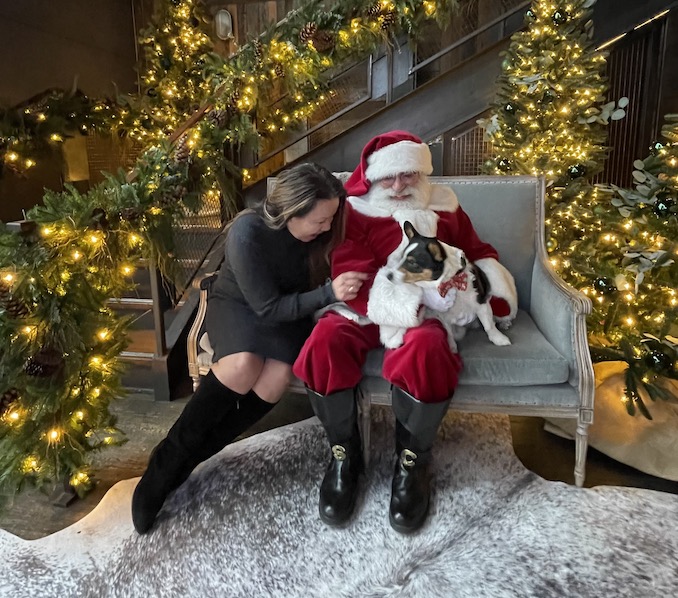 Some Tips:
Bring a few treats that your pet loves to keep their attention.
Bring your water. Not all places will have a water station.
Give them plenty of exercise before a visit for a calmer visit.
Dress up your pet if you like but remember it can get warm indoors for them.
Keep your dog on leash and in control at all times out of respect for everyone.
Not all mall Santas are pet-friendly so check before heading out for specific locations.
If your dog is reactive in public, around other dogs, or even Santa, better to not risk going. Most mall Santas are not trained to handle pets so keep that in mind.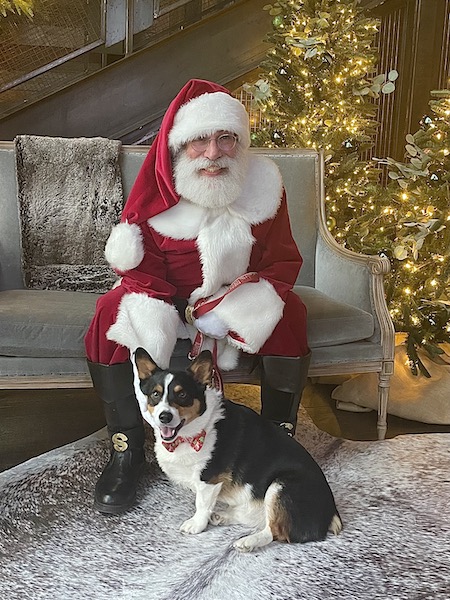 Here's a list of this year's places to bring your pet…
Pet Studio at Yorkdale Shopping Centre: By far the most beautiful dedicated space for photos with Santa. In the past there have been also mini sets where you can take even more photos aside from the main one with Santa himself. Book ahead online. Photo packages are available but FYI the photos have been taken "photo booth" style so you can have prints done while you wait. In addition to the photo packages, you can take your own photos with your devices. This is a popular one so be sure to book a time in advance online. Time slots ensure that the space isn't overwhelmed with other dogs. So, please respect that. Tip: try and go during the weekdays. Note entrance to the designated studio is from the outside North Entrance.
Santa Paws at the Holiday Market Sip 'N' Shop at the Kimpton Saint George Hotel: December 3, pet friendly Santa photos available from 12 pm to 2 pm. Another beautiful setup is at this luxe location within this holiday market. While you're there discover local brands to find the perfect gifts fr friends and family. Free admission. But reserve your spot here.
Planet Santa at Scarborough Town Centre: Bring your beloved furry companions to Centre Court on Wednesday evenings for a special photo session with Santa Claus. All cats and dogs and their adorable pawrents are warmly welcomed on Wednesday evenings! Pet friendly dates: November 15, 22, 29 & December 6 from 7:00 PM – 9:00 PM. Book online ahead of time. *See site for exact entry and rules.
Howliday Pop Up at The Well: (Front & Spadina), lower level unit 05) This dog-friendly holiday event for dog lovers created by PuppySphere happens each weekend from November 17 to December 31st (Fridays to Sundays). Includes dog friendly photos with Santa himself. There will also be activities for non-dog owners (ie. cuddles with puppies). More details at doggos.ca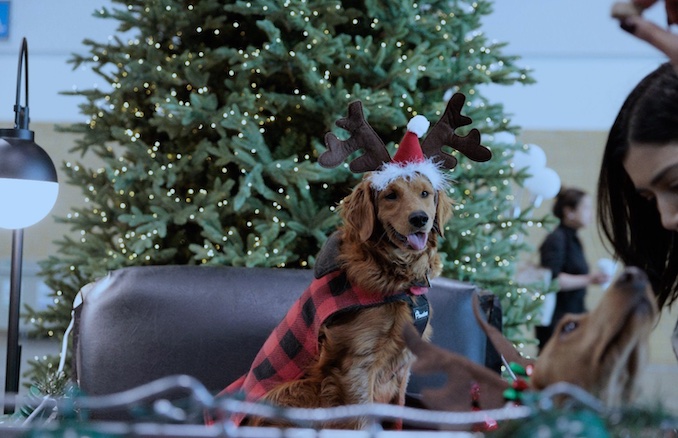 Save Our Scruff x Black Lab Brewery: 818 Eastern Avenue. November 26, 11 am to 4 pm. Bring your adorable pets for their photos with Santa in support of this reputable local rescue.
Coca-Cola Holiday Caravan: November 22 to 27.  Coming to Toronto with 6 stop in the city and GTA. Meet and greet and free holiday photo with Santa for everyone (yes, including pets) and complimentary beverage. Downtown stops include CN Tower, Ripley's Aquarium (Nov. 24, 4pm to 10 pm), and Scotiabank Arena (Nov. 27 5pm to 8 pm). Other stops and details here.
Toronto Christmas Pet Show: The International Centre. November 18 & 19. The ultimate pet friendly family event happens again! Dedicated to all things for pet owners and pet lovers. Santa will be on site Saturday and Sunday. Photo opportunities will be available with a portion of the photo costs going to a local pet rehoming group. Tickets available here. 
Ren's Pets Santa Claus Photos: Various locations. Walk-in available with a donation to local charities. Visit individual stores to find out date and times.
Petsmart Photos with Santa: these happen conveniently across the city at Petsmart locations. Check individual store Santa dates/times in December. Reserve a time. You can take photos with your own device too.
Pet Valu visits with Santa: various locations. Meet the jolly red guy himself at this pet friendly visit for your photos. Some visits will also have a charity component. Check individual stores for details, dates and times.
Dufferin Mall Pet Photos with Santa: Step into a whimsical world inspired by timeless storybooks, featuring our oversized book and a life-sized selfie installation.The annual visit with Santa happens at this popular mall on the following days: Sundays, November 26th, December 3rd and December 10th, 6:30pm – 8:30pm.