Chopped Canada winner, former magazine food editor and once the private chef to Deadmau5, Chef Paul Lillakas, is all about "For the Fun of Food".
This year, Lillakas has partnered with all-Canadian pork specialist duBreton to develop recipes that will take your appetizers to the next level this holiday season.
One of those recipes is this one for Seared Scallops with Bacon Crumb and Dill – Scallops and bacon are a delicious duo, and here, fresh dill is added for a vibrant burst of flavour.
Try it at home!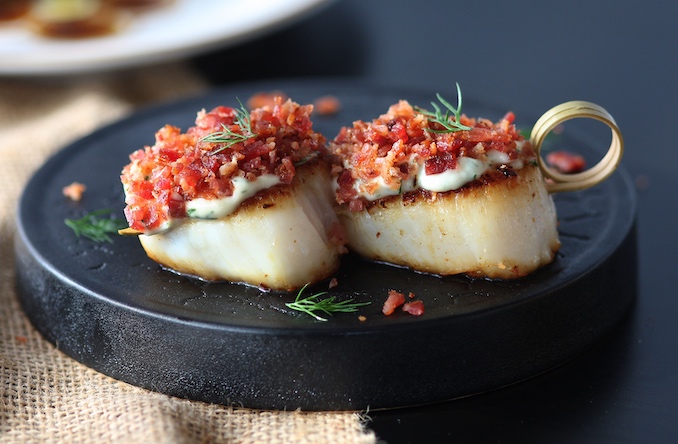 Seared Scallops with Bacon Crumb and Dill Recipe
Hands on time: 20 minutes
Total Time: 20 minutes
Makes: 8 servings
Ingredients
-4 slices DuBreton bacon
-3 tbsp mayonnaise
-2 tsp finely chopped dill
-1 small clove garlic, minced or grated 8 large scallops
Directions
1, In large non-stick skillet, cook bacon until crisp; move to paper towel-lined plate to drain. Reserve bacon fat in pan. Finely chop bacon into crumbs.
2. In bowl, stir together mayonnaise, dill and garlic.
3. Heat bacon fat over medium-high heat. Sear scallops, flipping once, until browned. About 1-2 minutes per side. Move to paper towel and dry on both sides.
4. To serve: Spread a tsp mayonnaise onto each scallop and top with bacon crumb.