Harm & Ease was officially formed in 2010 as an acoustic project allowing them to explore a more melodic space rarely present in the metal scene. Channelling the rock 'n' roll giants of the 60s and 70s and passing their influences through a modern filter, Harm & Ease creates a sound that comes across as fresh yet familiar, steeped in the roots of classical music and songwriting. In 2017, the band released their first album Wonderful Changes, showcasing a melodic conceptual brand of songwriting with lush arrangements. Their second album, Black Magic Gold, cranked up the volume and featured a much more blues rock-driven sound.
This distinctive sound signature brought them the attention of musicians and eclectic music fans, allowing for connections to be formed with world-renowned talents such as multi-platinum and Juno Award-winning artist Walk off the Earth. Thanks to these new contacts, they were able to engage in the recording process of their first Canadian recorded album, Midnight Crisis, produced by Dominic John Davis (Jack White, Beck, Willie Nelson).
As they expanded on their contact list, leveraging quality music into further introductions, Harm & Ease achieved their first significant break in 2021 through the recording of a single with Grammy award-winning producer Joe Ciccarelli (Elton John, Foo Fighters, Morrisey) titled 'Nothing More Than Love'. Investing in TikTok development on the expert advice of their new manager, Gianni Luminati of Walk off the Earth, they shared a live performance extract of their original song 'Cut Me Loose' on the platform and struck virality gold: views quickly cascaded in, and fans pleaded to hear the finished tune. Losing no time to take advantage of this momentum, the band went straight to production and introduced their hit single, 'Cut Me Loose'.
With the single reaching over 3M streams to date, 3M+ TikTok views, a current #10 position on Canadian Modern Rock Radio and #9 on Billboard Mainstream Rock, and an impressive number of Spotify editorial playlists additions (including mainstays such as Rock Your Block, Ready to Rock, & Rock Favourites), this upbeat modern rock anthem showcasing the band's unique sound and duelling lead singers established them in the rock scene in record time.
Following their success with Cut Me Loose, the band went straight into production for their latest album, Camino Loco. The band reached new heights upon this release, securing a spot on the Yonge & Dundas Spotify Billboard, features in numerous Spotify editorial playlists, a collaboration with Juno nominated Fefe Dobson, live shows supporting Walk off the Earth, TALK, and Monster Truck, and closed out the year with a Canadian Fall Tour.
Starting the top of 2023 on a high note, Harm & Ease welcomed their first Juno nomination for Breakthrough Group of the Year. With undeniable traction and the guidance of a veteran team of industry experts on their side, 2023 is bound to be an explosively impactful year for Harm & Ease.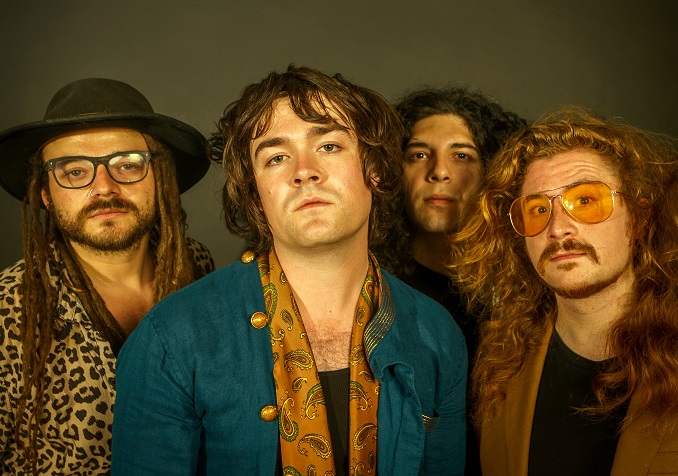 Name:
My name is Danny Lopez, and I was born in Cali, Colombia.
Genre:
My band Harm & Ease makes Modern Rock/Alternative Rock.
Founded:
Harm & Ease was founded by our singer Rylan Whalen and I in Burlington Ontario in 2010
# of Albums:
We've had several releases since we started the band but there is currently one full album available on Streaming platforms.
Latest Album:
Our latest album is titled "Camino Loco" which translates to "Crazy Road" and tells the story of our band's path coming from Argentina to Canada and all the challenges we overcame.
Latest Single:
We just released a song called "Meet Me at The Riot" as our first single of 2023. It's a song about romance in a time of social unrest. It was produced by Tawgs Salter who also produced our song "Cut Me Loose' which has been one of our most beloved tracks.
Latest Video:
Favourite musician growing up:
Growing up I moved a lot so I got in touch with so much music from my friends from school and my family. This could go anywhere from Hardcore bands like Underoath or more local bands like Counterparts or The Holly Springs Disaster. At the same time, I fell in love with The Red-Hot Chili Peppers, Sublime, and far more melodic music that was very different from the Hardcore stuff. While living in Miami as a kid I also found a love for Rap/hip-hop music in both Spanish and English, so it's hard for me to choose one musician.
Favourite musician now:
I am constantly listening to music for many reasons so it's hard to answer this but lately, I've been listening to Maneskin a lot, love what they are doing for rock music and I really love their story, coming from Italy and making a name for themselves in North America is extremely hard. I've also been listening to all of The Weeknd's music, love the production on his records and how bluesy/jazzy some songs can get but with a modern twist.
Guilty pleasure song:
I guess I can say its "Toxic" by Britney Spears or any of her early songs, we actually ended up covering "Toxic" with "Walk Off the Earth" and it has over 2,000,000 views already! It's actually a masterpiece.
Live show ritual:
Before every show, we huddle up in the green room and hype each other up so we can give the best performance we possibly can for everyone who came out to see us. We get a little loud and rowdy, start jumping around so we can be
physically warmed up and ready.
Favourite local musician:
One of the local bands that has really cast an impression on me has been "The Blue Stones". They have great riffs and really catchy melodies, also really loving their production, hopefully we will share the stage with them soon.
EP or LP?
I guess I would go for an LP because growing up I loved diving into the full experience of an album. It allowed me to understand the artist and the art in a deeper level and has influenced the way I create music.
Early bird or night owl?
I am a bit of both, my motto is Party hard but work harder, I obviously like being out in the night life, but I am addicted to my work and like to be up early and stay productive.
Road or studio?
Obviously performing is one of the biggest thrills we can have as musicians, and we feel so blessed each time we do it. Being on stage is the ultimate form of expressing what we create in real time. That being said, I have found huge
inspiration in the art of producing. Without the studio there would be no songs to sing along with at shows, so it all comes hand in hand.
Any shows or albums coming up?
We have a leg of shows coming up including dates in Montreal, London, Windsor, Toronto and Edmonton where we will be performing at the Juno Fest for the 2023 Juno Awards.
Where can we follow you?
Website | Facebook | Instagram | TikTok | Youtube
***
Rapid Fire Toronto Qs
What is your favourite local restaurant?
There's this little Mexican restaurant on St. Clair called "Tenoch" that has the most authentic food and service possible.
What is your favourite street in your city and why?
There's something really cool about Ossington. There's always something happening, really good food spots and just a general good vibe.
What is your favourite park in your city and why?
Love going to Trinity Bellwoods, we usually get together and jam some music or throw a frisbee around. We actually posted a video there last year of us playing our song "Cut Me Loose' that went super viral on TikTok!
What is your favourite music venue in your city?
We played a show last year at Lee's Palace that was one of the rowdiest shows of the tour. We definitely felt the hometown love! Something magical about that venue where so many great artists have played before.
What is your favourite music store in your city?
The Long and Maquade on Bloor always has my back. We've rented and bought equipment there at the last minute and they always hook us up!