Emily Richardson is a comedian and writer originally from Cobourg. She was the head writer for Sketchersons, understudied for Second City, wrote and starred in the Fringe musical-comedy "It Girls", appears around town doing improv, sketch, and stand-up, and writes celebrity gossip for DListed.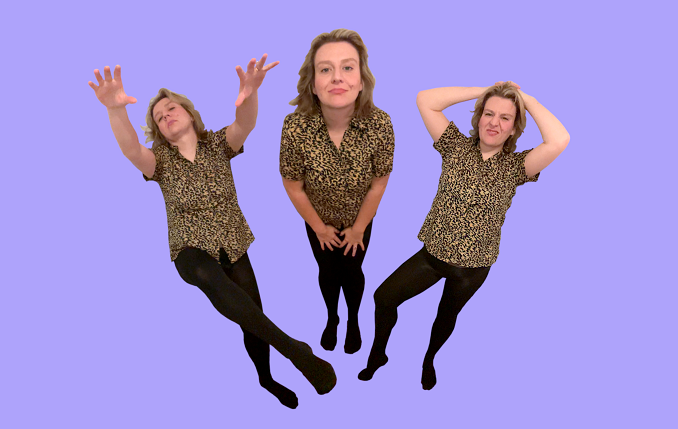 How would you describe your comedy style?
I'd describe it as absurd, silly, loud, and so, so dumb. The dumber the better.
Who are some of your influences?
Growing up I was obsessed with Seinfeld, so Julia Louis-Dreyfus was a big one. And my mom, Nancy. She's hilarious.
Who was your favourite comedian growing up?
David Hyde Pierce as Niles on Frasier was comedy gold. Equal parts stuffy and horny. I also loved The Kids in the Hall, old SCTV reruns, and the ladies of the late 90s and early 2000s SNL – Maya Rudolph, Amy Poehler, Kristen Wiig, Molly Shannon, Tina Fey, and Ana Gasteyer.
Who is your favourite comedian now?
I am in awe of Edi Patterson's performance on The Righteous Gemstones. And Candiace Dillard Bassett on The Real Housewives of Potomac.
What is your pre-show ritual?
Procrastinate, worry for days, show up on the night filled with dread, have a tequila soda, and eventually remember that I actually really love comedy.
What is your favourite place you have performed? Why?
I was in the Sketchersons for three years. Every Sunday we'd set up camp at Comedy Bar at 1:00 PM, run rehearsals all day, and then put on a show that same night. Comedy Bar and its little green room, complete with old-ass costumes and disgusting, lice-ridden wigs, became a second home.
What is your favourite bit you have written and why were you proud of it?
I wrote a bit where I'm a detective who gets called in late one night to investigate a dead body. As I take a closer look at the corpse's injuries and bloody wounds, I gag, announce that I'm going to be sick, and run offstage. Then, the audience hears me leave a really weird voicemail for my mom, where I admit that, actually, I'm nauseous cuz I got food poisoning from eating "old fish". Not cuz I'm overwhelmed by the grisly murder scene. There's a lot of farting and puking sound effects. Let's just say… it's really fucking stupid.
What is your favourite medium for listening or finding new comics/comedians?
TikTok and TV.
Tell us a joke about your city.
Ummm… I can't afford to live here? Please send money? Help?
Do you have anything to promote right now?
Follow me on social media. My goal is to produce a one-woman show before the fall. And now that I've written that sentence out for all the Internet to see, I have no choice but to actually do it.
Where can we follow you?
I'm @emrich44 everywhere – TikTok, Instagram, and Twitter (let's get this gal to 700 followers!!!)
PAY IT FORWARD: Who is another local comic/comedian we should know about?
Devon Henderson! A comedian's comedian. I'm very jealous of her, and that's the highest compliment I can give anyone.