There's nothing quite like a workout that motivates and empowers. The latest entry in our city is RUMBLE. Think "fight club meets night club" were you can take all your stresses out on punching bags and train with experts. But don't be intimidated, there's no actual fighting involved but this will no doubt be a favourite amongst heavy weights and light weights alike.
After a few months worth of buzz, RUMBLE opened its doors this past March and is already popular. Originating from Calgary, this boxing fitness studio has been expanding into other cities in Canada. The first one in Toronto has landed in the Yorkville area steps from the Four Seasons Hotel.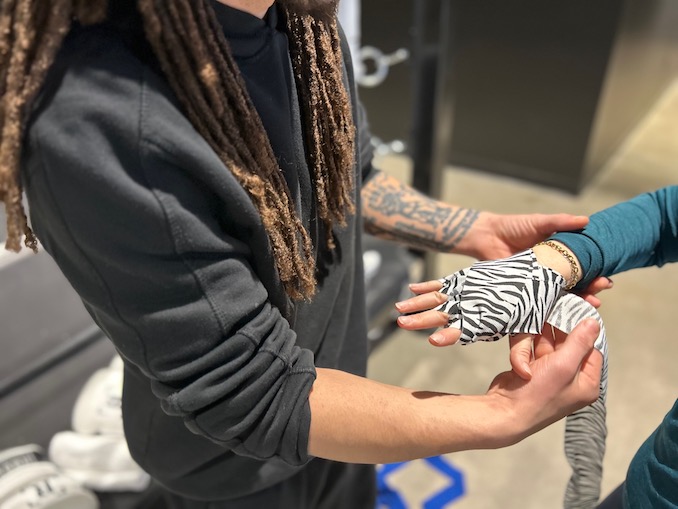 Conrad Corbiere, a founding and master trainer at RUMBLE, explains that in each market they research they look for a location that is central that would service a lot of people. Then from that central location they look to expand outwards. They are looking at other locations for both corporate and franchise opportunities in our city. Judging by Saturday morning's visit, there is a definite demand for this workout style.
Corbiere has over 30 years of coaching experience and over 36 years of martial arts experience with a black belt in Tae Kwan Do. He also is a certified Muay Thai coach/trainer. "Boxing and hitting is a bigger stress reliever more than any other form of exercise," said Corbiere. "You can lift heavyweights, feel good, and get a rush out of it, but there's nothing that compares to this form of fitness to get that stress out."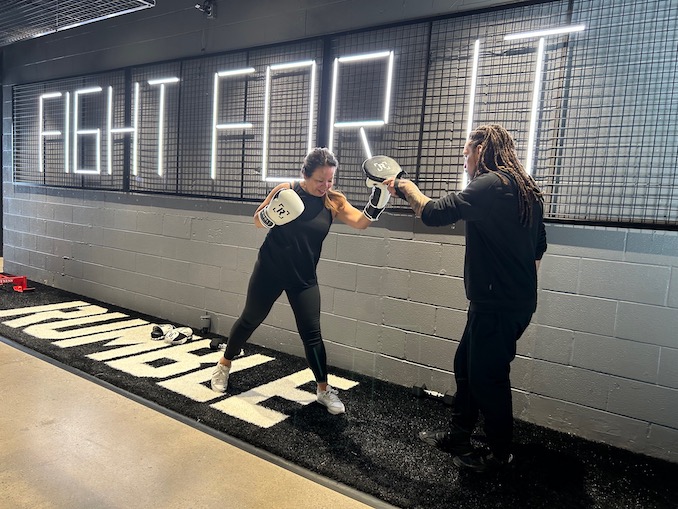 On the second weekend of opening, we arrived at their underground location for our first personal training session. Patrick Armstrong, who was trained in Muay Thai, had the lucky morning with my friend and I (FYI you can book in buddy training sessions!). He tells us that they work with all levels of fitness. Our first visit was to learn the basic boxing techniques and to build up our confidence. Stepping into the boxing ring felt quite intimidating at first but he made the learning experience fun and efficient.
Armstrong guided us through the first 6 moves — jabs, hooks and uppercuts. This was all in prep for the popular heavy bag classes. I felt so uncoordinated but after an hour with him and I felt more confident with a basic understanding of the foundation moves. The moves are controlled and if you think throwing a punch is all in the upper arms, think again. This is a full body workout.
"Our personal trainers for the one-on-one sessions, we look for people that have legitimate boxing and Muay Thai experience, like Patrick," said Corbiere. "With this in mind, our trainers are also able to pass onto our clientele real-life lessons based on their own experiences." And based on clients' needs and training they can offer even more customized programs.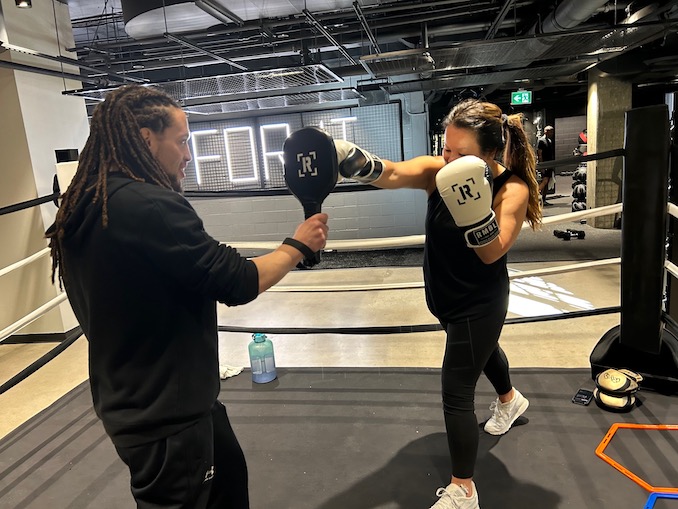 As we worked through the motions in the RUMBLE Ring, we noticed a weight training area where others are also with personal trainers.  Then, around the corner from the lockers is the studio — a dark room with pulsating music and rows of heavy bags hanging from the ceiling. This is where the classes take place.
Corbiere tells us the boxing to the beat style of workout is very unique here. "The classes have a very rhythmic tribal feel that people get into right away. Because of that rhythm, it's easy to follow and get into. And you leave feeling awesome."
Classes are led by "motivators" who keep people energized in this popular workout. "They have more of a focus on energy and delivery," said Corbiere. "They also have the personality and flare to keep people having fun and engaged while wanting to try harder."
He also tells us that combined with the personal training where people can learn more technical work and have more understanding of the sport as a whole — is how clients can get a lot more out of their workouts. It's the best of both worlds.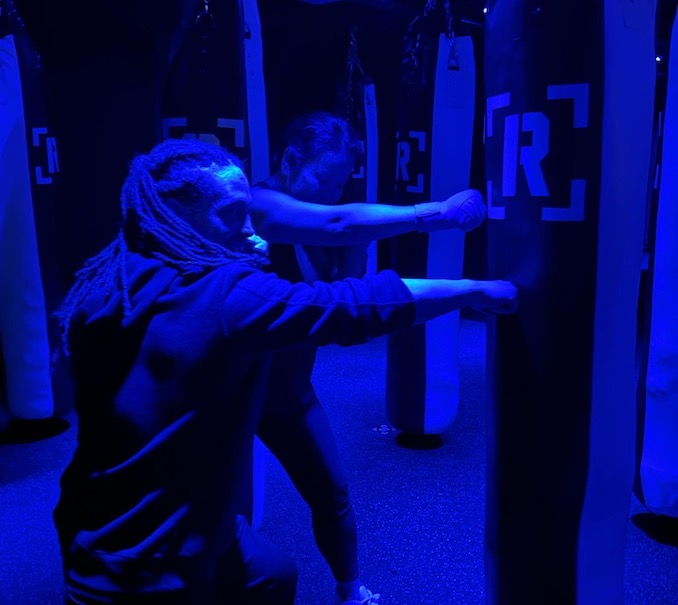 What does the team at RUMBLE want people to know?
This isn't your typical boxing studio.  What makes them more appealing to the general public is that they are a no-contact facility. No one is getting beat up here. Everyone comes here wanting to learn and have fun in a great environment.
Corbiere also mentioned, "The workouts are also mentally and spiritually engaging so people almost forget they are working out. When they are done a class they think, holy crap that felt good!"
You may even walk out feeling like a bad-ass. I sure did! See you again, RUMBLE!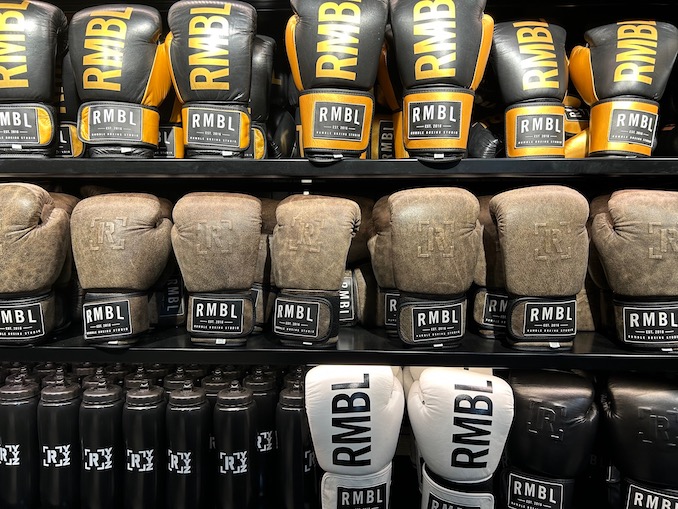 RUMBLE is located at 1235 Bay Street (entrance is on Cumberland) For more information, full class schedule, list of personal trainers, and to book your first free class, visit rumbleboxing.com
What else you might want to know?
Heavy Bag Classes are designed for adults but can accommodate ages 14 and up
All class are suitable for all levels including beginners
There are female and male class "motivators" and personal trainers
There are lockers on site as well as showers
Boxing gloves, wraps, and apparel are available for purchase
Boxing gloves are available for rent ($2) or you can bring your own.
A water refill station is on site (bring your own water bottle)