Chefs Sebastien and Sheila Centner shared with us this delicious recipe for Creamy Spring Pea Soup with sprouts from their cookbook, Eatertainment. This delicious creamy pea soup with sprouts is a perfect option for a springtime meal. Its vibrant green colour and creamy texture make it visually appealing, but its mild and refreshing flavour also makes it an ideal choice for a light meal. It's an easy recipe to prepare in just 30 minutes and can be served chilled, making it perfect for a warm spring day. Enjoy this delicious soup on any occasion!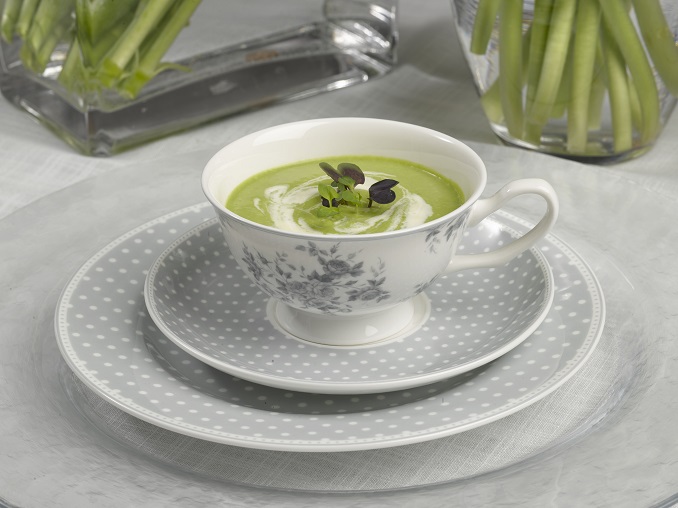 Creamy Spring Pea Soup with sprouts
Yield: 6 cups
Time: 30 min
Ingredients:
1/3 cup butter
1/2 cup diced white onion
1/3 cup sliced leeks
1 tsp mustard powder
1/2 tsp sweet paprika
2 1/2 cups vegetable stock
1 cup 35% cream
2 cups frozen green peas, thawed
1/2 cup baby spinach leaves
1/2 cup baby arugula
1 tbsp mint leaves
1 tbsp tarragon leaves
1/4 cup 35% cream, room temperature
Micro sprouts to garnish
Salt & pepper to taste
Directions:
1. In a small stock pot, melt butter over medium heat and add onion & leek
2. Reduce heat to medium/low heat and sweat until the onion is translucent and leeks are soft, approximately 8 minutes stirring occasionally so it does not brown
3. Add mustard powder, paprika, 1 cup 35% cream & vegetable stock
4. Bring to a boil, reduce heat and simmer 5 minutes
5. Add peas, remove from heat and cool to room temperature
6. Transfer mixture into a blender then add spinach, arugula and herbs and blend until puréed – note: will need to do in batches as blender should never be more than 2/3 full and lettuces and herbs will need to be roughly portioned into each batch.
7. Combine all batches in a single large bowl, then season with salt and pepper to taste and store in fridge.
8. Serve chilled with a drizzle of cream and a pinch of micro herbs.
Note: chilled soup will last three days in fridge, best served within 48hrs
***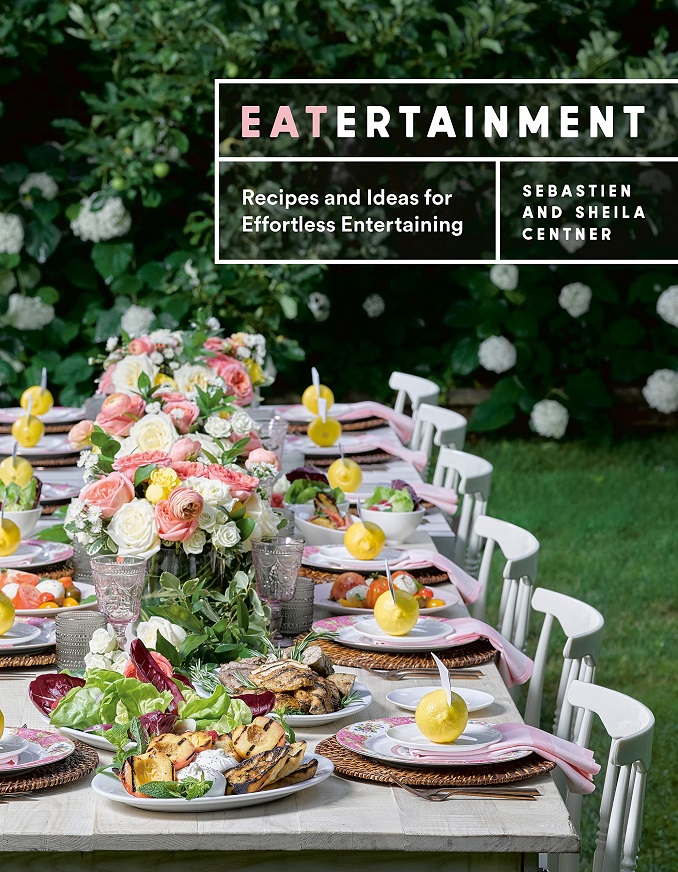 For many people, the idea of planning a dinner party can bring on stress and miss the point altogether: enjoying time with guests. From the owners of leading Canadian event management and catering companies comes Sebastien and Sheila Centner's first book, Eatertainment – a beautifully photographed, all-in-one entertaining guidebook to make entertaining at home as simple as can be.
Sharing their decades of expertise, Seb and Sheila provide readers with practical tips and tricks for entertaining regardless of prep time, availability or budget, with instructions on everything from setting the table to picking flowers for a centrepiece, to even planning an easy loot bag for guests to take home. Featuring more than 140 recipes, 12 different types of events and 3 planning difficulty levels (Simple Entertaining, A Little More Effort and Pulling Out All The Stops), Eatertainment is a thoughtfully-assembled guidebook for anyone looking to host a stress-free gathering – no matter what kind of event you throw.