February 14 is here! A symbolic day that glorifies the essence of love, Valentine's Day reminds lovebirds of their existing mutual connection. Something to positively look forward to in this cosmos. It is so much more than presenting fanciful chocolate gift boxes and bouquet of flowers to a significant other, drafting love letters old-school style, gifting wine baskets or indulging in a romcom movie fest. Setting the mood for treasurable moments is surely a great kickoff. Who says Valentine's Day can't be a convivial, desirable, and an eventful day all at once?  This special day conjures for giving undivided attention to your partner, brainstorming lovey-dovey ideas, and dreaming up date-night trends. Ever wonder how to spice up your Valentine's Day commitment? Just ask acclaimed International Dating Expert and Matchmaker, Laura Bilotta. The founder of a well-known dating website SingleintheCity.ca, created a romantic, "multi-sensorial" activity for lovers designed to boost their senses. While considering cheese, a favourite natural aphrodisiac for Laura, she was inspired to develop this uncommon date night activity. The Dating Expert thoroughly couples seven cheeses with seven sensorial elements from ASMR, to a caress, to mists and to a greater extent during a blind tasting expected to connect partners, playfully and passionately. And her best-loved cheese, Tickler Cheddar does the trick. Defining the activity as "Tickler Your Senses", Laura recommends couples close their eyes, or better still, put on a blindfold to strengthen the other senses.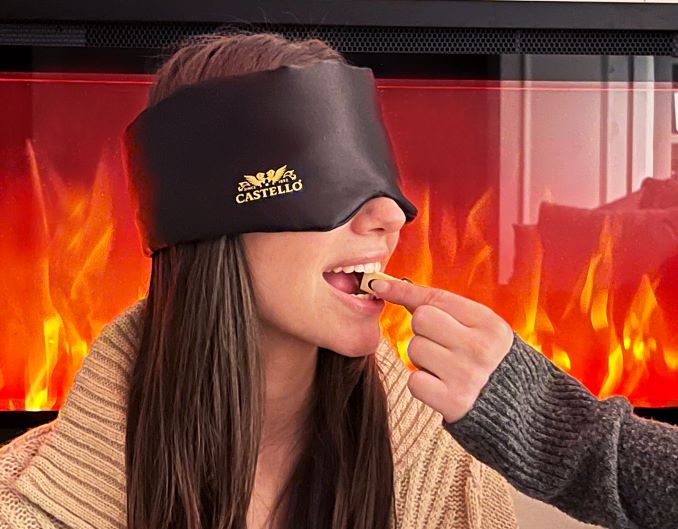 Speaking more on this, Laura shares what makes this sensational romantic activity special. "Relationships can sometimes fall into a routine, and that's where incorporating new and exciting activities, like a food-related experience, can breathe new life into your relationship," says Laura. "Not only does it provide an opportunity to try something new, but it also helps you step out of your comfort zone and adds a little bit of adventure to your life. And when you add a touch of love and romance to the mix, it makes for the perfect recipe for a memorable and exciting Valentine's Day. So why not take this opportunity to break the mold and try something new this year?"
Laura gets creative with concrete and sequential steps for couples to espouse. "Firstly, each cheese has its own unique flavour profile and texture, which means there's something for everyone to enjoy," says Laura. "Whether you prefer a mild, creamy cheese or a bold, tangy one, Castello has a variety of options to choose from. And with so many different flavours, you and your significant other can experience and discover new taste sensations together."
According to Laura, the first step includes feeding your partner a slice of Tickler and embracing the name of this extra mature cheddar by accompanying it with a soft tickle across your partner's arm and neck.
The second step involves spreading some Taste Hawaii pineapple and almond cream cheese on a cracker to transport one's partner to the sun-drenched beaches of Hawaii. One can complement it with a misting of salt-water spray on their neck and begin fantasizing about an upcoming vacation together.
In step three, one can sprinkle honey over some warmed Castello Brie, spread on a cracker and serve it to their partner. For example, while they delight in the sweet and slightly savoury taste, add some extra honey to their bottom lip and surprise them by taking a taste yourself.
You can embolden your partner to nibble on some Vintage Gouda while you playfully nibble on their ear, neck or shoulder in step four. Similarly, in step five, place a slice of Velvet Blue cheese to an apple slice, then top with fig jam, wrap in prosciutto. As your partner is pampered in this taste sensation, lead their hand across your velvety skin and softly whisper in their ear.
Step six gets more exciting as she suggests cubing some crunchy Aged Havarti and gently engaging in a head massage to enable one's partner to experience the sound, smell, creamy taste and warm touch. Concluding with step seven, one can lightly crack a walnut for their partner to hear, and next add it to the top of a slice of Traditional Danish Blue cheese with a pear slice for a great and biting finish.
"Not only do Castello cheeses offer a delicious taste experience, but they also stimulate other senses. The smell of a ripe cheese, the texture of a creamy brie, or the visually appealing look of a perfectly aged cheddar, can all add to the overall sensory experience of the food-related activity," says Laura. "When you pair the cheese with sensorial elements such as ASMR, massage and complementary flavours, such as jams and prosciutto, it creates a truly unforgettable experience."
If you are looking to let your senses guide you or hoping to embark on a delicious cheese activity, then wait no longer! Laura Bilotta's bonding activity has got you covered this Valentine's Day.