Award-winning and Toronto-based comedians Julie Nolke, Christian Smith and Natalie Metcalfe have joined forces to spotlight emerging Canadian comics with their latest project: Pulp Comedy. This hilarious new show is an online sketch and panel show showcasing six Canadian comedians with credits on television shows including What We Do in the Shadows, Kim's Convenience, Air Farce, This Hour has 22 Minutes, Baroness von Sketch Show, Workin' Moms and Abroad, among others. The series debuted exclusively on YouTube on September 16, and a new episode was released every Friday for 10 weeks, covering topics like the uncomfortability of sexting and the necessity of using bidets. We had the chance to catch up with the trio to find out more about the series and where they draw their inspiration.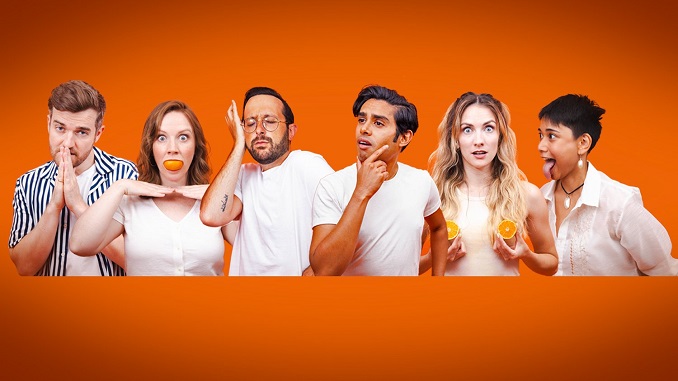 How would you describe your comedy style?
Julie: Dry meets silly. I love quick-paced smart comedy. I want my audience to feel that "Aha!" moment when they get the joke; so they feel like they're "in" on it. That paired with ridiculous characters is a fun mix of intellectual and physical comedy.
Who are some of your influences?
Natalie: Why was this question so hard to answer?! The answer is any and every sketch comedian. From SNL's Amy Poehler and Kristen Wiig to my former Second City castmates to students I've taught. If you're a sketch comedian, you've probably influenced me in some way.
Who was your favourite comedian growing up?
Christian: My favourite comedian growing up was Colin Mochrie. Jim Carrey was close but watching Colin endear himself to an audience had me in awe.
Who is your favourite comedian now?
Julie: I love Tim Robinson's "I Think You Should Leave". He's so good at pushing boundaries and taking risks with his comedy. Also, the writing in Rose Matafeo's Starstruck is phenomenal. She's so clever and so authentically hilarious.
What is your pre-show ritual?
Natalie: Eat and stretch! I feel the funniest after a big burrito and a deep squat.
What is your favourite place you have performed? Why?
Christian: I've been lucky enough to perform in many different places of sentimentality. I loved performing at the Sketchfest in Columbus, Ohio with my sketch troupe – the organizers let us borrow their full orchestra for a sketch. It was unreal. But I think it might be when I went to the UK and performed in a dingy pub with my comedy partner Kevin Vidal. We had the set of a lifetime.
What is your favourite bit you have written and why were you proud of it?
Natalie: I wrote a sketch for Second City called "Younger Self" where I brought a female audience member on stage every night and pretended they were me in the future. I would ask them about their lives and what I have to look forward to. I'd also ask what advice they would give me (their younger self) and these women were consistently so wise and poignant. It's the only scene that would make me laugh AND cry every single night. I kept a journal of all the advice every woman gave me and I refer to it regularly.
What is your favourite medium for listening or finding new comics/comedians?
Christian: I love watching YouTube, Instagram Reels, Tik Toks, and going to Twitter for new comedians! So many hilarious people are coming from alternative means to get our attention. That and some incredible Netflix specials really showcase people I wouldn't have had the chance to see.
Do you have anything to promote right now?
Julie: Yes! We just launched a brand new show on Youtube called Pulp Comedy! It's a sketch and panel show that combines the best of both worlds in terms of internet entertainment: a short digestible sketch plus a hilarious panel chat where you get to know the cast. It's always been my dream to create a show that highlights talented Canadian comedians. With a global platform like YouTube, we're able to easily share our talent and creativity with the world.
Where can we follow you?
Christian: Follow ME on Twitter BUT you HAVE to follow us on Youtube!
Pulp Comedy, Christian & Nat, Julie Nolke
PAY IT FORWARD: Who is another local comic/comedian we should know about?
Natalie: Someone who consistently makes me laugh online is Anesti Danelis. He is a musical comedian and his stuff is so joyful and fun. Also, if everyone isn't following Lisa Gilroy on both Instagram and TikTok you've lost your entire mind.