Chris Moose is new to the Toronto comedy scene with his new show "The Neophytes" held every Thursday. We got to speak with the Toronto comedian to find out more about him.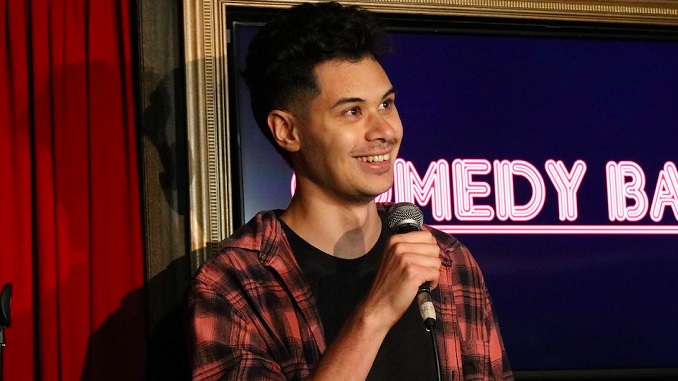 How would you describe your comedy style?
I would say that my style of comedy is a mixture of real-life experiences with a dark twist. When I say dark twist I tend to reference controversial topics but I prefer to not fully rely on this as a theme of the joke and instead incorporate it into the punchline for example "I used to want to be a magician growing up but I'm technically not allowed to practice magic in Canada anymore because when I pull a rabbit out of a hat everyone claps, but when I pull out of a rabbit…Health code violation".
Who are some of your influences?
I was always a fan of watching stand-up comedy even as a kid I would watch the likes of Kevin Hart, Russell Peters, Danny Bhoy, Angelo Tsarouchas. Before ever performing stand-up comedy myself, I mainly looked up to Andrew Bachleor AKA "King Bach", Theo Von, Andrew Schulz, and John Mulaney. As a whole, they all have different styles of comedy but I just liked that I related to a lot of the stuff they were taking about, in terms of different scenarios and how they might view them or interpret things instead of the "Normal" way of viewing things. I really enjoyed Schulz and Bachelor as they posted a lot of content online more so Schulz about the behind the scenes of what it's really like to be a comedian.
Who was your favourite comedian growing up?
Growing up I have always been impartial to John Mulaney on and off the stage he is one of the funniest and most methodical comedians that I have ever seen. I like the stories he tells and his cadence is yet to be matched in my books. I watch his New in Town special he has on Netflix pretty much once a month.
Who is your favourite comedian now?
Having a favourite comedian is a hard thing to ask because it's like having a favourite movie because there are so many genres it is hard to just pick one, it's the same thing with comedy. I can say that the comedian who makes me laugh most at the moment is Theo Von, and as for a Toronto favourite.
What is your pre-show ritual?
I don't necessarily have a pre-show ritual but I find I perform better if I talk to people on the TTC and when I get to the venue it doesn't hurt to grab a Beer (whatever's cheap) and a Coke w/Ice.
What is your favourite place you have performed? Why?
My favourite place that I have performed at has to be the first place I performed comedy, Top Corner Bar & Grill (now closed down) at "The Super Mic" a show created by comedian Matt Henry, who I owe my start to. The show was located in the backroom of the restaurant, with dimmed lighting a spotlight on stage, which has anywhere from 5 people on a slow night to 30 people. That room always had a positive vibe and allowed me as a beginner to develop my material and my on-stage confidence. I have had done shows with larger audiences but that place will always be my favourite.
What is your favourite bit you have written and why were you proud of it?
So when I was coming up on my fourth month of my comedy journey I had a bit of a hiccup, unfortunately, I had slipped a disc in my spine and was unable to perform comedy or do much of anything for a while. I just laid in my bed on some pretty serious painkillers and did nothing for two weeks, then once I started physio I managed to get around using a cane and a walker. It was then when I started writing again, getting back into writing jokes really helped me with the mental side of my injury because any doubts I had about if I was ever going to be my regular self again went right into the bit. I had a limp and a cane and when they would call me up to the stage at shows it took me a while to get there and I would rest the cane on my leg and sit on the stage stool and start my set "Let's get the elephant out of the room… I'm a Pimp…just kidding, I did break my back over the summer and that's not code for getting a lot of matches on Grinder. A lot of my friends and family have been saying I am disabled now, I prefer normally challenged because I feel challenged by a lot of stuff I would normally do like paying rent, and according to my ex's being emotionally available apparently, I am challenged in those areas. My mom started calling me Broken Back Mountain which is messed up cause she was only half right in the same way I was only half-scared of monkeypox". This might not be my favourite bit but it was around where I figured out that this is something I can't just give up on.
What is your favourite medium for listening or finding new comics/comedians?
The best place to find new comics or comedians is at an open mic night, as the majority of my friends and peers in comedy that I have met, I found through open mics as those are the first place where you genuinely get the feel for what the comedy scene is like, and if you're looking for the sense of community in the Toronto comedy scene just stick around after the shows when everyone is grabbing a beer.
Tell us a joke about your city.
Looking for affordable housing in Toronto is a lot like trying to walk on water, it's IMPOSSIBLE!!! Even if you're from Isreal.
Do you have anything to promote right now?
I am currently producing shows and trying to develop a bigger scene for comedy in the East End of Scarborough, I have an ongoing comedy show right now called "The Neophytes" there is a new show every Thursday with 5 comics and 1 Headliner all new to the show, the location is ever changing and is updated weekly on my Instagram. In the New Year you can look forward to a brand new take on a stand-up comedy show called "King of the Room". I also have a docu-series in the works right now called "Stop Acting Funny" featuring some of Toronto's best comedians release date TBD.
Where can we follow you?
PAY IT FORWARD: Who is another local comic/comedian we should know about?
EVAN INCE – Local Comedian from Whitby, ON. Been on the scene for just over a year and one of my closest friends in comedy. He knows more about the history of comedy than anyone I know.