The Canadian Screen Awards held their 5th annual gala and awards show at the Sony Centre for Performing Arts on Sunday, March 12, 2017.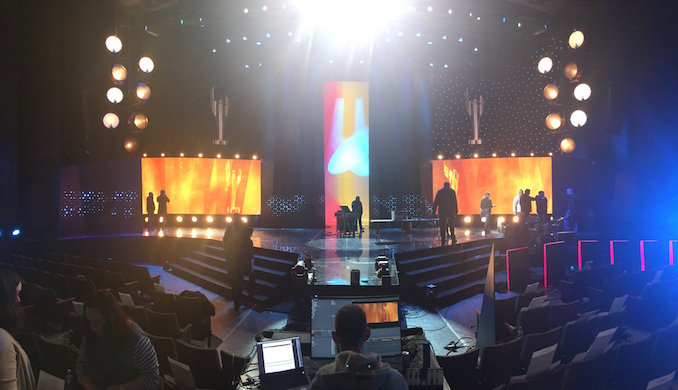 The night was hosted by Howie Mandel and featured a surprise appearance by stand-up comedian Dave Chappelle who spoke on our "National Treasure", the Just For Laughs comedy festival who received the Academy Icon Award.
The big winners for the evening included Xavier Dolan for his film It's Only the End of the World for which he received the Best Picture and Best Director awards, Murdoch Mysteries who received the Golden Screen Award for TV Drama or Comedy, Christopher Plummer who received a Lifetime Achievement award and Natasha Negovanlis who won the fan choice award for the web-series Carmilla.
#CdnScreenAwards Presenter @DaveChappelle applauds Canada for Icon Award winner @justforlaughs. #CdnTalent pic.twitter.com/lZzg9aIn3H

— Canadian Academy (@TheCdnAcademy) March 13, 2017
FILM
Best Motion Picture | Meilleur film
It's Only the End of the World | Juste la fin du monde – Nancy Grant, Sylvain Corbeil, Xavier Dolan
Achievement in Art Direction / Production Design | Meilleure direction artistique
Emmanuel Fréchette – Two Lovers and a Bear
Achievement in Cinematography | Meilleures images
André Turpin – It's Only the End of the World | Juste la fin du monde
Achievement in Costume Design | Meilleurs costumes
Patricia McNeil – Nelly
Achievement in Direction | Meilleure réalisation
Xavier Dolan – It's Only the End of the World | Juste la fin du monde
Achievement in Editing | Meilleur montage
Sponsor | Commanditaire | Current Studios
Richard Comeau – Two Lovers and a Bear
Achievement in Make-Up | Meilleurs maquillages
Sponsor | Commanditaire | M•A•C Cosmetics
Maïna Militza, Denis Vidal – It's Only the End of the World | Juste la fin du monde
Achievement in Music – Original Score | Meilleure musique originale
Todor Kobakov, Steve London, David Braid – Born to be Blue
Achievement in Music – Original Song | Meilleure chanson originale
Sponsor | Commanditaire | Slaight Music
David Braid – Born to be Blue – "Could Have Been"
Achievement in Overall Sound | Meilleur son d'ensemble
Sponsor | Commanditaire | Deluxe Toronto
Claude La Haye, Luc Boudrias, Pierre-Jules Audet, Patrick Rioux, Nicolas Dallaire – Race
Achievement in Sound Editing | Meilleur montage sonore
Pierre-Jules Audet, Jérôme Décarie, Michelle Cloutier, Stan Sakell, Jean-François Sauvé, Mathieu
Beaudin, François Senneville, Luc Raymond, Jean-Philippe St-Laurent – Race
Achievement in Visual Effects | Meilleurs effets visuels
Sponsor | Commanditaire | SPINVFX
Martin Lipmann, Cynthia Mourou, Benoit Touchette, Jonathan Piché-Delorme, Frédéric Breault – Race
Adapted Screenplay | Meilleure adaptation
Xavier Dolan – It's Only the End of the World | Juste la fin du monde
Original Screenplay | Meilleur scénario
Daniel MacIvor – Weirdos
Performance by an Actor in a Leading Role | Interprétation masculine dans un premier rôle
Stephan James – Race
Performance by an Actor in a Supporting Role | Interprétation masculine dans un rôle de soutien
Vincent Cassel – It's Only the End of the World | Juste la fin du monde
Performance by an Actress in a Leading Role | Interprétation féminine dans un premier rôle
Tatiana Maslany – The Other Half
Performance by an Actress in a Supporting Role | Interprétation féminine dans un rôle de soutien
Molly Parker – Weirdos
Ted Rogers Best Feature Length Documentary | Meilleur long métrage documentaire Ted Rogers
Sponsor | Commanditaire | Rogers Group of Funds
I Am the Blues – Daniel Cross, Bob Moore, Mila Aung-Thwin, Bruce Cowley
Best Cinematography in a Feature Length Documentary | Meilleures images dans un long métrage documentaire
John Price – I Am the Blues
Best Editing in a Feature Length Documentary | Meilleur montage dans un long métrage documentaire
Dave De Carlo – Giants of Africa
Best Short Documentary | Meilleur court métrage documentaire
Sponsor | Commanditaire | Hot Docs
This River – Katherena Vermette, Erika MacPherson, Alicia Smith, David Christensen
Best Live Action Short Drama | Meilleur court métrage dramatique
Mutants – Alexandre Dostie, Hany Ouichou, Gabrielle Tougas-Fréchette
Best Animated Short | Meilleur court métrage d'animation
Blind Vaysha – Theodore Ushev, Marc Bertrand
2017 Canadian Screen Awards Winners – Broadcast Gala
TELEVISION
Best Dramatic Series
Sponsor | Innovate By Day
Orphan Black
Space (Bell Media)
(Temple Street)
David Fortier, Ivan Schneeberg, John Fawcett, Graeme Manson, Claire Welland, Kerry Appleyard,
Tatiana Maslany, Alex Levine, Peter Mohan
Best Comedy Series
Letterkenny
CraveTV (Bell Media)
(New Metric Media)
Mark Montefiore, Patrick O'Sullivan, Jared Keeso, Jacob Tierney
Best Performance by an Actress in a Continuing Leading Dramatic Role
Orphan Black
Space (Bell Media)
(Temple Street)
Tatiana Maslany
Best Performance by an Actress in a Continuing Leading Comedic Role
Schitt's Creek
CBC (CBC)
(Not A Real Company Productions, Inc)
Catherine O'Hara
"I've never been more proud to be a Canadian than right now" @bitterasiandude @KimsConvenience #CdnScreenAwards pic.twitter.com/cwYH4mxtit

— Canadian Academy (@TheCdnAcademy) March 13, 2017
Best Performance by an Actor in a Continuing Leading Comedic Role
Kim's Convenience
CBC (CBC)
(Thunderbird)
Paul Sun-Hyung Lee
Best Performance by an Actor in a Continuing Leading Dramatic Role
19-2
Bravo (Bell Media)
(Sphere Media Plus)
Adrian Holmes
Best Performance in a Variety or Sketch Comedy Program or Series (Individual or
Ensemble)
The Tragically Hip – A National Celebration
CBC (CBC)
(Insight Production Company Ltd.)
Gord Downie, Rob Baker, Johnny Fay, Paul Langlois, Gord Sinclair
Donald Brittain Award for Best Social/Political Documentary Program
Sponsor | Rogers Group of Funds
Guantanamo's Child: Omar Khadr
Documentary Channel (CBC)
(White Pine Pictures)
Patrick Reed, Michelle Shephard, Peter Raymont
Best Sports Host in a Sports Program or Series
Rio 2016
CBC (CBC)
Scott Russell
Best Host in a Variety or Reality/Competition Program or Series
2016 Canadian Screen Awards
CBC (CBC)
(Frank Content)
Norm Macdonald
SPECIAL AWARDS
Academy Icon Award
Just for Laughs
Best First Feature Award, Sponsored by Telefilm Canada
Johnny Ma – Old Stone
Cineplex Golden Screen Award for Feature Film
The 3 Little Pigs 2 | Les 3 p'tits cochons 2
Earle Grey Award
Tantoo Cardinal
Fan's Choice Award
Natasha Negovanlis – Carmilla
Golden Screen Award for TV Drama or Comedy
Murdoch Mysteries
CBC (CBC)
(Shaftesbury)
Golden Screen Award for TV Reality Show
The Amazing Race Canada
CTV (Bell Media)
(Insight Production Company)
Lifetime Achievement Award
Christopher Plummer
"I've spent almost 70 years making a fool of myself in this crazy profession of ours and i've had the time of my life." #ChristopherPlummer pic.twitter.com/Ee107F1ejV

— Canadian Academy (@TheCdnAcademy) March 13, 2017