FEMMILLENNIAL is a contemporary dance theatre work by Choreographer Kylie Thompson that premiered at the 2022 Toronto Fringe Festival. The full-length (55 minute) production is a stand alone show exploring the modern fem persona.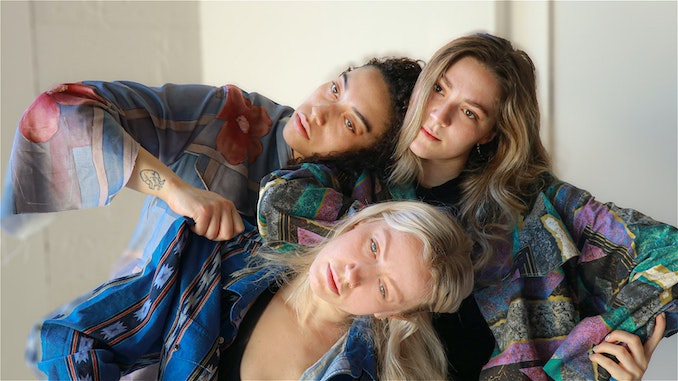 An evolution and expansion from Thompson's 2019 work entitled "Oh, Yes", FEMMILLENNIAL has been in development for 3 years. "It has sort of a quirky lens", which is used to portray a journey through which the fem protagonists attempt to escape the inner female voice, explains Thompson. The cast includes three dancers, Claire Whitaker, Kiera Breaugh, and Dana Macdonald.
The show starts with the three dancers sitting a part in chairs spaced along the stage floor. They are upright and poised, occasionally adjusting their hair and collared shirts, and smiling at the audience. When the music begins, the three dancers melt out of their chairs and begin moving in bizarre, almost uncomfortable looking ways. The show continues like this, with the dancers seeming to struggle against the restriction of the collared blouses they adorn. Their movements become more fluid and free when those shirts are taken off.
Near the end, Breaugh performs a solo monologue about discovering what it means to be a woman, using spoken word to highlight the tiresome nature through which this identity has been claimed (and misrepresented) in the past. She appears frustrated and once again melts out of her chair to the dance floor, before another erratic and emotional dance sequence begins and the shirts are once again removed.
​​Thompson says she saw the Fringe Festival as an opportunity to see [her original] vision for this emotional show through to its full manifestation, and she couldn't be happier with the outcome. As for the process of getting it to this point, she explains that the isolation of the pandemic made it difficult.
"So much has shifted in our community and industry since [the pandemic]," says Thompson. Only now are things starting to flow again.
"I'm hoping that this production, which feels like an expose (a "here I am" piece), will make a statement to the community. I'm still here, I'm still making art. And hopefully other companies will be interested in working with me after this production," says Thompson.
"I just have to try to cut myself a break and find ways to keep producing my art. And I think that's what the Fringe Festival is all about— Indie theatre production. It's such a great platform for artists and It's nice to see such a large portion of the population working towards alternative methods of art creation."