Despite the small cast, tight budget, overhanging fear of Covid, and Tara Thorne's inexperience as a director, "Compulsus" is one of the best, true, indie films I've seen in some time. It aims to critique male violence towards women, and, bullseye, it hit its mark.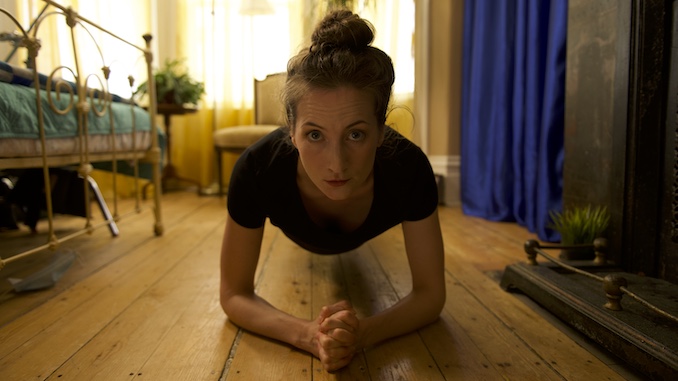 "Compulsus" is a queer drama about a woman angry enough to stalk the accused and give them their just desserts. It's not a true revenge story: Wally, our protagonist, played by the lovely Lesley Smith, is not a victim. She's the stand-in for every best friend, colleague, and womanhood at its angry core fighting what the world ignores and then justifies.
Tara Thorne wrote and directed her debut feature "Compulsus", and what a marvel it is. Humble, Tara gives credit where credit is due: to the poet Sue Goyette who wrote the monologues, and to cinematographer Cecile Holland whose lighting colour palette elevates emotional performances from the cast. However, Tara's script is still in the spotlight: star Lesley Smith called it a "buffet of acting" she couldn't wait to dive into and said, "Tara was always extremely gracious onset, […] Katie and I would kind of just extend scenes and improvise a bit. But it was because what was written on the page was so strong you could stay in it and keep going."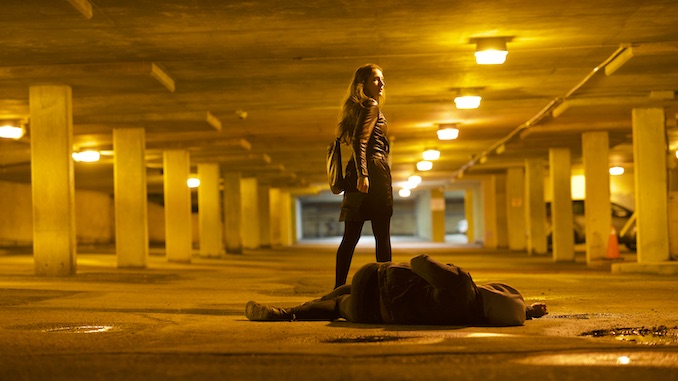 What makes this movie so good is its simplicity while taking on so much. It's about a woman and her passion. It's about her anger and her love. It's about taking back power. It's about two women falling in love. It's about hard choices. It's about a sister and her pain. It's about a friend and her worry. Yet, it's just one story about a woman enraged.
"Compulsus" takes artistic turns when Wally reads her slam poetry at an open mike night. At first, Tara wanted Wally to be a musician, like her, but "I just saw the costs piling up and I think songs are more interpretive. […] I wanted her to have an outlet to explain what was going on even if her friends never caught on,[…] even if it wasn't her job – I wanted her to express herself, and I knew poetry would work directly to camera, which was what we did at the end – and I could have written those poems myself […] but because it was her internal monologue and her external monologue sound[ed] like me, she need[ed] to sound like someone else internally." So, Tara drunkenly asked the poet laureate of Halifax, Sue Goyette, to write them for her, and it worked out beautifully.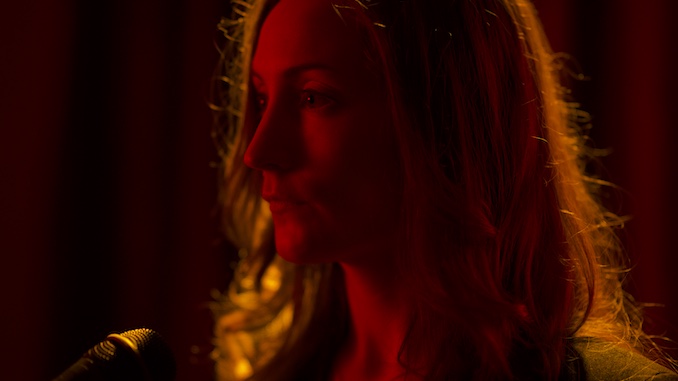 The relationship between Wally and Lou (Kathleen Dorian) is interesting. It plays with the idea of lust and knowing when someone/something might be dangerous for you but not being able to walk away. For Lou, it's Wally, and for Wally is hunting down abusers. Lesley says, "I think that Wally, up to that point, wasn't particularly successful at finding a person and a relationship that worked. – Of course, this wonderful person comes into her life at the same time something sparks in her, and she starts down this vigilante path. Does that get in the way of her and Lou, or can she come on board? I often thought towards the end of the story, Wally's so fixated, she doesn't see what she's losing, and if she does see it, she's not willing to leave the path that she's on."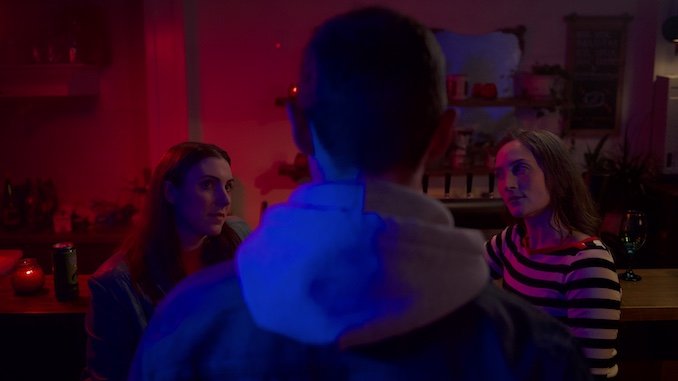 The ending hits like a brick. You're left with the openness of possibilities and consequences. When asked about the lack of retribution for Wally's crimes and the possibility of her whiteness playing a part in that, Tara said, "I wanted to stop it there because I wanted the audience to believe this is the world we now live in. But I take your point about white women. […] This is a white feminist story and so we have to be mindful of that and what we're putting on screen. And certainly, it is a white woman's perspective and thus a white woman's resolution which is triumphant!"
"Compulsus" is a sure cry for society to support and believe women, something the world needs to hear right now and persistently for the rest of time (or until the patriarchy crumbles).
"Compulsus" is playing at Inside Out Festival June 3rd.