While we start to say goodbye to the warm weather and prepare for the colder temperatures to set in, many Canadians will be enjoying the last few weeks of sun before closing out the season. With the end of summer right around the corner, Chef Rick Matharu, owner of Rick's Good Eats, is firing up his grill for some safe, family fun to celebrate with this delicious Masala Lamb Chops.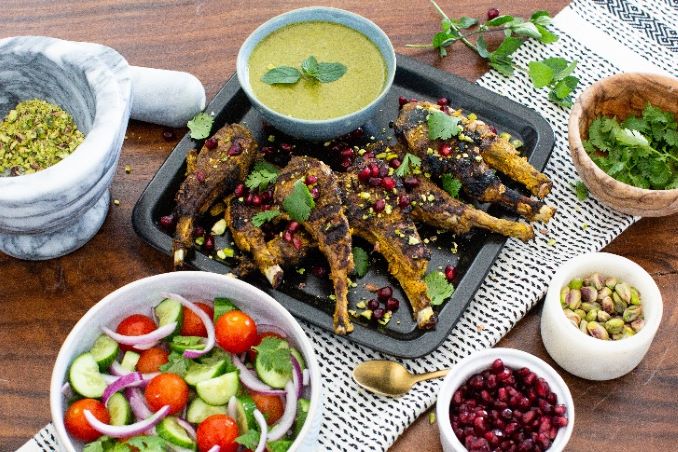 MASALA LAMB CHOPS
Ingredients
– 8 lamb chops, french trimmed
– 1 tablespoon Ginger Garlic Paste
– ½ tsp Ground Turmeric
– ½ tsp Ground Cumin
– 1 tablespoon Garam Masala
– ½ tablespoon Salt
– ½ tsp Pepper
– 2 tablespoons Lemon Juice
– ½ cup Greek Yogurt
– Pomegranate Seeds, for garnish
– Pistachios, for garnish
– Cilantro, for garnish
Directions:
1. In a glass dish combine the Greek yogurt with all the spices, ginger garlic paste, and lemon juice. Fold the yogurt marinade until well combined.
2. Add in the lamb chops, and mix well in the marinade, coating each piece well.
3. Marinate in the fridge for 2 hours. Once marinated, let the chops sit on the counter for 10 minutes to take the chill off while you preheat the BBQ on High.
4. Cook the lamb chops on high heat for 3 to 4 minutes on each side, until reaching an internal temperature of 130F.
5. Arrange on your serving platter and top with crushed pistachios, pomegranate seeds, and cilantro. Serve alongside a mint chutney and enjoy!