Mat Mailandt is an award-winning actor, comedian, producer and chef. He's performed improv comedy across North America and Europe and headlined both the Big City Improv Festival and Calgary Improv Festival with Colin Mochrie. He was the recipient of the 2016 Most Outstanding Artist Award from the Calgary Fringe. On the cooking side, he is a winner in the 2020 Chef Artois Competition in which he cooked for the Executive Chef at Ki Japanese Restaurant. Mat's passion for food and the science behind it shines through in every bite. He can currently be heard on his food and comedy podcast Bites and Bits with fellow comedian and recent Juno nominee Hisham Kelati.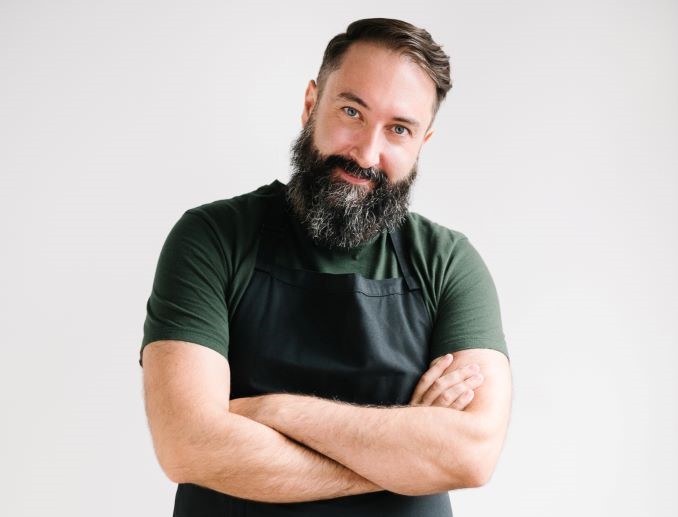 How would you describe your comedy style?
As an improviser, I love messing with my fellow comedians and the audience. I guess you could call me mischievous onstage. And I never shy away from a deadpan moment.
Who are some of your influences?
Key and Peele, Andy Sandberg, Steve Carell, Amy Poehler
Who was your favourite comedian growing up?
Colin Mochrie. I was raised on Whose Line is it Anyway.
Who is your favourite comedian now?
Still Colin Mochrie. Did you catch him on Laugh Out Loud? He is so silly, committed and can flip between sincerity and absurdity effortlessly. He's delightful and surprising. He's also the king of roasts. He has eviscerated me backstage on many occasions.
What is your pre-show ritual?
Ideally, I'm eating a meal with the cast, maybe having a beer. My style of comedy is collaborative. You sink or swim together. So I like to crack jokes and make sure the entire cast is feeling good before we step on stage. Also, I try to protect my day a little bit. If I'm super busy all day leading up to a show, I'm not as funny.
What is your favourite place you have performed? Why?
I did a Maestro show in Olso once with Det Andre Teatret. It's a competitive improv format. To accommodate me, they did the whole show in English. I ended up winning the show and it was an incredible feeling to know that my brand of comedy translated to an international audience. It helps that Norwegians speak perfect English.
What is your favourite bit you have written and why were you proud of it?
I was part of a Hip Hop Comedy Troupe for a few years and I wrote a song about my love of Sauerkraut. It was absurd but also rooted in personal truth which is my perfect comedy trifecta.
What is your favourite medium for listening or finding new comics/comedians?
Podcasts. I'm obsessed with them. So much so that I launched my own food and comedy Podcast called Bites and Bits with Hisham Kelati, another hilarious Toronto comedian.
Tell us a joke about your city.
I'm from Calgary but I live in Toronto which means I feel both alienated and pretentious at all times. I'm super fun to date.
Do you have anything to promote right now?
Season 2 of my podcast Bites and Bits is available now on the Sonar Network. Comedians will say anything for a free lunch and the podcast is proof! It's perfect for foodies and comedy fans alike.
Where can we follow you?
I'm all over Instagram – @matmailandt @improveats or @bitesandbitspodcast
PAY IT FORWARD: Who is another local comic/comedian we should know about?
Antony Hall – he's a comedy writer and improviser. He has a show streaming on CBC Gem called Mings Dynasty. He's also our segment writer for the podcast and makes me laugh all the time!