Fitness trackers often have a sporty look to them but if you're looking for a piece that can monitor your fitness, health and wellness but doesn't always look like you just came from your HIIT sesh, you may be interested in the latest edition to the Fitbit line. The sleek and stylish look of the Fitbit Luxe is now available in Canada to help you achieve your daily goals. I recently had a chance to take this beauty for a spin.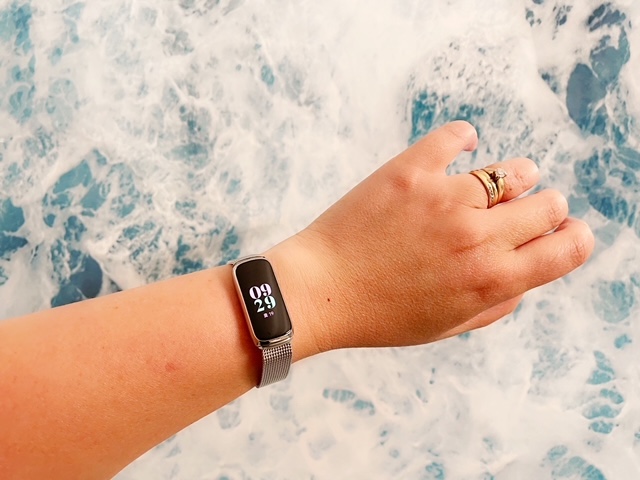 If you're a health or fitness nut, or curious in learning, tracking and understanding your body responses to daily activity, the Fitbit Luxe offers many useful ways to help achieve your fitness and health goals — no matter what you are in your journey. Paired with the app on your phone, gain insight into your active lifestyle. Wondering if  walks with your dog are helping with burning off calories? Looking for ways to quickly settle your brain and refocus? Wondering how you can change that feeling of tiredness in the morning? Yes, the Fitbit Luxe can help with all that and more.
So what can the Fitbit Luxe do? Where do we start?!
Curious if your 10,000 steps a day are doing anything for you? The device not only counts your steps, track your pace and measure distance, it will actually show you how many minutes you were in the Active Zone. Cardio, fat burning and peak heart-rate zones gives you an understanding of your output and starts with your personal fitness level and not just for walking or running but in a variety of workouts. When you first start using the Fitbit Luxe the Active Zone goals are set at 150 minutes (moderate activity levels) or 75 minutes of more intense workouts weekly. The Fitbit Luxe will notify you when you're in these active zones so you have a better understanding of how to work more efficiently. This has served as serious motivation especially when it hits "fat burning zone".  Your device will let you know daily what you've accomplished as well as weekly goals. You can customize which are your top workout preferences (e.g. hiking, swimming, cycling, running, walking and more) for easy tracking on the Fitbit Luxe and also change the goals if needed in the settings on the app on your phone.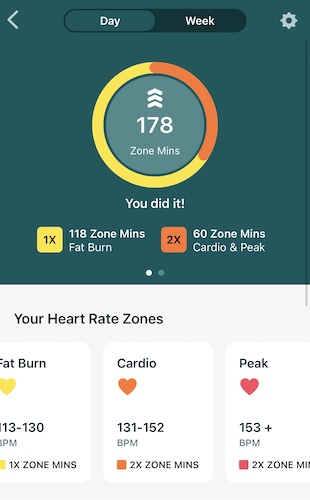 Another interesting feature on the Fitbit Luxe is the Smart Wake waking up less stressful than your average morning alarm. You can set the Fitbit Luxe to gently vibrate on your wrist to wake up. But it doesn't just occur at the time you set to wake up. It actually senses the best time to start nudging you within 30 minutes before your time set to ease you out of your slumber. So, you wake up more refreshed. Way better than the heart palpitating inducing sounds of an alarm clock.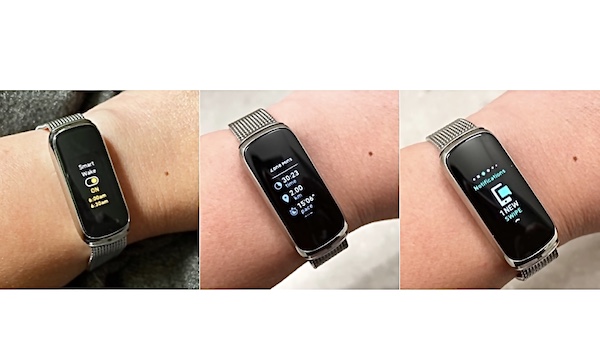 I have found the Relax app very handy on the Fitbit Luxe. This quick and easy app guides you through a 2-minute guided breathing exercise. At the end of the 2 minutes, it will quickly tell you if you're in a good, healthy range of calm — or not. With that information, it can help you decide if you want to do more to calm the F down. Full transparency, mine has been sitting in the low range. I know I need to adjust for my overall health and several times I've checked in to longer guided meditation sessions to help bring my levels back up. Since it's right on your wrist, the 2-minute relaxation breathing sessions can be done anytime and anywhere. Great for when you feel like you need to check in and refocus.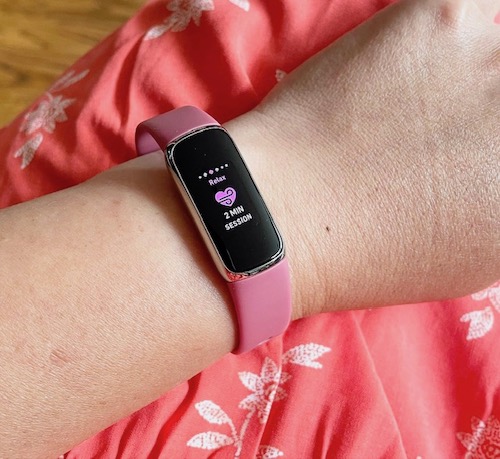 You may have heard about Fitbit Premium — their subscription based collection of fitness and wellness programs and tools that help to enrich your experience.
Right out of the box, it includes a 6-month trial with the Fitbit Luxe (after that it's $13.94/month or $106.99/year) and it offers a wide range of content. While there is content for non-Premium members we've found that it was worth keeping the Premium subscription to take full advantage of what this device can do. If you like variety then it's really a good investment.  There are guided programs and nearly 200 mindfulness sessions available  for all levels from beginner to everyone else — HIIT, yoga, meditation, running, are just a few. By the way, content is not only Fitbit created content – you also have access to some of the most popular programs out there including PopSugar, barre3, Ten Percent Happier and more. I highly recommend checking out Deepak Chopra's wellness collection Mindful Method exclusive for Fitbit Premium members.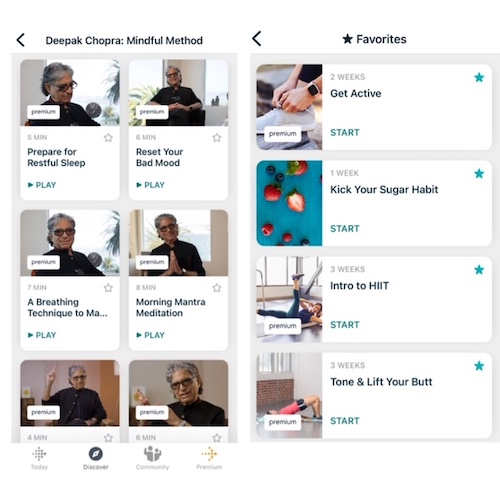 While all Fitbit users receive informative insights and tips within the app, Premium members get even more personalized summaries and tips based on data captured and  gain more useful insight into activity not just on the day, week but longer — fitness, health and wellness as well as sleep, stress and nutrition. Over time you can see how you've progressed and where you may want to adjust.
There are also recipes and nutrition content worth checking out to help you eat better and healthier. Currently there are over 60 recipes curated by Fitbit, EatWell and Asken.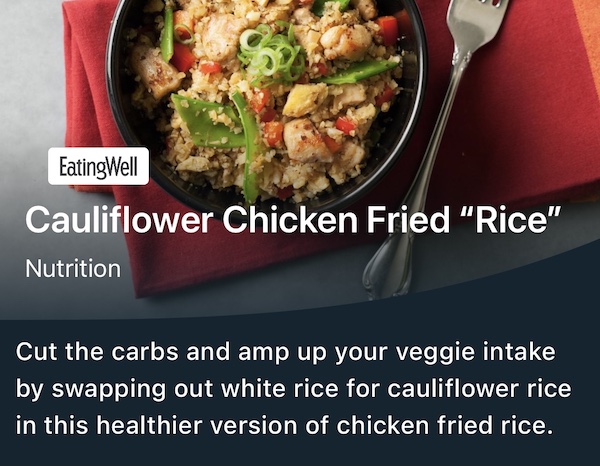 Health Metrics dashboard keeps a closer eye on your body's reaction by tracking your heart rate, breathing rate, as examples. After syncing the device to the app you'll find daily, weekly and monthly overviews including graphs to show detailed insights.  AND THERE ARE TONS OF THEM! I've been watching the Skin Temperature monitor (I swear menopause is coming). After manually adding my baseline temperature to the app, it's been monitoring for any nightly changes. This isn't the same as your core temperature. Within the app it explains that warming up or cooling down the skin is one way the body regulates itself and keep the core temperature stable. These changes can be from bedding, menstrual cycle or an onset of a fever.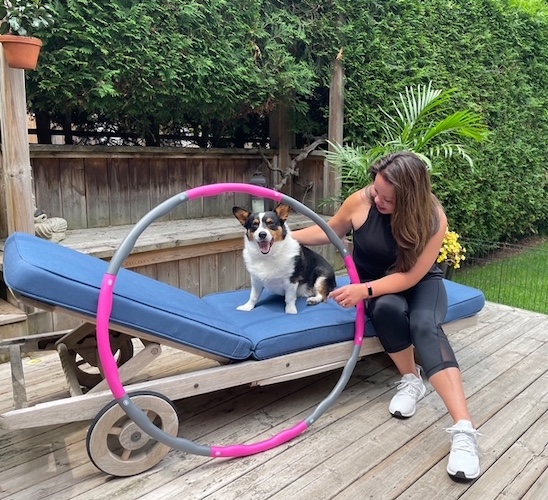 Stress Management score is an interesting way to help understand how your heart rate, sleep and activity all impact your stress and overall health. You can also check in each day to record how you're feeling in a particular moment. Then, see reflect and see how your perceived mood correlates with your body's responses.
There's a lot packed into this device and here are some other useful discoveries and also what you would expect including the built-in 24/7 heart rate tracker.
I appreciate how it also reminds me to get up and move. Even 250 steps an hour counts and the minimum to get me up and away from the computer for a stretch. It's also been handy to have pace & distance stats in real time as I go for my walks.
I've logged on at the end of each day and sync'd my Fitbit Luxe to the app to update on my phone. I can also check my history of various activities and yes, my data store from any previous Fitbit devices I've had. That seamless integration is helpful to see how I've progressed in my fitness and health journey!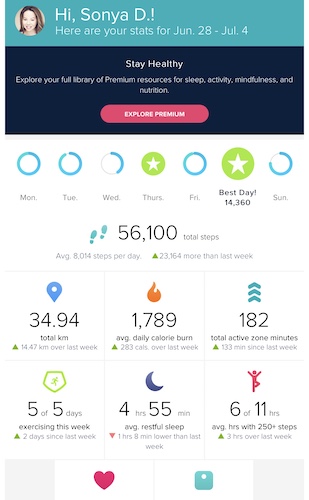 Of course, I love a little friendly competition with friends and family. We challenge each other in fitness activities – mostly walking since everyone I have friended on the app are active this way. There are also games and challenges available to switch up your daily workouts. Get Fit Bingo, anyone?
Is it waterproof? Yes, but you'll have to turn on the water lock setting if you plan on wearing it in or around water.
The Fitbit Luxe will also sync to your phone and provide you with notifications including calls and texts.
You can also set it to Do Not Disturb so you won't have notifications bothering you while you sleep or if any other time you don't wish to be distracted. Or just go into the setting and customize notifications.
What has also been really impressive is the battery life on this particular device. So far the battery has lasted easily to 5 days without needing to be recharged and we've been testing it out for just over a month.
As for style, the Fitbit Luxe design and is a great option and comfortably lightweight for those of us who have smaller wrists for 24/7 wear. There are two length of bands that come in the box to accommodate a range of preferences.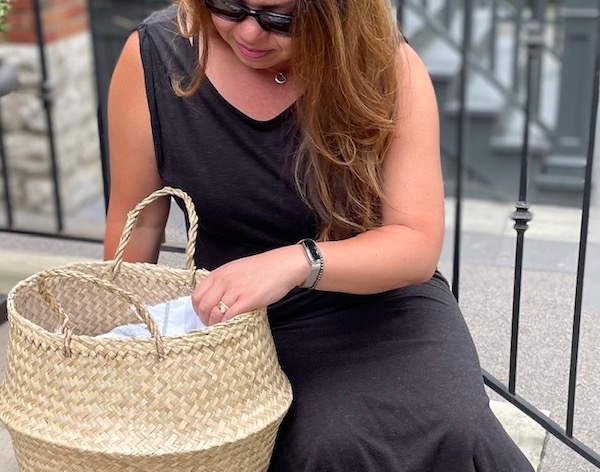 There are options of something less "sporty". While it comes it an array of great colours (I have the Orchid coloured band) there are more stylish bands like the stainless steel mesh bracelet or the stunning new Platinum Stainless Steel gorjana Parker Link Bracelet that fits more like jewellery rather than a tracking device — works seamlessly for nights out or day-to-day outings. Easy enough to switch them like I do often. My only comment is the magnetic clasp is so strong on the stainless steel mesh band that there have been a few times it's magnetized to the fridge. Luckily it's strong enough that just sticks to the fridge and hasn't fallen to the floor.
I'm still finding new ways to explore and learn about my daily activities with the Fitbit Luxe and trying all the different workouts, meditation sessions and exploring ways to eat more mindfully. The data it collects is mind-boggling. If needed, I can also share this information with my healthcare professionals. The Fitbit Luxe (and with Premium) is also helpful not only for tracking what I'm doing in the moment and a look back to see how far I've come but also to see where I need to adjust moving forward.
Oh, and I truly enjoy having their curated playlist of relaxation sounds. A few of mine on repeat include Sleep Waves  & Singing Bowls and A Positive & Relaxed Mind.