Nowadays, everywhere I turn I see a smart watch or activity tracking wristband. The sporty bands are fine when I'm in full workout or yoga gear, however in the office it's nice to wear smart jewelry instead. Earlier this year, RINGLY unveiled their Spring Aries Collection of smart bracelets and I just had to try one… ok two. After all, depending on the outfit it's nice to change up the bracelets.
The RINGLY GO bracelet in blush is my favourite. The full grain Italian leather strap is soft and supple, while adjustable to fit my smaller wrist. The stone is a matte white with marble-like details. This bracelet is delicate and totally my style as it works with any outfit.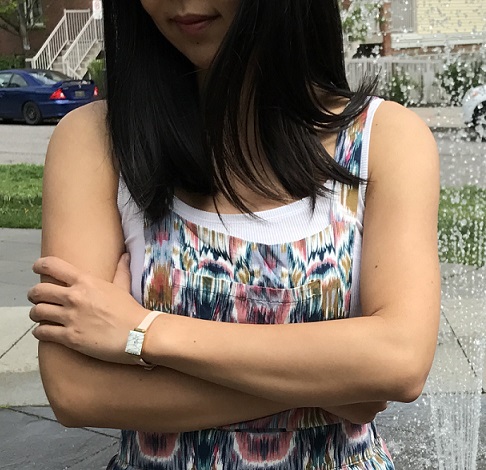 So how do the RINGLY bracelets work? It connects to the phone through Bluetooth technology and the key functionality is the mobile alerts and fitness tracker. I was impressed to see how many apps RINGLY could connect with. Not only could the bracelet notify me of phone calls, text messages and meeting reminders, it could also provide notifications from AirBnB, Mindbody, Pinterest, Skype, Uber even Sell on Etsy to name a few. Apparently, RINGLY is compatible with over 100 apps, including social media apps like Instagram, Facebook, SnapChat. But a word of caution, don't go crazy on the notifications, I would suggest choosing your top 4 notifications. Otherwise your wrist will be buzzing like a Queen Bee and flashing like a disco ball.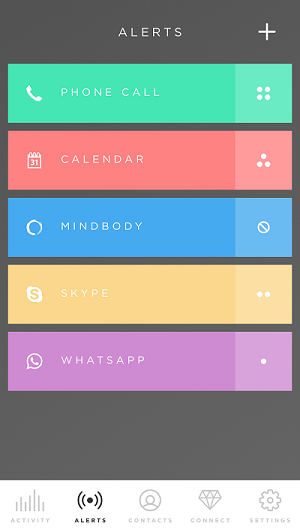 To customize your alerts, choose from 1 to 4 vibrations and select blue, green, yellow, purple, or red for the soft light beam. The trick is to notice how many vibrations go off and to quickly glance at the colour beam. I'm still getting used to it.
RINGLY founder and CEO Christina Mercando d'Avignon's vision is "Whether at the dinner table, out with friends, or in an important meeting, RINGLY allows you to stay on top of your daily activity and mobile alerts so you never miss a beat, but aren't glued to your phone." I love the idea of checking my phone less, especially when I'm out with friends or at work. I noticed, even when I left my phone at my desk, I was still able to receive subtle alerts while sitting in a boardroom on the other side of the office.
The fitness tracker feature that RINGLY bracelets offer is step tracking, distance and calories burned. All this can be reviewed on the fittingly pink RINGLY app. One other feature to mention is the guided meditations available on the RINGLY app. Anyone who knows me knows that I'm a big supporter of taking a few minutes to clear your mind and breathe deeply. Since I've started using RINGLY I've noticed they've added a few more meditation modules. There's Hello World and Mid-Day Recess that help you achieve five mindful minutes. The longer modules include Love & Kindness (10 mins), Peace of Mind (14 mins) and Time to Unwind (18 mins). Personally I didn't like the voice in the guided meditation and wished there were voice options. Also, I would recommend a few more five minute mindful exercises since it's easier to squeeze in the shorter meditations throughout the day.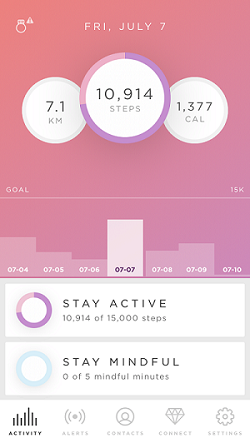 With any jewelry, it's nice to have lots of styles to choose from. The other bracelet I tried out was the RINGLY LUXE Jet Set bangle. No one would've ever guessed this feminine bracelet is secretly a smart wearable. Featuring a glimmery purple jade stone and 14k gold plated, this bangle is chic. I appreciate that it's easy to put on and take off. As for re-charging the bracelets, easy peasy. The bangle can be charged by placing it in the little black jewelry box it came in, while the RINGLY GO bracelet has a charging plate directly on the back of the stone. Both bracelets offer great battery life, lasting two full days (which is longer than my phone lasts).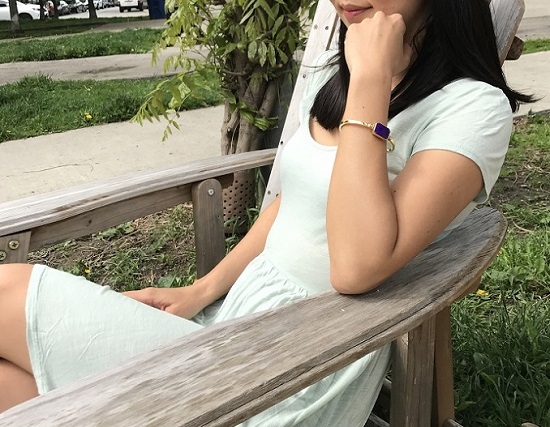 Check out Ringly.com to shop the full assortment of bracelets and rings. There's lots of exquisite stones to choose from!