When the recent "Thriller Workout + Beer" event came across my phone, it really caught my attention. Hosted by Perky Athletics, a newcomer to the fitness scene in Toronto, it looked like a perfect blend of a fun workout with well, perks! This Halloween themed workout was held outdoors at Mill Street Brewery Pub in the historical Distillery District – how fitting! Led by local fitness instructor Beverley Cheng dressed in a banana suit we knew we in for a good time. Following the workout we were rewarded with beer samples. Pretty sure we gained back the calories we lost but never mind, it was motivation to get us out and moving — our abs, legs, and arms felt it the next day!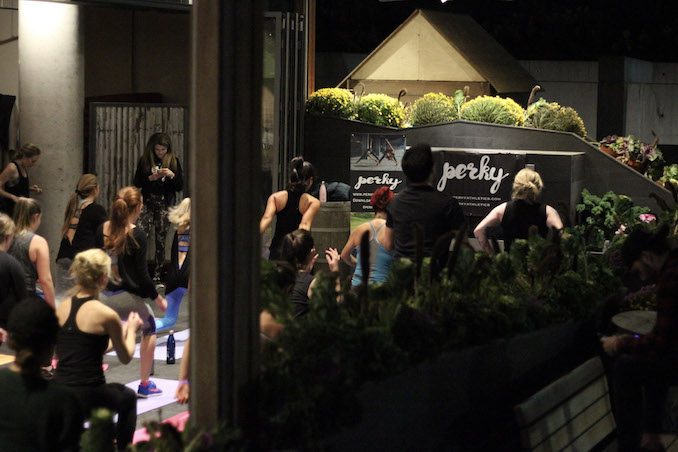 Perky Athletics hosts a series of workouts for all levels in refreshing venues led by a motivating instructors. You can see what's coming up on their Perky Site & App.
We had a chance to chat with Rebecca Perkins, founder of Perky Athletics to find out more!
What made you decide to start this app? You had left your full time job?
I saw an opportunity in the fitness industry. So many fantastic instructors want to teach freelancing fitness classes, but it isn't as easy as you might think! It is very difficult to find space teach and to grow participants for classes. Perky came to life to solve this struggle. We help connect freelance fitness instructors to unique venues for their classes or events. We then have a platform where their classes are listed, so participants can see what is going on in their neighbourhood and sign up for them online. We are shifting fitness to a shared economy model, connecting instructors and participants directly.
The participants are getting access to a new selection unique, affordable fitness classes! It really is becoming a "speak easy" of fitness, but instead of a drinks.. you are getting a workout! Well, in some cases like our Mill Street Beer Hall event they are getting both.
Yes, I had a wonderful job at Labatt Breweries, and I had worked there for the past 5 years. I was balancing both Perky and Labatt throughout the development and initial launch, but inevitability I got to the point that I really had to go all in to give Perky a good shot. If I didn't, there would be regret! Of course, leaving stability and the comfort of familiarity is nerve racking, but it was really my only option. In order to reach my vision of what Perky needs to be, it needs full time attention.
I am currently a part of a start-up accelerator program at the co-working space, Make Lemonade. Ten start-up companies have been accepted into this cohort, so I have office space and mentorship for a 6 month term. This made leaving my job much easier, I still have an office and routine schedule, mentors and 9 other start-ups alongside me!!
Workouts don't happen in your average gym or studio, tell us about some of the venues you've hosted fitness classes?
Correct! We partner with unique venues for classes. There are so many wonderful unused spaces around the city that are perfect for hosting a variety of different fitness classes. The benefit to them is they get new people into their spaces, it is great for brand awareness. We launched in the Summer, so pretty much all of the classes on the schedule were in parks. The app organically became connecting participants to freelance classes in parks and outdoor areas. This was great, however not sustainable as our summer months in Toronto are sadly so short. That is when we started partnering with unique spaces.
Mill Street Brew Pub, where our Halloween Thriller event took place, (my beer and fitness worlds colliding) is such a beautiful venue and awesome to work with. They value comm unity involvement and bringing people together; our values align. We also have a partnership with Ollie Quinn glasses stores throughout Toronto, and we use their space after hours to host a schedule of yoga classes. RYU has also recently launched a community freelance gym in the basement of their clothing store! We are working together to get their full freelance schedule up and running on Perky. We have coffee shops, restaurants, and many more unique venues in the works to get classes up and running shortly.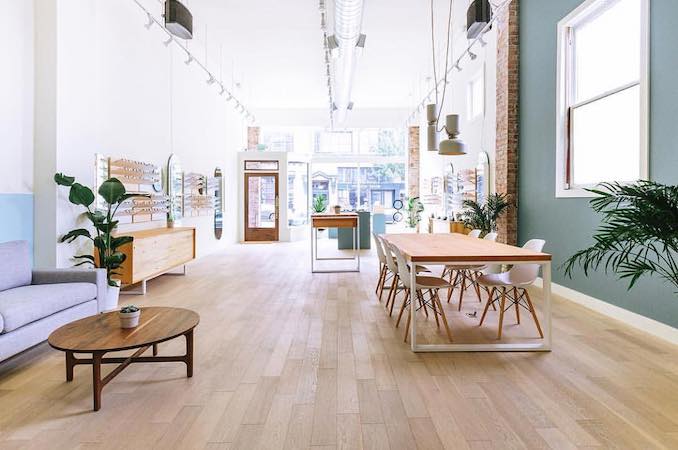 What about the fitness instructors? How do you find them and get them involved?
Before launching I actually found fitness instructors on Instagram and messaged them to meet up for coffee. I called them my Perky blind dates, and I went on a lot of them! These meetings were more important than I realized, because not only did I find some fantastic instructors who ran some of our first classes, but this was also an opportunity for me to get great feedback on the app, and really get into the mind of a fitness entrepreneur and hear what their struggles have been along their journey. Listening to the instructor is really key. After my first initial coffee meetups I had my original group of instructors, and from there work of mouth took over and I am happy to say I never rarely have a shortage of instructors looking to teach some classes.
The key to this platform is that everyone truly is a freelancer. I am not their employer, they create all the details regarding the time, cost, class type, all I do is connect them with a venue and a platform to use for their scheduling and participant sign ups.
Tell us about some of the fun fitness classes coming up?
We are mainly a platform for freelance classes, but we are going to keep adding in the occasional fun fitness event as well to keep bringing the Perky community together! Our next event will be the 12 days of Christmas boot camp… more details to come soon, but there will be Santa hats involved. We will also soon to be launching fitness / cider sampling classes at the Brickworks cider house.. stay tuned!
What kind of commitment is expected from people signing up to Perky?
For the Perky instructors, they are truly freelancers and teach when they want to, where they want to. The majority of our instructors have weekly re-occurring classes on the schedule, and I am committed to ensuring that the classes are of high standards, but this is truly a platform to connect people to people. They are truly their own boss, and the revenue model reflect this, they take home 90% of the revenue they generate. (There is a 10% transaction fee.)
What would people expect at each of your fitness class?
Expect a unique trendy venue, but most importantly, people should expect affordable fitness classes. The majority of our classes right now are $10 / class, and as the fitness instructor earns the revenue they generate, this can be extremely profitable for them as well. It is a win-win for both participants and motivators.
This is new but what a great idea! But what have you learned so far about running your own business on this platform?
So far my biggest learning is how important confidence in both yourself and your idea is to driving the business forward. Your network can be there for support, but in the end, you have to be the one driving the business forward. It is inevitable that there will be setbacks, but it is important to minimize the impact that these setbacks have on your overall confidence; you have to have the ability to build it back up again when mini failures happen. They are going to happen, and it is okay, but it is having the resilience to realign your strategy and keep driving forward.
Who is Perky Athletics for?
Perky is for that forward-thinking individual who want a cool different fitness experience, values community but doesn't necessarily want to dish out all their dollars to do so! Perky is also for the driven freelance fitness instructor who is at heart an entrepreneur and is interested in shifting fitness classes to a structure that connects instructors directly to participants, potentially skipping the studio or gym.
Anything else you'd like us to mention?
For your first Perky experience, we give $10 the participant credit. Readers can redeem their credit by using this code. A7Q8T