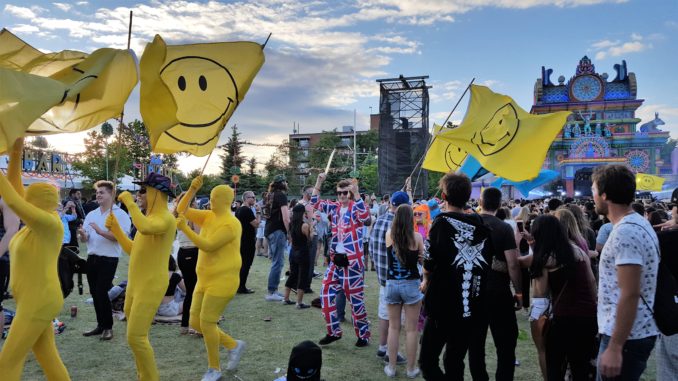 It was a glorious second year for Bestival Toronto as organizers brought "The Summer of Love" theme to Woodbine Park. Festival founders, Rob and Josie Da Bank, started running this bohemian-boutique festival in the UK ten years ago and as they've expanded to Toronto, their combined festival expertise is apparent in every quirky, colourful detail of the musical wonderland.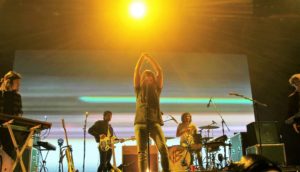 The talent on the main stage was pretty impressive with psychedelic rock band Tame Impala headlining Saturday. Followed by a solid Sunday lineup featuring eccentric crowd-pleaser, Grimes and legendary goth-rock band, The Cure, closing with a fabulous firework display.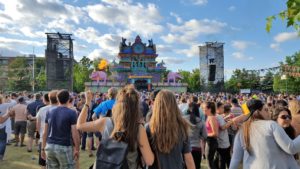 EDM lovers were also spoiled with the lights, lasers and fire show at the fantastical Bollywood Temple headlined by Maya Jane Cole and Dubfire. Additionally, concert-goers could experience a rave paradise with circus acts and top notch DJs like headliners Porter Robinson and Tchami.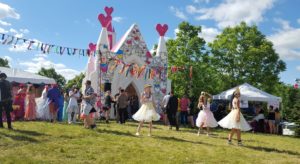 However, what really makes this fest rise above the rest is that around every corner awaits new splendid surprises and community building activities.  Hilarious British Deacons in an Inflatable Church offered friends, lovers and lovers of inanimate objects (a guy may have married his beer) the chance to tie the knot in front of a crowd of cheering strangers.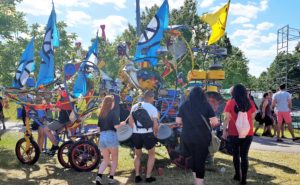 A wonky and wonderful giant, bike-like instrumental contraption allowed passersby to make music as they banged on drums and cowbells together. There were also many adorned chill spots with sparkling umbrellas and colourful flags. Everywhere I went I was impressed with the amount of detail that went into creating such a bright, beautiful and friendly atmosphere. I look forward to making the music, parades, art and entire Bestival spectacle an annual tradition.