You know summer is here when everyone is looking for places to hang out with friends and family outdoors. We love star-filled nights taking in the warmth of summer and sponging every waking moment. The Open Roof Festival is a relaxing way to unwind a workday while enjoying independently made films from around the world as well as live music.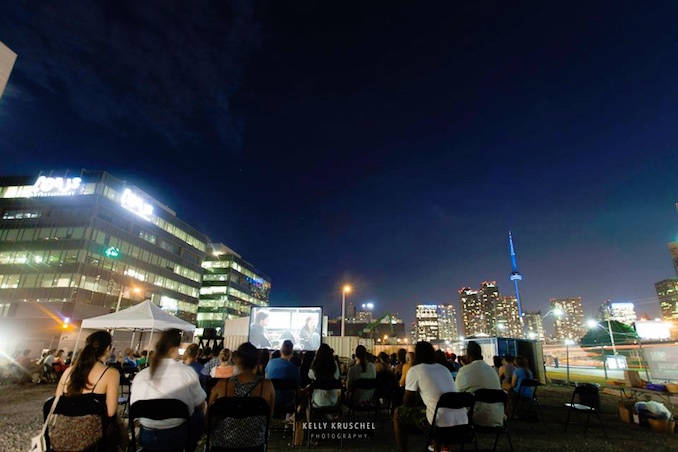 This volunteer-driven 10 week festival starts on June 21 and as soon as the sun goes down the action all begins on Tuesdays or Wednesday nights all summer long. Each event starts with a musical guest performance around 8 pm followed by a film screening ($15 online or at the door). Food and beverages also on site for purchase from local vendors such as Food Dudes who will visit with their famous food truck serving up Mac and Cheese Balls, Captain Crunch Fish Tacos and more.  Concession stand standards like popcorn and candy are also available of course. Amsterdam Brewery also will be on site to offer up beer and wine.
The location of the festival is at 99 Sudbury Street. Music, movies and beer? Sound like the perfect summer to me!
This year's line up looks amazing with films including…
Everybody Wants Some!: A 'spiritual sequel' to Dazed and Confused set in 1980's college life that follows a group of friends as they navigate their way through unsupervised adulthood.
Sing Street: Takes us back to 1980s Dublin that forces Conor out of his private school life and into survival mode at an inner city public school.  He starts referring to himself as 'Cosmo' and immerses himself into rock music. The film features memorable songs with hits from The Cure, Duran Durn, The Police, and more.
The Lobster: is a love story set in the near future where single people are arrested and transferred to The hotel. They are obligated to find a mate in 45 days. If they don't then they are transformed into an animal of their choosing and released into The Woods.
The Sleeping Giant: Teen Adam spends his summer with his parents on Lake Superior. His routine is turned upside when he befriends Riley and Nate who has too much time on their hands. The revelation of a hurtful secret tests the bonds of friendship.
Off The Rails: is the true story of Darius McCollum, a man with Asperger's who has an overwhelming obsession with transit that lands him in jail 32 times for impersonating New York City bus drivers and subway conductors.
A Bigger Splash: rock legend Marianne Lane is recuperating on the volcanic island of Pantelleria with her partner when an old flame, and record producers unexpectedly arrives with his daughter and interrupts their holiday, bringing with him plenty of nostalgia.
My Blind Brother: a relationship comedy about Bill who has always lived in the shadow of his brother, a handsome athlete and local hero who happens to be blind. Their sibling rivalry reaches an all time high when both men fall in love for the same woman.
Hunt for The Wilderpeople: raised on hip-hop and foster care, defiant city kid Ricky gets a fresh start in the New Zealand countryside. He find himself at home with the aunt, uncle and dog Tupac. When a tragedy strikes that threatens to ship Ricky to another home, he goes run in the bush in this adventure comedy film.
See the Open Roof Festival website for more details.