Sabrina? She's a Capricorn through and through. She's always trying to one-up people with her knowledge and has to be the smartest cat in the room. She is ambitious when it comes to playing with Da Bird and a little "touchy" about touch. Independent yet affectionate, sensitive, yet playful. SUCH a Capricorn.
Sabrina can be a social and affectionate girl, but only on her terms. She'll host a soiree and do all the planning. She'll even choose the playlist. But once the party starts she'll kind of just disappear and only drop in to talk about food, music, or Da Bird. She will gladly sit next to you on the couch and listen to you talk about your job. But she'll probably not sit in your lap. She hopes/expects to have her very own spot on the couch.
Sabrina likes doing things at her own pace, on her own time. She likes having her space and thinks "petting" is kind of overrated. At the same time, she loves just being in the company of her humans. What she loves even MORE is playtime. The Da Bird is her favourite toy and she believes every house should have at least ONE. We should warn you though, she is very competitive. You think you're fast? She's faster.
Sabrina knows who she is and what she wants. She wants a calm, quiet home with plenty of space to zoom around chasing Da Bird in. She wants a cozy chill-out spot in every room. She wants treats, naps, and movie nights. Most of all, she wants to know she's part of a family.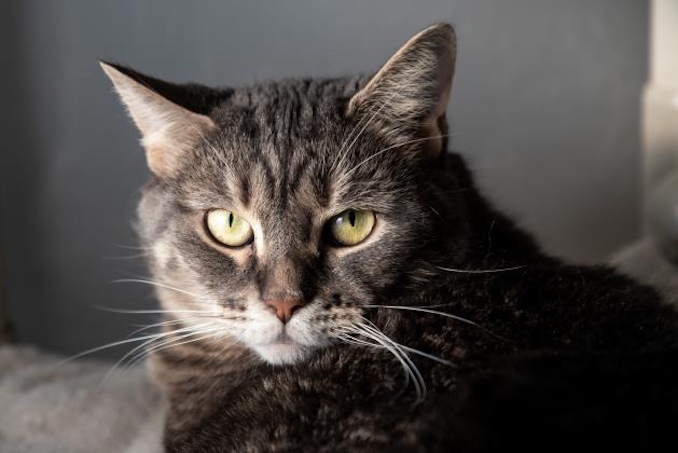 Sabrina
Breed: Domestic Shorthair, Mix
Age: 3 years 5 months
Sex: Female
Size: Medium
Colour: Grey
Spayed/Neutered: Yes
Declawed: No
In order to ensure a smooth and successful adoption, please remember to check all the basic requirements for adopting before coming in to the shelter.
About this column:
Each week we feature animals available for adoption from local shelters in the Toronto area with the hopes that our readers will assist in finding good homes for them. If you, or someone you know, has the resources to take care of one of these animals, please do get in touch with the appropriate shelter via the links provided.