Walking down the steps to Nothing Fancy, you immediately realize just how apropos the name is. It is a dark room with rows of small chairs, a few having school-like desks in front- not those big ones from elementary, but the tiny desk that flips over the chair from university- just big enough to put a drink or two on and nothing more.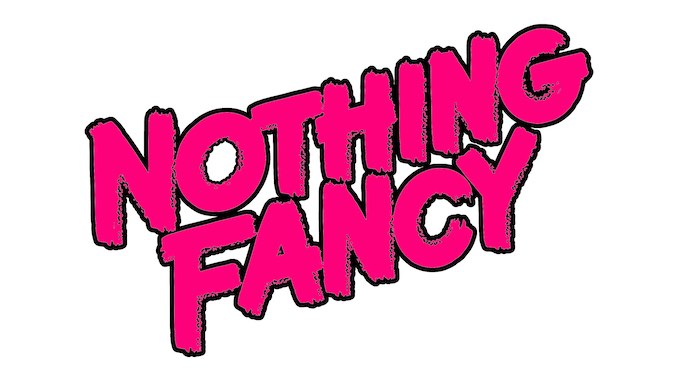 At the back, there is the bar that has the regular mix of beer, coolers and soda. They do not have actual food, but if you have the munchies, you can get some candy or chocolate here too. I get mini-m&ms that come in a blue plastic bottle with a flip top and the second I see them I am reminded of high school when they first came out and I wonder if they are having a comeback just like everything from the 90s.
The place fills up quickly and as people settle into their seats the lights go down and we are introduced to our host for the evening, Tamara Shevron. Tamara is a sea of hot pink with a personality to match. She immediately gets us in the right state of mind for an amazing night of comedy. She tells us a story of her boyfriend trying to get her to portage and the crowd is roaring with laughter.
The audience being small and intimate, there is a lot of audience participation or at least one enthusiastic member who tells us about a "trip" she had to a sultan's tent while on shrooms. These interactions are a great counterpoint to the comedy and keep the audience engaged and laughing the entire night.
The standout was Courtney Gilmour who you might know from Canada's Got Talent. She was part of the top eight and her show at Nothing Fancy definitely explains how she got there. Her ability to capture the audience while still making them laugh until it hurts is a unique talent that not all comedians have. If you get a chance to see Courtney, do it- you won't regret it!
The night ended with Mike Wilmot going in and out of old and new material, making the crowd laugh and sometimes gasp in horror. It was great to hear some of his more famous bits such as The Ground Artic Seal Penis, which can make you laugh even if you've heard it before. For me, however, the best part was just how excited Mike was to be coming out of the pandemic. Mike told the audience just how much he missed being on stage and you could feel the audience agree with him wholeheartedly.
Because for anyone who is a lover of comedy, sitting in a basement with a bunch of drunk strangers is really where you want to be on a Friday night!
Nothing Fancy is now open at 276 Augusta Ave. Go early and enjoy some food upstairs at Tito's Barbecue Cookout– you'll be glad you did!