Name: JOHN ORPHEUS
Genre: Afrobeats/HipHop
Founded: 2015
# of Albums: 5
Latest Release: BLACK STAR RISING – Listen on Spotify
Latest Video: PARACHUTE
Bio
John Orpheus is a Trini Troubadour and Pan-African poet whose musical journey has taken him from the Trinidad bush, to blues and folk festivals across Canada, to some of the biggest rock and roll stages in the world. Born and raised in the town of New Grant, South-Central Trinidad, J.O. grew up singing in Pentecostal and Shango Baptist churches. After attending the famed Presentation College in the same year as legendary Soca singer Machel Montano, he immigrated to Canada where he soon became fully immersed in the music life.
His current musical iteration combines hip-hop swagger, Afrobeats energy and dancehall charisma to create a sound built on big catchy hooks, African rhythms and Caribbean twang. John, along with his musical partner, DJ/drummer Sarah Jane Riegler, are known for rabble-rousing live shows filled with audience participation, chanting and impromptu dance offs feel more like Caribana road parties than concerts. As J.O. likes to declare: "AH SO WE DO IT!"
In 2017, the crew dropped three mixtapes in seven months, each built on the themes of Pan-Africanism, intersectional feminism and a fashion forward aesthetic: the downtempo manifesto Goldchain Hennessey, the Carnival fete-infused Bacchanal and the Canada/Nigeria/Ghana collaboration Black Star Rising. Each mixtape was launched with a successful video and single featuring collaborations with Toronto's freshest dancers and videographers – "Leanin", "Jiggy AF" and "Wey Ya Call Dat Ting?"
Latest Single:
Parachute (available on Youtube, Spotify, Apple Music)
Favourite Restaurant:
Rhum Corner (Dundas West)
Favourite band as a teenager:
Outkast
Favourite band now:
Janelle Monae
Guilty Pleasure Song:
Kanye West – All Mine
Live Show Ritual:
Crystals, Invoking the Gods and a corny group hug with the band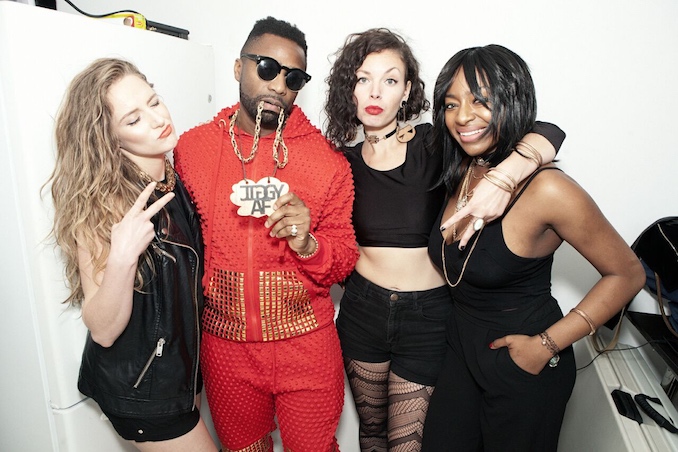 Favourite local artist:
Dynesti Williams
Sneaky Dees nachos, pasta from Terroni or a superfood salad from Fresh?
SUPERFOOD!!
Queen or College St?
COLLEGE – Dat mah hood!
Trinity Bellwoods or Highpark, Riverdale or Kew Gardens?
RIVERDALE – I run 8 km daily and my route goes right through there. Plus I love Goats more than people.
EP or LP?
Mixtape dawg
Early bird or night owl?
I can get em both. I don't waana choose
Road or studio?
See previous answer
Swiss Chalet or Roti?
I'm a Trini so…Roti. ROTI. ROTI!
Where can we follow you?
We kick it at the Art Square Gallery you can follow us around there if you like…oh..you mean online? IG: @johnorpheus @hausorpheus @afrohausto Twitter: @john_orpheus Snapchat: @johnorpheus
Any upcoming shows or releases?
GOATLIFE – mixtape release at Luanda House on Bloor West June 29th. REACH!