Artist Vija Celmins is very much in the moment. She speaks her mind without hesitation and with a passion that is both fascinating and mesmerizing. She looks at the big picture but won't let you forget that it's the details that make an image a whole. Celmins has a subtle power within her and you get the sense that she's not someone who follows convention. That's what draws us to the newest exhibition at the Art Gallery of Ontario Vija Celmins: To Fix the Image in Memory on now until August 5, 2019.
Renowned for her highly detailed renderings of nature's movements – oceans, night skies, lunar landscapes, and spider webs, Vija Celmins has captivated art lovers for over five decades. This exhibition titled Vija Celins: To Fix the Image in Memory is the first North American retrospective of her work in over 25 years. More than 110 works are on display including recent paintings, sculptures, and drawings in graphite and charcoal.
Her work takes inspiration from her environment whether it be in her studio or what she sees outside. Most of her most works are done primarily in tonal shades of grey and black.
In the early 60s, she moved to LA and was paintings large works on paper. As she explained, everyone else seems to have some sort of direction with their work while at that time she was floundering around.  "I was just looking at things and painting." Celmins explains that she painted a lot of the same images but threw away a lot. " I was in a mood to throw away things. I threw away composition and gesture. I threw away the artificial in colour. This all came naturally to me."
She explained that every now and then, she was interested in painting objects. "Single objects that hang onto a single image and then the paintings become the object themselves. I was hanging on to the single objects for reasons unknown."
Celmins explains that some of her earlier paintings took one to three days because she was trying to stop her mind. "I wanted to stop my mind and just react. Just paint, see and react and reject of course. I rejected a lot of the work."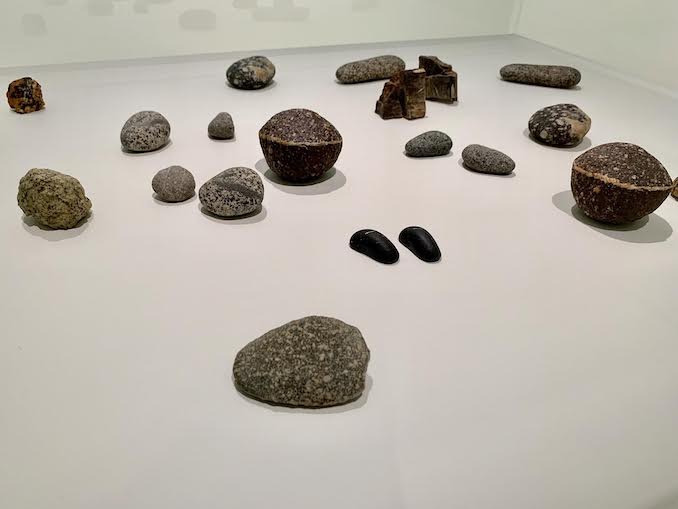 The exhibition is arranged chronologically and by subject. There are bodies of work from studio objects to clippings from newspapers, magazines, and books. Then Celmins started taking her own photographs of the ocean near Venice, California and this was the time when she decided to give up painting altogether and turn to graphite and paper.  But the material was still very important to her. "The surface is important. There's an image that's implied but basically, it just describes a flat surface that's in front of me. The material is either light or dark and has a presence. I was also interested in the perimeters and how to present an image and make it real here in those contexts."
One painting that Celmins pointed out during an intimate media tour was an image from taken from the dashboard of her car. It was more conventional than her grey tonal and singular subject works. This piece she jokingly calls a new realist painting. "I was driving from the University of California where I was teaching down the freeway. It's a painting that really invites you in. It has an emphasis on space going in which I decided was not the thing to do. I wanted the image to stay in the room and be solid and project but not allow you to be illusionistically seduced."
In 1992, Celmins began creating her most famous works of the night sky and spider webs (even though she tells us she hates bugs). These works were tirelessly revised. Night Sky #16 (2000-1) is the cumulative result of over 20 layers of paint repeatedly sanded off and re-worked.
"I decided to drop painting because I wanted to be more specific. I wanted to change the medium so I went into graphite," said Celmins. She went on to explain that she had been painting for years and then decided to only work with pencil. "The material really explored the proportions and was compressed even though the image was large. The material was emphasized. It's like a documentation of an image. I was more interested in the image being flatter. It felt right to me."
She considered her majority of work more as a redescription of an image rather than an observation — more conceptional. "I was interested in building the work from things that interested me. I wanted to keep the image right here."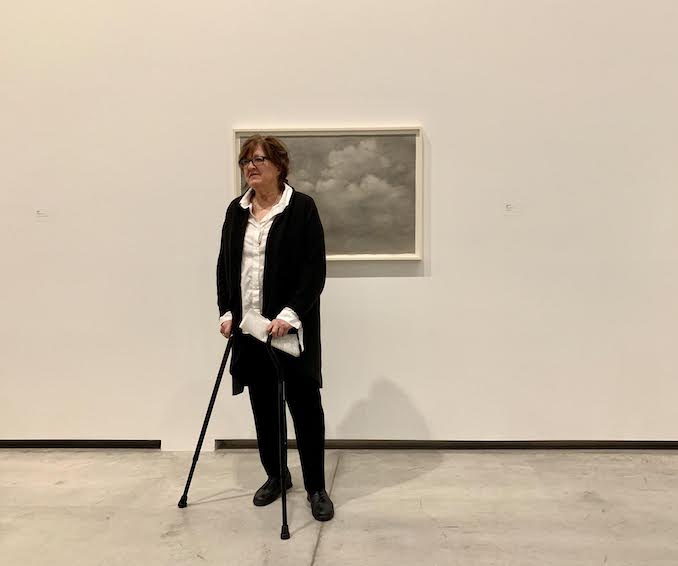 You'll also notice there are no mats to frame the works. They aren't windows looking out to something. The edge of the paper is really important and a way to see how the material sits. Celmins explains the paper to her is very much part of the work as is the graphite and the concentration of the image.
Worth also mentioning is a display of "Eleven Stones and Eleven Made Objects". In 1977, Celmins gathered dozens of stones from Arizona and New Mexico and eventually selected eleven to replicate using bronze and acrylic paint. This was what she called a test of her own eye to see what she could see – another redescription. On display is the original ready made and then her re-made. Hard to tell which is which.
We are bombarded with images today in this world of social media and taking selfies even in museums and galleries. Part of this exhibition is about stopping and slowing down. Celmins' work pulls you in and immerses you in the present moment. Viewers are engaged with thoughts of distance and intimacy. Landscapes become more abstract. This is an absolutely stunning exhibition by a fascinating artist.
***
About Vija Celmins: Born in Riga, Latvia, Celmis fled the country with her family near the end of  World War II before the Soviet occupation. They lived in refugee camps in Germany until immigrating to Indianapolis in 1948. Celmins studied at the Herron School of Art and Design in Indianapolis and attended a summer session at Yale University before entering the MFA program at the University of California in 1962. She relocated to New York in the early 1908s. In 1992, the Institute of Contemporary Art in Philadephia organized the first retrospective of her work; she also had been presented in solo exhibitions at the Centre Pompidou, Paris; the Hammer Museum, Los Angeles; the Menil Collection Houston; The Metropolitan Museum of Art, New York, The Museo Nacional Centro de Arte Reina Sofia, Madrid; and the Whitney Museum of American Art, New York. C
Vija Celmins: To Fix the Image in Memory is co-organized by the San Francisco Museum of Modern Art and The Metropolitan Museum of Art and co-curated by Gary Garrels, Elise S. Haas Senior Curator of Painting and Sculpture at SFMOMA, and Ian Alteveer, Aaron I. Fleischman Curator, Department of Modern and Contemporary Art at The Met, with Nancy Lim, assistant curator of painting and sculpture, SFMOM, and Meredith A. Brown, research associate, Department of Modern and Contemporary Art, The Met. The installation at the AGO will be overseen by Kitty Scott, Carol and Morton Rapp Curator, Modern & Contemporary Art.