We had heard this speakeasy bar & resto was unconventional and for those who've been might not want the secret to get out on this gem. 86'd is a great spot to chill out.
Located in the Little Portugal area of town, you could easily walk pass this mysterious spot if you weren't searching for it. The unassuming gated front shows the address but there are no other obvious signs.
Co-founder and mixologist Davide De Ciantis tells us that curiosity and word of mouth have been getting people in the doors, but the drinks and the vibe keeps them there. Take note, there is no cocktail menu. But no worries, just walk in and Davide, who specializes in on-the-fly cocktails, will make an unforgettable drink just for you and what you're feeling at the moment. Custom? Bespoke? Whatever. It's yours.
This kind of service is next level for true cocktail lovers who really want to see what a mixologist can do. It's a talent to  as he gets to know you, your likes and dislikes. For this kind of offering, you know he's got to be confident at his game. Davide is no stranger to the restaurant business and he's done his homework. He's worked in the industry for years and his passion for spirits and mixology is very clear when you chat with him. That passion has also led him to train with world-champion cocktail bartender, Robin Kauffman (Alo Restaurant), while he was developing menus for other restaurants in the city.
The space here at 86'd is intimate with tables on either end of the long bar. There's a mix of old school charm injected with contemporary finishings and everything you touch here has a story behind it. Some of the glassware were used as props for show and were brought in by actors who hung out here after a day of filming. Two hand-painted jazz themed tables were by a local artist. The washrooms were designed by another local artist. They turned out to be fun surprises.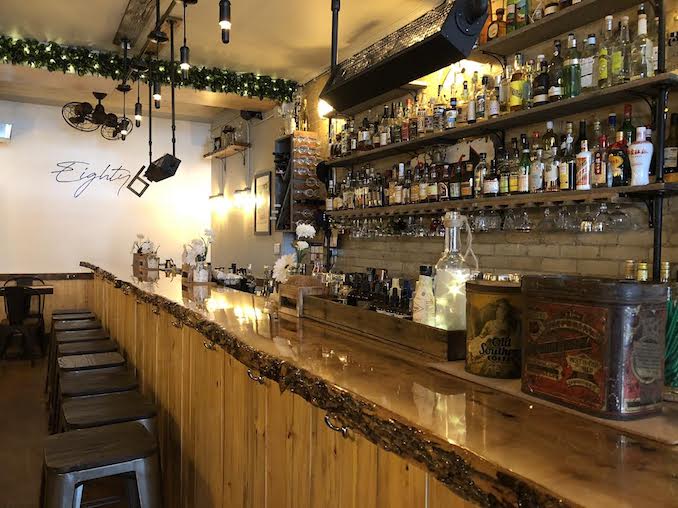 Executive Chef Rory Kennedy is hands-on here with a concise menu that offers modern Canadian cuisine that reflects the diversity of culture and flavours of Toronto. Reasonably priced items are listed as: crispy, toast, veg, starch, pasta, seafood, charcuterie, meat, and dessert. They tell us the Polenta Poutine is a very popular dish.
Chef Kennedy is not only in the kitchen cooking but he's the one who brings the dishes right to your table that's a really nice personal touch. Chef Kennedy has worked as sous chef for Grand Electric Muskoka and Piano Piano in recent years. The menu is changing based on what's in season in the hyper local market and open until 2:00 am unlike other restaurants in the city. They also are passionate about having zero waste so once an item sells out, it's 86'd. Get it?
So, who comes here? Davide tells us that they see a lot of couples on a date night, women who love great cocktails, and people who are interested in higher end spirits. Of course, it's a neighbourhood draw as well. It's not pretentious and they're not trying to be anyone else but themselves. They are mainly interested in offering a great experience.
On February 14th, 86'd is offering a one night only dinner menu for $75 per person. Cocktails and other drinks are extra, of course. Reservations recommended. 86'd is located at 1321 Dundas Street West. Call 416-908-8913 or email eighty6bar@gmail.com
Here's a sneak peek: