Welcome to Toronto Stella, you absolute delicious babe! You may know Dino Luciano from his victorious stint on MasterChef, but now you can get to know his food first hand at Stella, a plant based restaurant in the heart of Downtown Toronto…but hurry, it is only here until January 31st and trust me, you don't want to miss out.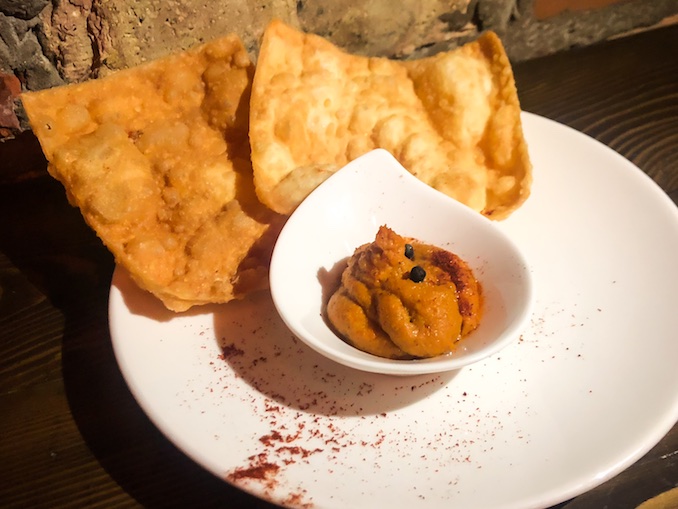 Stella is pretty intimate so I would suggest booking ahead to avoid disappointment. The small space was perfect for a cozy vibe, complementing the autumnal and wintery flavours of the Italian inspired dishes.
Luciano proves that you don't have to pile on the pounds eating unhealthy comfort food – Stella has got you covered with dishes that taste amazing and make you feel even better.
Starting off our feast, we tried the Caprese Crostini that manages to both be both light and rich at the same time thanks to the winning combination of Heirloom Tomato, Sherry Beet and Cashew Ricotta.  For those of you who would prefer a warm starter on these cold evenings, a highly recommend the Sicilian Island Porridge, which is like a creamy, thick and artfully spiced soup made of roasted squash, lemon seared faro, ground toasted hazelnuts and basil crema.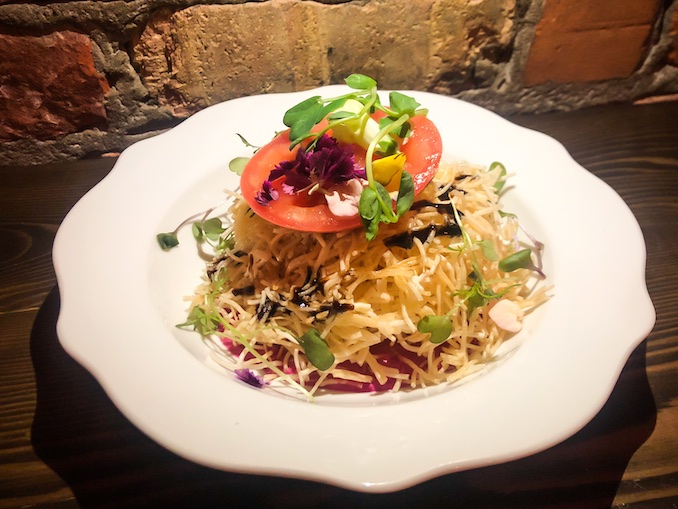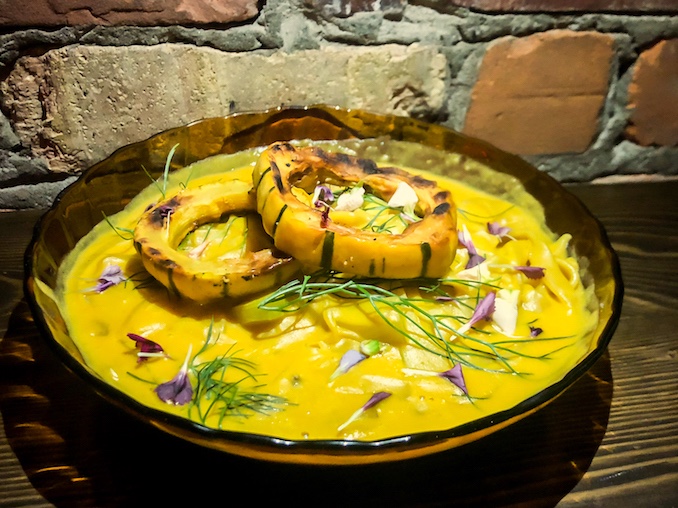 Luciano keeps his menu simple, which I have always really respected in a chef; that way you know what you are getting receives the attention it deserves. There are just three bigger dishes on the menu; the three mushroom capellini, cherry risotto and the bohemian squash fettuccine. SO much yum in just three menu items. MY suggestion would be to order fettuccine and the risotto and share with a friend – the two pair very well together!   I adored the risotto, made with a black risotto rice, lemon chardonnay and cherry glaze; it was beautifully presented and a true delight on the tongue.  Meanwhile the fettuccine was decadently creamy and filled with those beautiful seasonal ingredients you need to see you through the dark months!
There is just one desert on the menu, and that is fine by me because it was Luciano's signature sea rum cannoli. Amaretto cashew mascarpone, rum crème Anglais, Maldon salted mint…honestly, you will want to eat this AND according to the menu, the dish was inspired by Luciano's love of Canada. You can toast to that with a deliciously paired rum shot, should you so wish.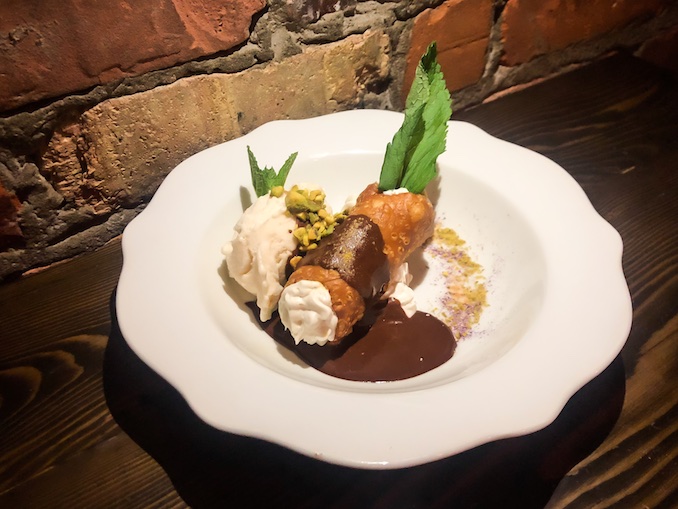 Stella also has a simple but well selected wine list as well as beers and expertly crafted cocktails. Enjoy!
Like I said, you won't want to miss out while Stella is in town at 304 Richmond St. West. I hope Chef Luciano opens a more permanent fixture, but in case he doesn't, get booking at stellaresto.com before January 31st.