Running from May 6th – 22nd, 2016, participating restaurants in Toronto will take part in the Veggielicious food festival. The 16 day event will feature prix-fixe vegan menus from some of Toronto's greener pastures.
The annual event is put on my the Toronto Vegetarian Association whose mission is to inspire people to choose a healthier, greener, more compassionate lifestyle through plant-based eating.
Here is the list of participating restaurants and what they offer for Veggielicious.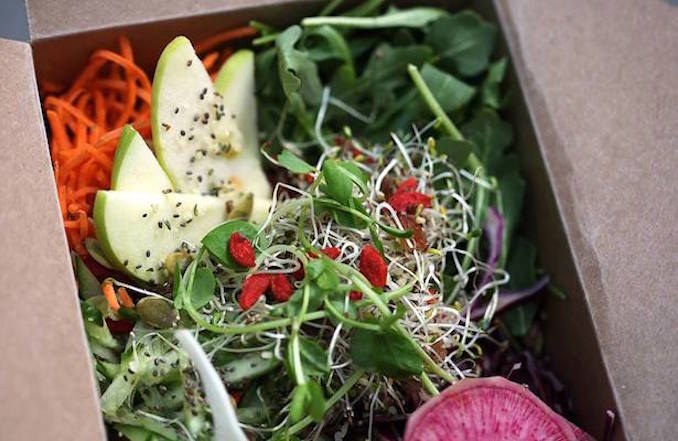 Annapurna Vegetarian Restaurant
10% discount to TVA members, and 5% to non-members who mention "Veggielicious", on Plain Dosai $4.95, Masala Dosai $7.95, Idli-Chutney $5.25 and Idli-Sambhar $7.50 all made with naturally fermented (probiotic properties) batter sans gluten. – See more at: http://www.veggielicious.ca/menu/#sthash.VnL2yq7g.dpuf
Bangkok Garden
$20 – Mango Salad or Fresh Spring Rolls + Cashew Tofu Stir Fry + select glass of wine. Dishes can be modified to be Gluten Free.
$20 – Deep fried tempeh wings, sweet potato mash, garlic braised kale and bloomer's signature mac 'n' cheesy. Served with delicious scratch made gravy and topped off with a personal pecan pie with a side of Pleasantville Creamery ice cream.
Bombay Palace
$22.99 – Choice of any one appetizer – Aloo Papri Chaat, Mix Vegetable Pakoras (4 pc), Onion Bhajis (gf, 4 pc), Mini Vegetable Samosas (3 pc). Your choice of any two entrees (served with Pappad, Pickle and Mango Chutney) – Bombay Aloo, Mix Vegetables, Cauliflower and Potatoes, Sweet and Sour Aubergine (Eggplant), Stir-fried Okra (Bhindi), Spiced Chick Peas/Chana Masala, Veg Biryani, Jeera Aloo, Mushroom Spinach and Peas curry, Vegetables Dill ite, Yellow Daal. Add a side – Plain or Garlic Naan (no butter) or Parantha or Tandoori Roti. And enjoy it with any Rice – Basmati Pulao Rice or Steamed Rice. And Coffee or Chai Tea.
Butler's Pantry
$20 – Choice of appetizer – Either soup OR Hummus OR Samosas, and a choice of Entrée – Either Kosharee, an Egyptian rice with lentils and onions smothered in a spiced tomato sauce served with a salad; OR Mixed Vegetable Bhaji, an Indian style vegetable stew that comes served with rice and a small salad. For dessert a fruit salad made with fresh seasonal fruits.
Cardinal Rule
$12 – Veggie Burger with Fries Combo: Chickpea and quinoa burger patty topped with their famous vegan garlic aioli and all the burger fixin's. Comes with a side of fries and vegan gravy.
Castro's Lounge
$7 – $13 – Soup & Burrito Special: Feature Soup: Lemon, Dill and Wild Rice Soup with a Garlic Crostini, 7 | Feature Burrito: Roasted Tomato and Chickpea with Smoked Gouda and Jalapeno Lime Crema, 13.
Cosmic Treats
$22 – Three course prix-fixe Lunch/Dinner: Your choice of beverage – Glass of house red or white wine, pint of beer or Kombucha. Your choice of Entrée – Chick'un Caesar salad with homemade creamy dressing, croutons and fakin' bits OR Frito pie – corn chips served with homemade chilli, pickled jalapenos and red onions, green onions, cilantro and Daiya jalapeno Havarti cheese (gf). Your choice of dessert – Deep-Fried Go-Max! candy bar of your choice drizzled with homemade hot fudge sauce OR Far from Pedestrian Sundae – homemade cashew ice cream with your choice of topping, sauce, whipped cream and a cherry on top (gf option available).
Doug's Public Kitchen
Free Side – Lunch Special: With the purchase of any main, receive one free side. Brunch, Saturdays & Sundays: With the purchase of any main course, receive one of Doug's co-branded, Superstuff Cookies that Doug created along with Sweets From the Earth, and one tub of Doug's Cashew Cream Cheese that Doug created with YOSO.
E.L. Ruddy
$15 – Your choice of appetizer – Guacamole & Chips OR Steamed Edamame OR Herb Lemon Lentil Soup. Your choice of main – Beet Burger & Coleslaw OR Pulled *Pork* & Coleslaw OR e. l. ruddy Salad!. Your choice of dessert – Strawberry Shortcake Trifle OR Chocolate Banana Trifle OR Quinoa Chocolate Chip Cookie. *Most items available gluten free.
Fabarnak
$13 – Chickpea falafel with garlic tahini sauce and mixed chopped vegetable slaw in a pita with soup or mixed green salad OR Vegan butternut squash risotto and a salad with maple sherry vinaigrette. Vegan chocolate brownie OR vegan chocolate mousse.
Free Times Café
$10.95 – $16.95 – Daily Specials for Veggielicious: Check Facebook or call at 416-967-1078 for daily specials.
Fresh
Salad: $15 – Drink: 12.50 – Chick'n Salad: Locally grown organic babe lettuces, tomato, cucumber, carrot, red pepper, hemp seeds, creamy ranch dressing & crispy vegan chicken tenders with your choice of housemade bbq or buffalo sauce (contains gluten). Watermelon Smash (16 oz.): Watermelon, lemon, pink salt, strawberry & coconut milk. 100% organic, raw, vegan, cold-pressed. Benefits: hydrating, energizing, vitamin-C boosting & electrolytes. Order both the salad and juice special and get a FREE chocolate chunk or cashew cookie!
Govinda's
$10 – Appetizer – Soup and salad, along with a complimentary daily dish, which may include delights such as pakoras, samosas or stuffed pinwheels. Entrée – Platter of hot daily dishes. Drink – Mango Juice OR Tamarind Tea. Small Dessert – Daily special.
Grasshopper Restaurant
$25 – To start, enjoy a plate of two appetizers. A crispy bruschetta, topped with rainbow cherry tomatoes, roasted shallots, parsley and herb infused olive oil. Alongside roasted yellow zucchini topped with garlic cream and lotus root. Then, your choice of main: Our hearty Quinoa Lasagna stuffed with tomatoes, eggplant, zucchini and quinoa layered with house made cashew cream and vegan cheese. Or our Portobello Gratin. A creamy pasta dish filled with roasted portobello mushrooms and a decadent spinach cream sauce. Finish off the meal with our house made Tiramisu. A creamy Italian dessert made with espresso and chocolate.
Harvest Kitchen
$26.95 – To start, enjoy a pint of Beau's Lug Tread with a plate of our Crispy Eggplant & Tahini Dipping Sauce, followed by our signature Meatless Meatballs served on Red Fife Spaghetti tossed in our home-made Pomodoro sauce.
Humble Beginnings
$25 – Act 1 – Roast Mushrooms and Millet Salad with Rhubarb and Almonds. Act 2 – "Pulled" greenhouse Pepper Tostada with Black Bean Puree, Carrot and Asparagus Slaw and Snow pea Salsa. Encore – Fruit Crumble with a shot of Horchata.
Lettuce Love Café
$15 – The Happy Buddha Bowl is made from organic brown rice and is topped with tamari & olive oil, grilled sweet potato, diced red onions, diced tomato, raw almonds, sunflower seeds, dried herbs, cilantro & avocado and is paired perfectly with the Green Smoothie.
Mad Mexican
$31 – Choice of Fire and Ice Salad OR Mushroom Flautas, Entree – Choice of Chile Relleno OR Corn, Zucchini & Roasted Serrano Tamales OR Pastel Azteca AND Dessert – Churros.
Magic Oven
$20 – Choice of Power Soup OR Samosas. Entree – choice of Roast cauliflower au gratin OR Tandoori Potato pizza. Dessert – choice of Mango sorbet OR Walnut Brownie.
Mama Flo's
$50 – 6 Course Asian-Inspired Vegan Dinner: Pickled eggplant and pureed chickpea toast, shizo and sesame. Sichuan chilli-marinated cucumbers and radish, white beans, scallions. Deep fried broccoli, fermented tofu, pickled jalapeños, Thai basil, toasted bread crumbs. Herb salad with ginger-lime dressing, puffed rice, cashew cream. Rice Cakes with sweet Chinese radish, dark soy, gochu garu oil, dill. Red bean stuffed glutinous rice balls, coconut ice cream, sea salt.
Rawlicious
$25 – Your choice of: Lemonade OR watermelon slushy, Spring rolls, Taco wrap OR Caesar wrap, Brownie OR salted caramel square.
Tabule
$25 – Sampler platter with hummus, babaganuj, tabule and falafel OR falafel salad OR cauliflower with tahini; Main: Grilled vegetable skewers served with mujaddara rice OR eggplant drizzled with tahini and fresh pomegranate seeds served with mujaddara OR falafel entrée served with grilled vegetables and mujaddara; Dessert: Sorbet (mango, blood orange or lemon orange blossom) OR rice pudding made with coconut milk, raisins, rosewater and pistachios.
Vegetarian Haven
$22 – Soup of the day, chef's special & chocolate cake or carrot cake.
Veggie Thali
Receive a FREE Veggie Samosa with the purchase of a Veggie Thali OR Receive a free soft drink (can) with the purchase of a Thali OR Pay only $1.99 (as opposed to $3.49) for a mango shake with the purchase of a Thali OR Save $2 when substituting Thali's non-vegan dessert for one extra steamed table item (STI) with the purchase of a Thali.
Vidya's Veggie Gourmet
$25 – Your choice of appetizer, dessert, and main course. No restrictions, choose from the entire organic and gluten free menu in the beautiful Vidya's Veggie Gourmet main dining room. Special is for dine-in only.
V's Caribbean Restaurant
$10 – Every purchase over $10 during veggielicious gets a $5 item free (Soup, Porridge, Juice or 6 Mandazi). Or you can get a roti & a small drink OR 3 Mandazi for $10.
Windsor Arms Hotel
$40 – Vietnamese Style Lettuce Rolls with Rice Paper and Fresh Mint OR Marinated Kale Salad with Hemp Seeds, Walnuts, Raisins, Sundried, Tomatoes, Shaved Apple and Lemon Tahini Sauce. Main – Zucchini and Carrot Linguini OR Cornmeal Crusted Tempeh Steaks, spiced Sweet Potato Coconut Mash, Steamed Greens with Caramelized Onion and Cherry Tomato Relish. Dessert – Fresh Fruit Platter with Sorbet OR Vegan Truffles.
***
There are also a number of bakeries and take-out places like Kupfert & Kim that are offering specials for the run of the festival.
For a full list of participating businesses, visit the Veggielicious website.