One of the artists in this year's Scotiabank Contact Photography Festival who has caught our attention is Jeff Bierk. Operating outside of a traditional exhibition context, Bierk's photo exhibition will be fully accessible to the public and on the streets in what sounds like a deeply moving experience for those who are curious.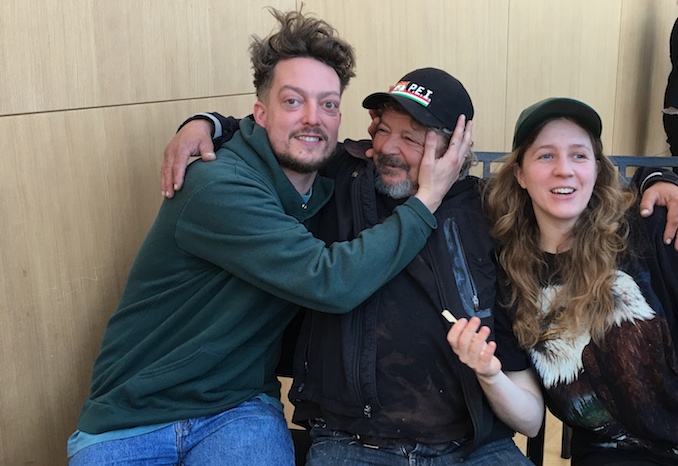 Bierk describes himself as "on the front line of photography" as he's not only a photographer but someone who also works in the business of selling cameras at Downtown Camera on Queen Street East, one of the last real camera shops in an ever changing area of the city.  "It's a nice frame of reference that is specific to this project and to the neighbourhood that I'm working in," said Bierk. He mentions that part of his job is to recommend what cameras to buy. He would always ask what kind of images of photographs they want to take. Bierk mentions that he's noticed a trend in photography over the past five years through these conversations — most people will say they want to take 'street photographs' and be street photographers. Which leads us into his exhibition during Contact and hopefully thoughtful discussion into what images we share openly.
"I find this all kind of interesting as an artist. It's a completely different time and we're not in the same time as people like Vivian Maier who in the past would work in this kind of modernity. Photography is really changing with the ubiquity of the digital camera and cell phone. Everyone is able to take a photograph at any time and a lot of mimicry has been happening especially in street photography."
Bierk explains the reason why he's so interested in this is because he often gets lumped into this genre of photography and it doesn't sit well with him. "A lot of times people don't often see the work or the difference of what I'm trying to say with my work. I just think as a photographer in 2016, you have to look at the ethics of making an image especially when we are taking images of people who look different than ourselves. There are a couple of different things like we have this digital divide, and then this class division that makes it really important to look at as a photographer and the power you wield with a camera and photographing someone else.
This project in photography I'm interrogating these things. The way I do that is in a couple of ways. First of all, I'm trying to challenge the dominant notions of beauty with the people I photograph and the images I make. Deep down I'm trying to express a beauty that I see and a beauty that I don't feel honoured in dominant culture, media and photography. The second thing I'm trying to do with the work is take a real look at collaborations. We've heard collaborations used a lot but for Bierk, collaboration means complete transparency. That is, photographing people with consent whether it's an image with a friend but also informing them as to what platform their image will be used, inviting the person to pick the image and including them into events like this.
As an artist who sells his work, he also believes in splitting all the profits in half with the people he photographs. "The collaboration I have is a true collaboration." He mentions that over the past 10 years he's made true and solid relationships and has experienced close friend who have passed away. "It's a very spiritual place for me," says Jeff. "You know how a place can have significance in your life? This area has been really transformative on a personal level so I connect this project with this place that is always there."
So how does he feel about the whole trend of people being able to just pick up their devices to take images? "I don't want to speak broadly because I do think there are some people who are creating images that are important who are in that area of street photography and candid imagery but if you look at the widespread group of people making images a lot of it is mimicry and a lot of it is done without thought," said Bierk.
What about Instagram? Bierk says he's seen some Instagram accounts but makes note that there are some not so positive images out there with homeless people. "I think when images are widespread that sometimes people think what they see is acceptable and forget about consent. I know for me, when  I started to take photographs I did it with consent. I would ask for consent and that was it. I thought I could do whatever I wanted with my images but then I started questioning the whole copywriting thing but people would tell me not to worry because no one would see the images."
Bierk mentioned that this advice caused him to question his own worth. "It's important to question the ethics of making photographs."
With this project, Bierk mentions that he will be making ten blankets that will have photographs on them. "This way the photograph will be more than an object for people to go to an institution to look at but will exist in two neighbourhoods. It will be more like a performance piece with me and the camera and my friend Jimmy who will be wearing the blanket. Then we will document the blanket and let it exist and see where they end up."
You will be able to find him in two locations and he describes his photography installation as 'transient' and best to keep an eye on his Instagram account @jeffari to find out when and where he will be. The areas will include : Queen Street East and Victoria Street as well as the Annex area around Bloor Street West and Walmer Rd. Also check him out at www.jeffbierk.com
The 20th annual Scotiabank Contact Photography Festival runs May 1 to May 31, 2016. Exhibitions will take place in major institutions, public spaces, galleries and other venues. It is the largest photography festival in North America. Special events, lectures, workshops and tours also happening.
For more information visit www.scotiabankcontactphoto.com