Now in its 7th year, the Breakfast of Champions event in support of SickKids will take place on November 9th in Toronto. We got a chance to chat with organizers prior to the event to find out more about what they do and how we can help.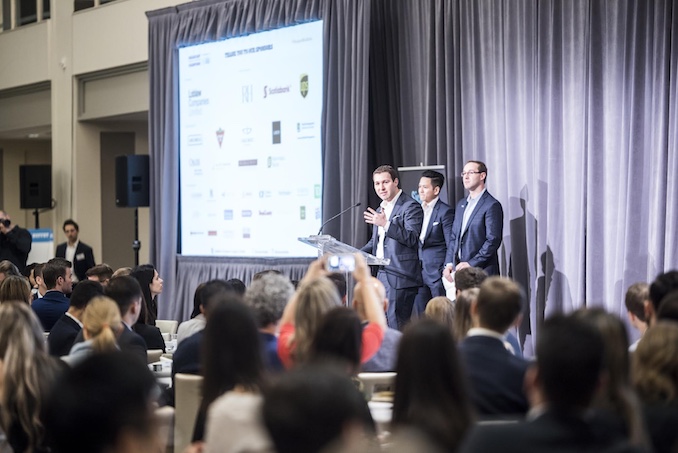 Describe your charity/non-profit in a few sentences.
Now in its 7th year, Breakfast of Champions in support of SickKids is a roundtable networking event that brings together 35 of Canada's top business and community leaders, or as we like to call them, "champions", and 350 driven young professionals. Each champion is seated at a table with up to ten young professionals where they have the opportunity to enjoy an exclusive breakfast discussion. Designed to facilitate intimate and engaging conversations among attendees, participants will connect, network and raise funds for a cause that's close to the heart: the Division of Cardiology at SickKids.
What problem does it aim to solve?
While many networking events can be expensive and difficult to access, Breakfast of Champions is tailored to young professionals. Though studies have shown millennials aren't donating as much as other generations, it's not for lack of a desire to give back. Rather, it really comes down to budgetary constraints. In fact, 56 per cent of millennials list a lack of finances as the "whole reason" they aren't donating more to charity. Breakfast of Champions' affordable $89 ticket price makes the event more accessible and accommodates a large, diverse crowd of professionals who have just started their careers. It also gives them a chance to direct their charitable impulses towards a critical cause.
When did you start/join it?
As young professionals in the legal profession, we wanted to give back and help the community in a manner that made the most sense for us. We were in the early stages of our careers, dealing with all of the stresses other young professionals experience: stress, long hours, student debt , etc. We wanted to take matters into our own hands and find ways that young professionals could be philanthropic in a budget friendly way. There were all kinds of cocktail networking events that we were being invited to every week, but we wanted to design an event that our friends would actually want to attend. The opportunity to enjoy direct access to a wide array of successful champions proved to be a unique selling point to young professionals, and after a few years of hard work, Breakfast of Champions in support of SickKids is now in its 7th year and has raised over $750,000 for SickKids.
What made you want to get involved?
We were hoping to find a way to connect like-minded young professionals who were interested in giving back to their community but who may not have the financial means to write a big cheque at this stage of their career. It's easy to get wrapped up in building a career and focusing on the hustle, but it's also important to make time in your schedule to give back to the community through sweat equity.
What was the situation like when you started?
When we first started the event, we had a general idea of what we wanted to accomplish, but in reality we were making most decisions on the fly. We each approached a few friends and formed an event committee of young professionals. Over time, each committee member began to draw on their strengths and our vision started to come to fruition. We weren't quite sure what to expect that first year, but we ended up raising over $20,000 for an important cause and putting on an event that people seemed to really enjoy.
How has it changed since?
Each year, we continue to add new young professionals to our committee who bring unique skills that can be leveraged. We've also been fortunate to enjoy tremendous support from SickKids. Over the course of the last seven years, we've found a recipe that works by making the event unique for young professionals and also appealing for the champions who are eager to participate.
What more needs to be done?
We hope that young professionals are inspired to get involved and give back to the community in creative ways. For example, the SickKids Activators program is a unique program that provides support to young professionals who are interested in organizing their own fundraising events with the goal of raising $10,000 or more for each event. While it may be daunting to start a fundraising event from scratch, it should never be underestimated what can be accomplished by a small group of passionate individuals.
How can our readers help?
We are always keen on having young professionals in Toronto attend the annual Breakfast of Champion event and/or join our committee. For those with a passion for fundraising, the SickKids Activators program is a great way to merge your professional network with giving back.
Do you have any events coming up?
The 7th annual Breakfast of Champions event will be taking place at Toronto's Arcadian Court on Friday, November 9, 2018 from 7:30 a.m. to 9:30 a.m. Tickets are available through Eventbrite.
Where can we follow you?
Website | Facebook | Twitter | Instagram