If you're looking for extra income, the welcoming vibes of a family-run business, and to be a community hero – and you love driving – you may want to get to know McCluskey Transportation.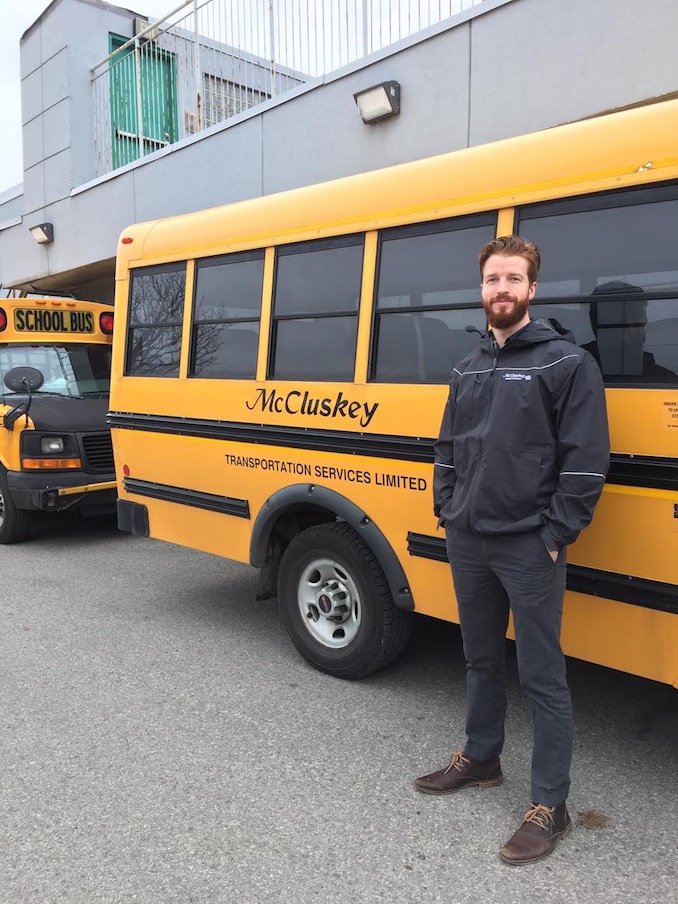 While it my have once been a childhood dream that got lost along the way, being a school bus driver for a company like Etobicoke-based McCluskey could enrich your life in more ways than simply putting extra dollars in your pocket.
Here's why you should consider a career as a professional driver with McCluskey Transportation….
The Company has a Long History in the Community. 

The company began with humble roots and grew as the family grew. "I think what really sets us apart is that we're a family," says Chris McCluskey, Operations Supervisor, McCluskey Transportation. "My grandfather started this company driving kids to school in a station wagon more than 40 years ago and grew the business with my father, Gary, and his two brothers, John and Steve. Nearly a quarter of our drivers have been with us for more than 15 years. We're a tight-knit group and we're very proud of that. I think that's what makes us unique."
You'll Enjoy a Warm and Welcoming Corporate Culture. 

There is something distinctively special about the corporate culture of a family-run business. McCluskey breaks down the corporate culture simply; "Our culture is based on ten core values: Safety, Teamwork, Respect, Positive Attitude, Integrity, Customer Service, Accountability, Resourcefulness, Loyalty, and Dedication," he says. "As a family-owned business, these core values speak volumes about how we treat each other, our customers and our communities. Besides that, we also try to work hard and have fun!"
You Are Not Just a School Bus Driver. 

"Our drivers aren't just school bus drivers, they are Professional Drivers," says McCluskey. The driver-training program has been recognized with full accreditation having met all of the qualifications, both academic and practical for the Ontario Provincial Government. Drivers have to spend a minimum of 40 hours in the program and then prove their ability through on road evaluations before they can be considered ready for the government exam," says McCluskey. "Student transportation is an integral part of the education system and we take a lot of pride in the professionalism our drivers convey out in the communities in which we operate. In the end, it is all about getting our children Safely Home."


It Will Enrich Your Life. 

Driving a school bus can enrich your life as you become the well-known community hero – a friendly and familiar face that children look for each morning. "For the students we transport, we're the first and last part of their school day. A lot of the children depend heavily on their routine to keep their day on track. It's an important responsibility," says McCluskey. "You get a real sense of what drivers mean to the children when they come into the office with little crafts and artwork their students made for them, or when their parents call in to request the same driver for their child next year. Some of our drivers have transported the same children on the same route for several years and watched them grow from small kids into teenagers. It's pretty neat, really. That's what it's all about."
You Have Flexibility

Because driving a school bus doesn't require the typical 9-5 (minimum) workday, it offers greater flexibility for stay-at-home parents, retirees, and freelancers. The added stability of a rewarding stable income could be all a freelance writer, photographer, or graphic designer needs to feel more secure.
So, what's the best part about the job?
"For me personally, it's the people I work with. I love our team. My father used to bring me to work when I was just a little kid and I'd see the same faces every day," says McCluskey. "Now I'm working alongside those same dedicated employees every day. We've worked very hard to find and employ hard working individuals in the office and on the road. There are always going to be challenges on the road like inclement weather or mechanical issues. Just like family, it's nice knowing you always have your coworkers to support you whenever you need it."
To learn more about how you can become a part of the McCluskey Transportation company, please get in touch.
CONTACT
416-246-1422