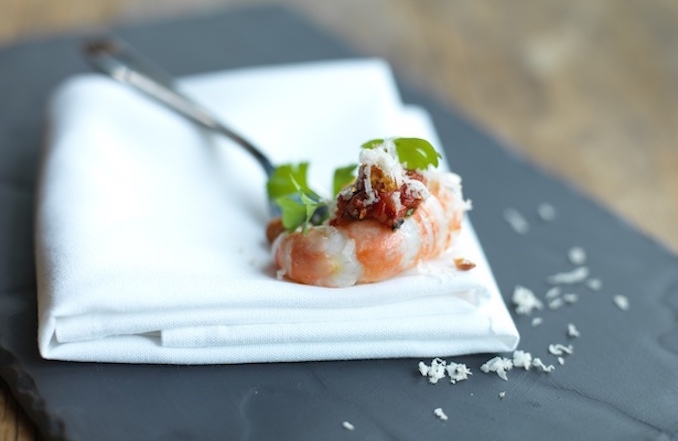 In 2005, The Vancouver Aquarium established the Ocean Wise conservation program. What started out as a local, grassroots organization has flourished into the most recognized sustainable seafood program in the country. Ocean Wise was developed in response to requests from chefs and members of the community who wanted to serve consumers with ocean-friendly seafood choices. The purpose of its inception: to ensure the health of our oceans for generations to come. Today Ocean Wise works with over 600 partners including restaurants, retailers, suppliers, culinary schools and universities from Tofino, British Columbia to St. John's, Newfoundland.
On April 27, scientists, chefs, and industry leaders gathered together at the Vancouver Aquarium for the Ocean Wise 10th Anniversary Seafood Symposium. Experts discussed the latest scientific research and current trends in the sustainable fishing movement. Speakers at the symposium included renowned fisheries experts Dr. Daniel Pauly, Dr. Wilf Swartz and a number of Vancouver Aquarium's senior scientists.
Here in Toronto, The Centre for Social Innovation hosted a live streaming of the symposium. During the presentation, guests sipped on beverages from various Ocean Wise partners. One of my favourites was a smooth and savoury 2013 Triomphe Cabernet Franc from Southbrook Vineyards in Niagara-on the-Lake. Another standout was a unique Caesar courtesy of Walter, the company that produced the first all-natural Canadian-made craft Caesar mix. Made with vine-ripened tomatoes, spices and clam juice sourced from the North Atlantic, it's 100% natural, gluten-free and full of flavour.
But the best part was definitely sampling food prepared by some of Toronto's top chefs. We spent a lot of time savouring the amazing dish created by Chef Joshua Dyer and Sous Chef Graeme Little from Epic Restaurant. Albacore Tuna Conserva with Belle River Rock Crab was served on a squid ink rice cracker coated with saffron aioli and pickled breakfast radish. We also indulged in Shiny Sea cocktail size oysters from Raspberry Point Oysters in Prince Edward Island. Patrick McMurray, owner of Ceili Cottage, served these delicious treats with a freshly shaved horseradish soaked in Vodka- and a very friendly smile.
Throughout the course of the evening, I spoke to several Ocean Wise ambassadors; each of them spoke proudly of the excellent work Ocean Wise is doing to make a long-term difference. They expressed a true commitment to providing options for consumers so that the choice that is most delicious can also be one that preserves the health of our oceans. Chef Charlotte Langley summed up Ocean Wise's mission best: "we're working to take care of people and helping them make better choices."
Ocean Wise products must meet the following criteria:
Well-Managed
The seafood comes from fisheries and aquaculture operations that are managed responsibly and sustainably, based on the latest research
Abundant and Resilient
Species are from healthy populations that are resilient to fishing pressures
Limited Habitat Damage
Seafood is caught or harvested in ways that do not negatively impact natural habitats and ecosystems
Limited Bycatch
At least 30 percent of all fish caught is bycatch (other non-targeted species accidentally caught and discarded). Ocean Wise recommends seafood that has minimal bycatch.
See our list on Ocean Wise partners in Toronto.
Article by Selena Di Paolo.