This week's Charitable Choices post shines a light on the work done by Stella's Place, an organization founded to help provide mental health resources to young adults 16-29.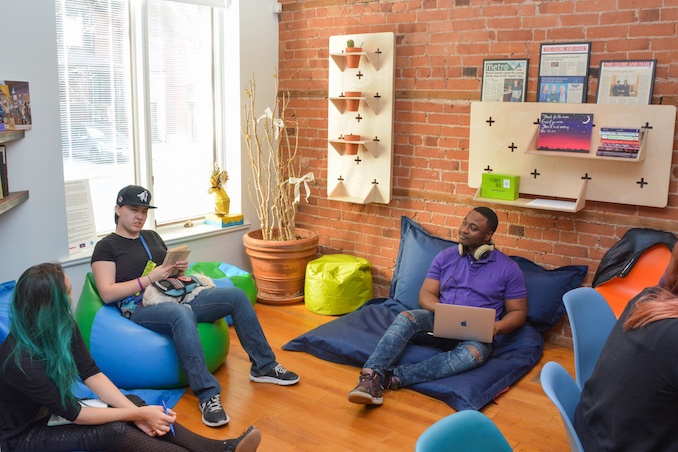 Describe your charity/non-profit in a few sentences.
Conceived out of the love of parents, Stella's Place is Canada's first non-residential, community based, street-front integrated mental health service hub for young adults aged 16-29. Our innovative, free services include peer support, clinical skills, employment, wellness, arts and recovery programs, as well as our online peer support app, BeanBagChat.
All the programs have been created using a co-design process which engages young adults with lived experience and expert professionals to catalyze dynamic conversations and produce evidence-based services that are highly relevant to young adults.
What problem does it aim to solve?
The mental health needs of young adults in Toronto are not being met. In Toronto, more than 20% of young adults (100,000) have mental health issues. There are very few services focused on the unique needs of these young individuals as they transition from high school to university, then into their first job. Stella's Place is a lifeline for those aged 16-29 facing complex mental health challenges and a one of a kind, community-rooted mental health agency.
When did you start/join it?
Stella's Place was founded in 2013 by Donna Green, after struggling to find age-appropriate, engaging mental health support for her daughter.
"I am Stella's mother. Stella was 17 when it started. Until then, she'd seemed carefree as a teenager can be – enjoying friends, music, sports, school. Then suddenly, puzzlingly, she found homework overwhelming, struggling late into the night. She became paralyzed by anxiety over the prospect of getting out of bed, taking a shower, eating, planning her day."
-Donna Green (Founder & President)
What made you want to get involved? What was the situation like when you started?
Donna and her daughter were forced to seek treatment in the U.S. Many families like Donna's struggle to find age-appropriate care for the mental health needs of their children. They end up suffering with a patchwork of care that is inadequate, or they are forced to spend tens of thousands of dollars abroad in private treatment. What's even worse is that when the family returns to Canada, there are little services to help with the recovery and transition.
"I met other parents of young adults who share my dismay that the system is failing our children."
-Donna Green
How has it changed since?
Stella's Place is the first comprehensive, integrated assessment service in Canada.
We are a critical touchstone and supportive lifeline to more than more than 800 young adults in-person and online annually.
Young adults connect with Stella's Place on their own terms and initiative or get referred by mental health professionals (14%), hospitals (23%) and other community providers (15%).
After joining Stella's, surveyed participants reported*:
Fewer visits to the E.R. (67% reduction);
Fewer days in hospital (73% reduction);
An increase in well-being
66% of participants started thinking of / exploring career options.
Stella's Dialectical Behaviour Therapy (DBT) program has taught emotion regulation and coping skills to 77 Young Adults in 2018. Participants in this program have reported statistically significant increases in resiliency and a reduction in dysfunctional coping.
Stella's Peer Support Training Program participants reported a 30% increase in confidence, 33% increase in knowledge, and 35% increase in skills after completing the training. Many graduates of the program go on to become professional and volunteer peer supporters for other young adults in the community.
*Stella's Place Evaluation Report, 2017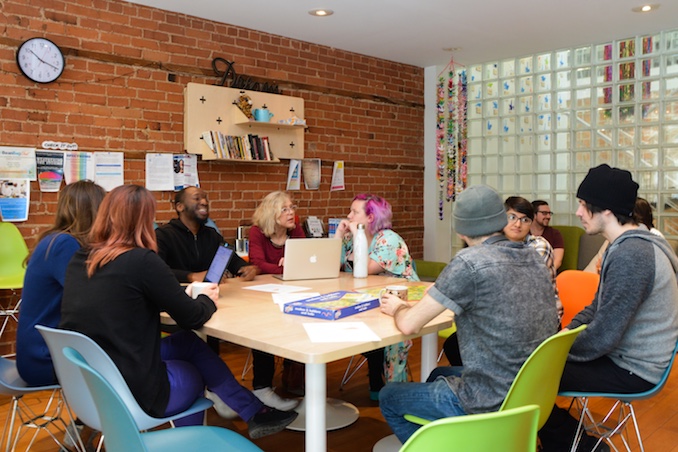 What more needs to be done?
Many young adults in the city are still desperately trying to access life-saving mental health services. Unfortunately, the services available are not enough to support the increasing demand, and often, they are not tailored to the unique needs of young adults.
With support from generous individual donors and government program grants, we can continue to serve more young adults struggling. Although some of our registered programs fill up fast, we continue to provide innovative drop-in groups on a first come, first-served basis, as well as our peer-supported cafe space, where everyone is welcomed.
This way, we ensure as many of our participants receive the support they need, when they need it.
Stella's Place is also breaking ground in the online mental health space with a unique app, called BeanBagChat. This online platform allows young adults to securely chat with Peer Supporters or counsellors via smartphone or desktop, and develop online relationships that can lead to onsite services. This is especially important for reaching diverse communities and those who face the most physical and psychological barriers to accessing mental health services.
Stella's Place participants may have suicidal thoughts, anxiety, depression, or psychosis but the message at Stella's Place is one of resilience.
"We really believe in the capability of this generation to turn what's seen as a difficult experience into a source of strength so that they can fully contribute to their community and achieve wellbeing."
-Jenny Carver (Executive Director)
How can our readers help?
To provide our services, Stella's Place relies heavily on donations from generous individual donors. You can help.
Any donation helps to continue providing free, life-saving services for young adults in need. Please consider making a donation at: stellasplace.ca/giving
Do you have any events coming up?
We are excited to partner with composer and pianist, Frank Horvat, as he debuts his Piano Therapy Concert in conjunction with World Mental Health Day on October 10. This concert raises funds for mental health and crucially shares lived experience, making it an event for everyone including those touched by mental health issues, those working in this field or those who have been supporting mental health initiatives and organizations. Half of the proceeds will be donated to Stella's Place.
Where can we follow you?
Visit our website. Follow us on Facebook , Twitter , Instagram & LinkedIn.