With the sun shining on downtown's Time Festival on Saturday, an eclectic bill of hip-hop, rock, pop and dance music came together in historic Fort York. Was it a festival firing on all cylinders or a day resigned to history? Let's find out.
Luckily we arrived at Time Festival early, which was a good job as some of the better rock and indie bands were scheduled in the day. Sahara, a Toronto alternative band on the main stage were a pleasant listen, channeling elements of Joy Division but with a more up-tempo commercial side. They were tight and it was enjoyable enough on a first listen, which is a decent sign.
Following them were another local band, Frigs. You may remember that they played a Red Bull Sound Select show earlier this year I attended, and that I was impressed. Well they were still entertaining but this time they were not helped by the fact that you could barely hear Bria Salmena's vocals above the rest of the band, a detail that seemed to elude the sound guy for the entire set.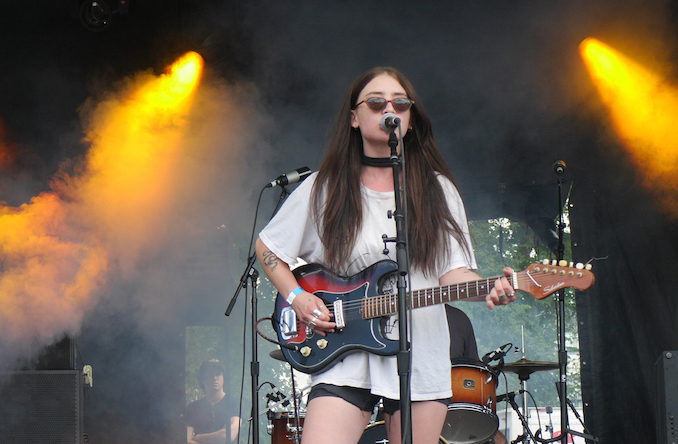 Compared to the last time I saw Frigs, their energy levels were not quite as high either, which I guess could be attributed to a far larger stage and an audience which early in the day, was not exactly full. Despite this they've definitely got something, and I would recommend giving their 'Slush EP' (released on Toronto's Arts & Crafts label) a listen.
Just when you were used to rock, we headed over to the festival's second stage to catch Kirk Knight and Nyck Caution who had the crowd in raptures. They're both members of Pro Era, an American hip hop collective from Brooklyn.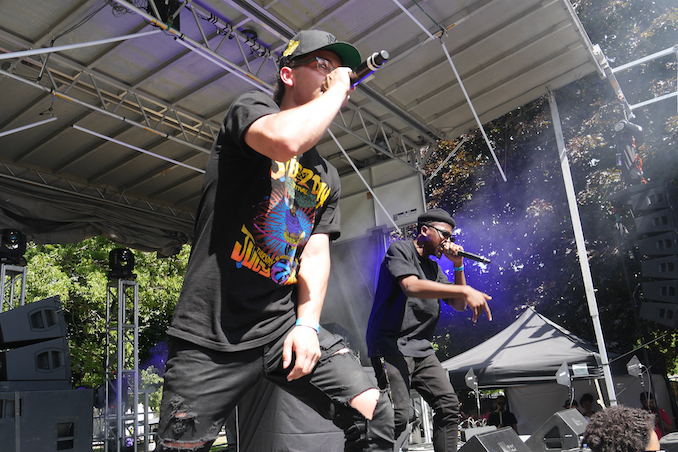 Sometimes when you're stumbling around a festival looking to find something entertaining, following the buzz of the audience is the easiest way to do it. There was certainly more energy at the Overtime Stage in the early part of the day and the crowd was eating up everything that Kirk Knight and Nyck Caution had to throw at them.
I then managed to catch up with Manchester, England band Everything Everything to ask them a few questions ahead of their Time Festival set. Here's what lead vocalist, Jonathan Higgs, and lead guitarist, Alex Robertshaw had to say –
How's the American tour going?
Jonathan: Great, we've been out previously with The Joy Formidable – we did an extensive tour of the States. We got a really good reaction everywhere we went and it was nice to go to places we had never been before and to play for fans that had been waiting a long time to see us. We just got back from New York a few days ago, which was awesome. 
Your recent single 'Distant Past' has really exploded over here, what's next?
Jonathan: We're writing new material at the moment, which is about a tenth of the way in, and we're just about to go underground after the festival season. We'll be diddling on our laptops and rehearsing in our own studio, but we won't be in the proper studio for a while.
So when can the fans expect a fourth album?
Jonathan: Some time in 2017 we should get another record out.
Now that's out of the way, it's time to get serious: Have you eaten poutine yet?
Alex: No, but it sounds great like the sort of thing you would have at 3am, we'll have to try it.
Jonathan: We do have cheese, chips and gravy in Manchester, so I'm guessing it's pretty similar?
Don't worry, I explained it wasn't just any cheese and the lads promised to give it a try – watch out for some poutine inspired tracks on the new record!
Finally, what's your favourite piece of English, Manchester slang that you would like to teach the Canadian audience?
Jonathan: She was 'billy bollocks', which means, she was naked!
---
So Everything Everything's first ever show in Canada… yes the fans have had a long time to wait since their debut album in 2010. The first impression is that they're quirky, but also incredibly tight. Having listened to a lot of their singles, which have been a staple of British rock radio for several years now, it was impressive how close to the record they can get it live. They definitely use a few percussive tricks, with a combination of electronic drum pads, traditional drums and solid, complex bass lines.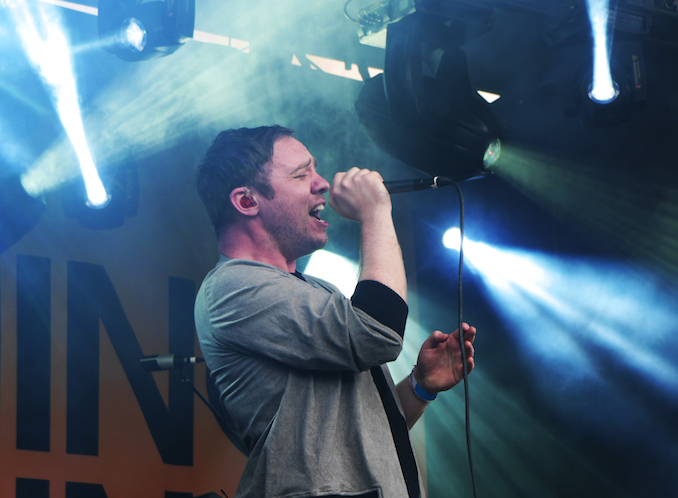 Jonathan Higgs' vocal range is also impressive, and he does nothing to hide his thick English accent, which almost helps to make the music even more angular. The crowd was again smaller than I would have expected, but maybe that's because they're still building their following in North America. Even if that may be the case, I saw fans with homemade Everything Everything signs, which must be nice for your first ever show in a country.
Ending on 'Distant Past' saw a noticeable hike in the audience numbers as people fled the shade for a good look at them in action. It's a single that's gained considerable airplay in America and the increased intensity of the audience seemed to rub off on Everything Everything who notched it up a gear or two.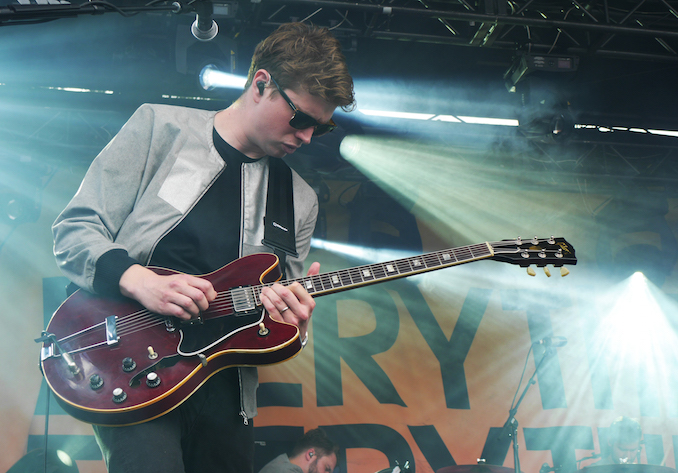 The main stage switched genre shortly after with Joey Bada$$, another member of the Pro Era collective. He's a bold character and the audience really fed off his assertive performance – arms were bouncing up and down in the crowd like a group of religious followers that had just stumbled across the creator.
From indie to hip-hop to house, cue KiNK, a Bulgarian DJ who we found ripping up the second stage. KiNK was on a role; sampling, using synthesizers, doing everything manually in a really satisfying way that doesn't happen often enough with dance music. 'Cloud Generator' in particular was a highlight of his set.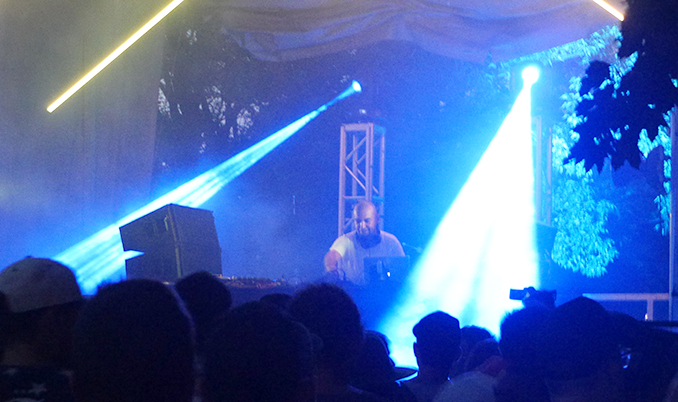 Now, I don't like being nasty about bands, but in the same way, it's important to tell the truth because life can't always be rosy. My lord was Broods a sheer assault on the senses. The vocals were sitting in that frequency where every line rang right through your head, the songs were about as fulfilling as having a cheese sandwich for dinner and if that wasn't bad enough, the lighting guy insisted on blinding the audience for long periods of the show. It's just my opinion, and I'm sure some people loved it, but it was a very weird choice to schedule them immediately ahead of Run the Jewels whose music actually sounds as though it means something… or perhaps that contrast was intentional?
OK, moving on because then it was Run the Jewels time. I started out in the photo pit struggling with the other photographers to get a decent shot of the guys in action. Standing directly in front of the subwoofer for 'Oh My Darling Don't Cry' felt like having all of your internal organs put in a blender – the sound was huge!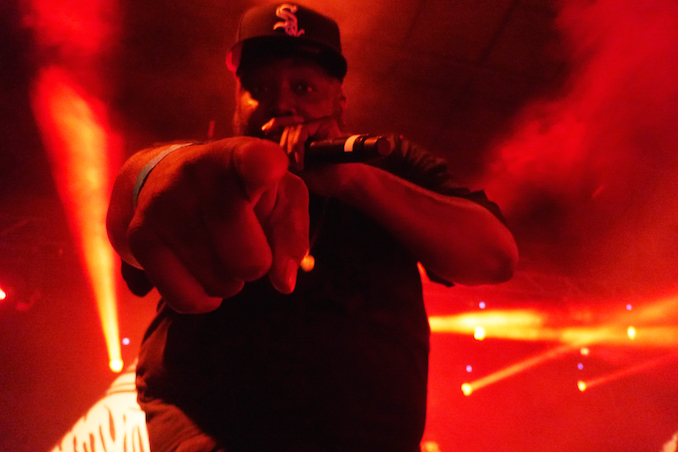 From the off, Killer Mike and El-P seemed pumped as hell, but they also came across as two genuine guys not taking their success for granted. If you're familiar with the last two Run the Jewels albums, you'll know that they have an armoury of upbeat hits that kept the show pumping from beginning to end. They dedicated 'Lie, Cheat, Steal' to the late Rob Ford, making the point that "everybody's doing it" and perhaps he was more honest (or just exposed) than others in a similar role.
Killer Mike dropped a few political moments too, which is something he's become known for recently. That got the audience remonstrating about a certain American candidate with floppy hair as they struck up some interesting dialogue with the crowd in between the blockbuster set of tunes.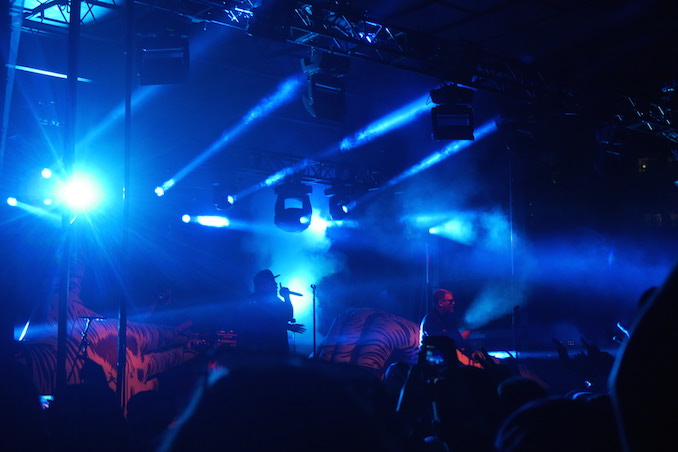 As an encore we were treated to some 'Run the Jewels 3', with Killer Mike letting everyone know that they're not ready for a slow album just yet. Apparently this is going to be their hardest record to date and I can attest – it didn't sound like they were lying. I was listening to the last two LPs before the show, but now I'm addicted.
So Time Festival done for another year and what a really great, well-run little festival it is. If you compare it to your other summer options it also represents fantastic value for money. One thing's for sure, Run the Jewels literally blew the doors off of the historic Fort York site, which has never seen anything quite like that before.