Baltimore's Lower Dens shone down on The Silver Dollar Room last Thursday in an evening curated by Arts & Crafts, one of Canada's most successful record labels.
First support was Toronto's very own Blunt Chunks, also known as Caitlin Woelfle-O'Brien. Playing downbeat Bon Iver esque guitar riffs with a trusty steed of a sampler, she certainly showed some promise. Routing her guitar and vocals through the same effects, the dreaminess of the set was interspersed with some more commercial elements, for example occasionally breaking out into upbeat covers as she layered her vocals on top.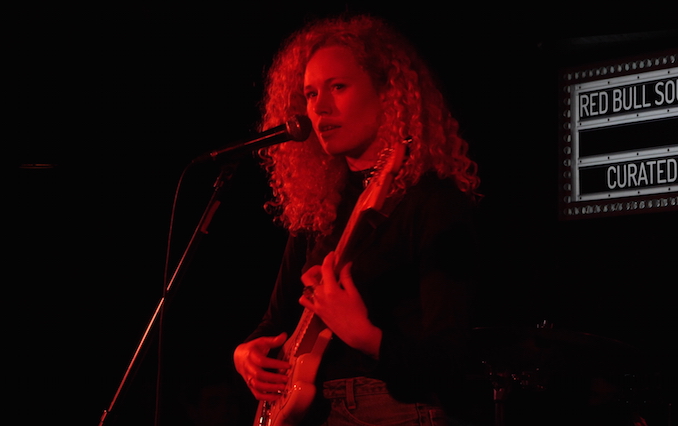 She started to loop vocals more as the set wore on which led to some beautiful hooks and harmonies. However I was left with the impression that once she started looping, a song was never going to resolve into something new; it was always the beginning of the end. I guess that's one thing that makes doing everything yourself more tricky, and passages in the performance were truly stunning.
It was then Frigs' turn to crank up the heat in what was quite a transition from the timid and understated Blunt Chunks. Bria Salmena led the way with leering vocals, at times yelling to the extent that you would worry she would run out of air. Edan Scime Stokell provided the percussion, swinging in and out of different tempos and rhythms, for example, as they locked into moments of kraut rock and hammered it home. Lucas Savatti was solid on bass and helped to hold everything together (whilst looking like he was loving it) and Dancan Hay Jennings hunched near to the ground like a wild animal, pushed his guitar up against the amp for a howl of feedback.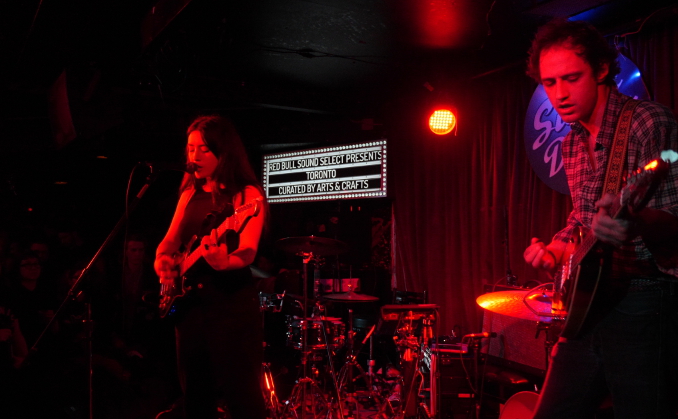 The set they played was varied and unpredictable, which I think is a sign of a great band – they knew when to slow it down and build the atmosphere and when to ram it down your throat to liven things up.
So, Lower Dens, where to start? They've had a ton of hype surrounding them for ages but despite reading about them in magazines years ago, I'll be honest and say I only gave Nootropics, their 2012 LP, a chance after stumbling across it recently. Last year they released a new record, Escape from Evil, which, as expected, was the majority of the material for this show.
Their sound is best described as atmospheric synth pop I guess, though as normal, this contradictory and often confused terminology is never a great help in actually conveying what their sound is like. Luckily, we have the power of the Internet, so have a listen to this while you read on:
When Jane Hunter (vocals and guitar) and Abram Sanders (drums) stepped up, I was slightly surprised that two people would be able to create something as large as, or better than the record. They have generally performed as a four piece in the past, so this was a little unusual and they used backing tracks to plug the live instrumental holes.
I'm a big fan of the arrangements and Jane's fantastic songwriting skills really shone through. They banged through their singles with pumping synth lines and 'reverberacious' glittering guitars, ending the night on my favourite Lower Dens anthem, 'Brains' (you should be listening to it right now). The audience seemed to really lap it up and I can see why. Whilst it would have been nice to see them as a four piece band, it was still great to see Jane doing her thing up close and personal.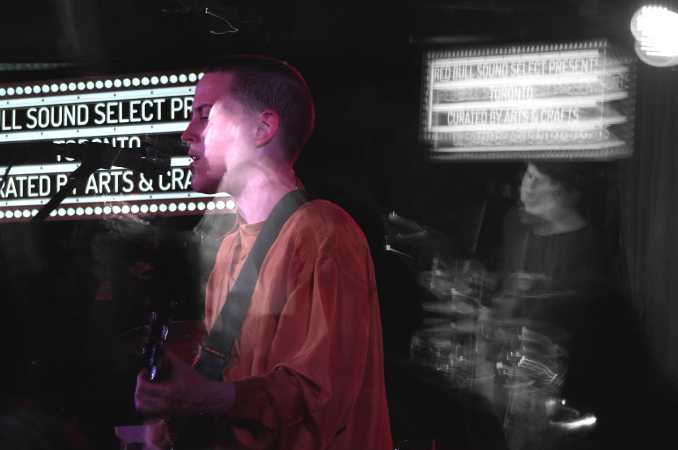 Lower Dens played the Red Bull Sound Select show (curated by Arts & Crafts) at Toronto's Silver Dollar Room on Thursday 31st March 2016.
Check out the Lower Dens website for more info – http://lowerdens.com