Little Italy is a romantic comedy set to hit the big screens this month. Toronto actor Vas Saranga stars along side Hayden Christensen and Emma Roberts in this film about a young couple in a budding relationship and their families with competing pizza restaurants. By the way, Little Italy was filmed here in Toronto!
In 2017, Saranga, was named one of "Canada's Rising Stars," which featured a list of breakout actors who are making an impact in Hollywood. His first big break came when he was cast in a lead role on TVO's A World of Wonders followed soon after with his supporting role in American Pie Presents: Beta House starring Eugene Levy. He's also has an impressive roster of film and television roles including The Handmaid's Tale, Orphan Black, Salvation, Aaron Stone, The Line, Flashpoint, The Line, The Strain, Bloodwork, and many more.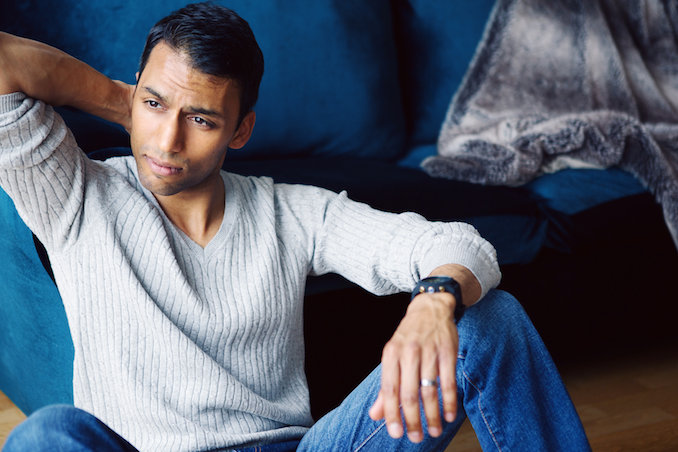 We had a chance to catch up with Saranga leading up to Little Italy's release date…
This rom-com sounds like a lot of fun and every big city has it's neighbourhood pocket communities full of family-run businesses. Little Italy is filmed in Toronto but it can be any city. What are some of your favourite neighbourhoods in Toronto?
VS: I really like the Junction and Leslieville. The Junction because of its new restaurants and Leslieville because it's a beautiful place to take a walk.
Tell us about your character?
VS:My character's name is Jogi; he's an international student and works as the assistant at Vince's pizzeria. He's endlessly enthusiastic and energetic and his goal in life is to be a ladies' man, just like Hayden Christensen's character Leo. But for now he sets his sights on copying Leo's current job: pizza delivery guy. Jogi has a special rivalry with Jessie, a young woman who works next door at Sal's pizzeria, and in the spirit of the family rivalries between the two shops, they're always getting into it with each other.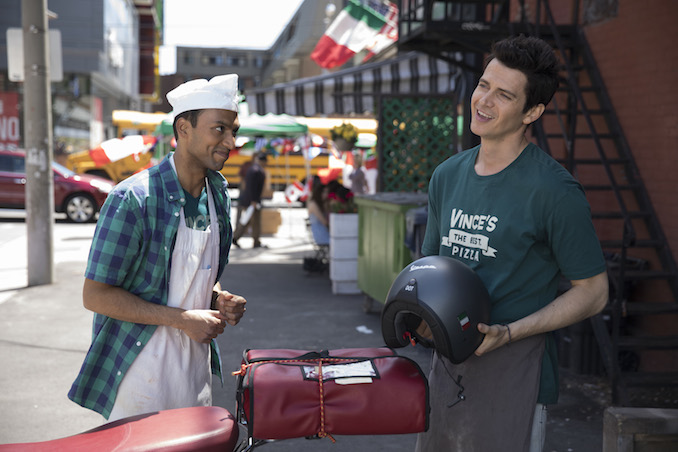 We see an incredibly  seasoned Canadian talent in the film, Andrea Martin! What's she like?
VS: Andrea Martin is wonderful! She walks around set with a beaming smile, and always brings the funny the second the cameras roll. Watching her perform in person was one of the perks of being in Little Italy!
You've had the opportunity to work on a many shows. We have to ask about Handmaid's Tale. Tell us about your experience there?
VS: I loved working on the Handmaid's Tale. It's one of the best shows on television, and as a fan of the show, it was surreal for me to actually be on the show. The highlight was working with Samira Wiley – I talked to her in depth about her character's history and how my character Kyle, a former soldier and now refugee to Canada, fit into the storyline. There were parallels with her character's journey escaping Gilead and she was very generous with her advice and insights. And of course, she was fun to joke around with in between takes.
What shows/films you've worked on have been life changing?
VS: Earlier in my career, working on Disney XD's "Aaron Stone" really put me on the map. It gave me experience and momentum to book more work and it gave the me the confidence to keep at it.
It was amazing to be on Orphan Black on the final season. I auditioned for the show a number of times over the years before getting a part on it. It taught me that the perfect role is always out there, it just takes time to fall into place. I need to keep putting forth my best work until casting finds the perfect fit for me.
And of course Little Italy has been the most fun I've ever had on a film set. It got me back in touch with my comedy roots and rekindling that love for comedy has really helped me with my writing projects.
You've been called one of Canada's Rising Star by the Hollywood Reporter. So, how cool is that? No pressure, right?
VS: The coolest thing ever! That's been the greatest honour of my career so far, being recognized for my work in that way. Looking at the list of the incredibly talented artists featured along with me, there's definitely pressure to be worthy of being included in that group!
If you were to order a pizza right now, in Toronto, where would you order from and what would be your toppings?
VS:I would order a vegan pizza from Apiecalypse Now called 'The Toronto Island'. It's got local organic tomato sauce, sweet pineapple chunks, hickory bbq soy curls, vegan bacon bits, and plant-based mozzarella.
Little Italy opens in Canada nation-wide on August 24, 2018.
Here the official trailer: