Thirty-five 2016 Juno Award winners were announced at the 2016 Juno Awards Dinner and Gala Saturday night in Calgary. The evening hosted over 1000 industry professionals who were treated to performances and a dinner by celebrity chef Roger Mooking.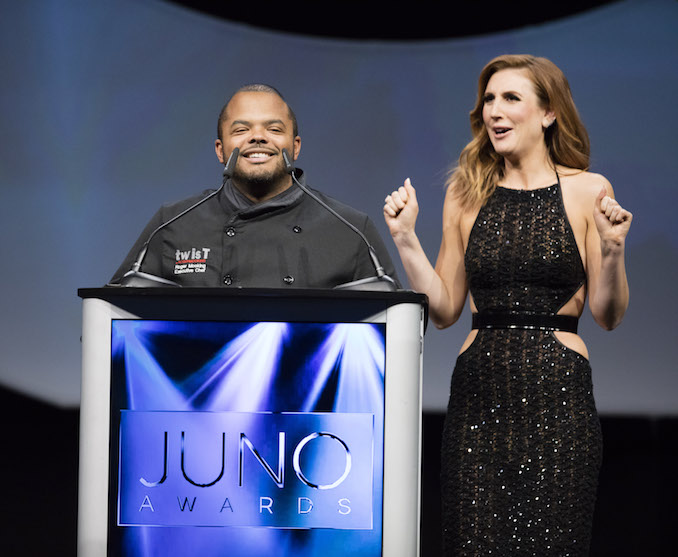 The evening was the prelude to Sunday's Juno show that will be aired on CTV. Five remaining categories will be announced during that show.
Here are the most recent winners.
INTERNATIONAL ALBUM OF THE YEAR (IDLA ASSOCIATED LABEL DISTRIBUTION)
25 Adele XL/Beggars Group*Select
ARTIST OF THE YEAR
The Weeknd The Weeknd XO*Universal
BREAKTHROUGH GROUP OF THE YEAR (SPONSORED BY FACTOR, THE
GOVERNMENT OF CANADA, CANADA'S PRIVATE RADIO BROADCASTERS AND RADIO
STARMAKER FUND)
Dear Rouge Universal
SONGWRITER OF THE YEAR (PRESENTED BY SOCAN)
Abel Tesfaye "Can't Feel My Face" – co-songwriters Max Martin, Savan
Kotecha, Peter Svensson, Ali Payami, "In The Night" – co-songwriters
Ahmad Balshe, Max Martin, Savan Kotecha, Peter Svensson, Ali Payami,
"The Hills" – co-songwriters Ahmad Balshe, Emmanuel Nickerson, Carlo
Mantagnese BEAUTY BEHIND THE MADESS – The Weeknd The Weeknd
XO*Universal
ADULT ALTERNATIVE ALBUM OF THE YEAR
Leave No Bridge Unburned Whitehorse Six Shooter*Universal
ALTERNATIVE ALBUM OF THE YEAR (SPONSORED BY LONG & MCQUADE)
Deep in the Iris BRAIDS Flemish Eye*Outside
POP ALBUM OF THE YEAR (SPONSORED BY TD)
Purpose Justin Bieber Island Def Jam*Universal
ROCK ALBUM OF THE YEAR
The Physical World Death From Above 1979 Last Gang* Universal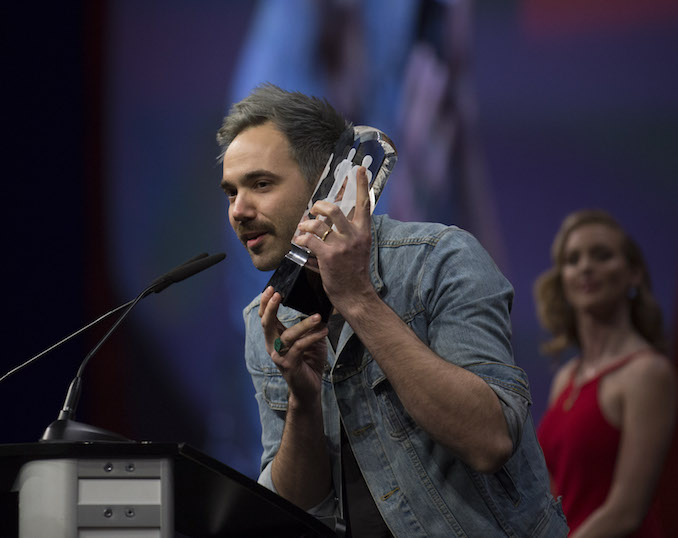 VOCAL JAZZ ALBUM OF THE YEAR
Clear Day Emilie-Claire Barlow Empress*eOne
JAZZ ALBUM OF THE YEAR: SOLO
Movin' Forward Robi Botos A440*Universal
JAZZ ALBUM OF THE YEAR: GROUP
Forest Grove Allison Au Quartet Independent
INSTRUMENTAL ALBUM OF THE YEAR
Never Were The Way She Was Colin Stetson and Sarah Neufeld
Constellation*Outside
FRANCOPHONE ALBUM OF THE YEAR
À Paradis City Jean Leloup Dare to Care*Select
CHILDREN'S ALBUM OF THE YEAR
More Sheep, Less Sleep The Swinging Belles Independent
CLASSICAL ALBUM OF THE YEAR: SOLO OR CHAMBER ENSEMBLE
Franck & Strauss: Violin Sonatas James Ehnes Onyx*HM
CLASSICAL ALBUM OF THE YEAR: LARGE ENSEMBLE OR SOLOIST(S) WITH
LARGE ENSEMBLE ACCOMPANIMENT
Symphony and New Works for Organ and Orchestra Orchestre
Symphonique de Montréal with Olivier Latry and Jean-Willy Kunz
Analekta*Select
CLASSICAL ALBUM OF THE YEAR: VOCAL OR CHORAL PERFORMANCE
Las Ciudades de Oro L'Harmonie des Saisons ATMA*Naxos
CLASSICAL COMPOSITION OF THE YEAR
Airline Two Pop Songs on Antique Poems Dinuk Wijeratne
Centrediscs*Naxos
RAP RECORDING OF THE YEAR
If You're Reading This It's Too Late Drake Cash Money*Universal
DANCE RECORDING OF THE YEAR (SPONSORED BY STINGRAY MUSIC)
Save Me ft. Katy B Keys N Krates Dim Mak*BMG Chrysalis
R&B/SOUL RECORDING OF THE YEAR
Beauty Behind the Madness The Weeknd The Weeknd XO*Universal
REGGAE RECORDING OF THE YEAR
Nah Complain ft. Daddy U Roy Kafinal Sing N Act*Independent
ABORIGINAL ALBUM OF THE YEAR (SPONSORED BY ABORIGINAL
PEOPLES TELEVISION NETWORK)
Power In The Blood Buffy Sainte-Marie True North*eOne
CONTEMPORARY ROOTS ALBUM OF THE YEAR
Power In The Blood Buffy Sainte-Marie True North*eOne
TRADITIONAL ROOTS ALBUM OF THE YEAR
A Wanderer I'll Stay Pharis and Jason Romero Borealis*eOne
BLUES ALBUM OF THE YEAR
This Is From Here Harrison Kennedy Electro-Fi*Outside
CONTEMPORARY CHRISTIAN/GOSPEL ALBUM OFTHE YEAR
Where The Light Is Dan Bremnes Sparrow/Universal*David C. Cook
WORLD MUSIC ALBUM OF THE YEAR (SPONSORED BY CANADA
COUNCIL FOR THE ARTS)
Neo-Reconquista Boogat Maisonnette*Select
JACK RICHARDSON PRODUCER OF THE YEAR
Bob Ezrin "Honey Honey", "What Love Is All About" WHAT LOVE IS
ALL ABOUT – Johnny Reid Johnny Mac Entertainment*Universal
RECORDING ENGINEER OF THE YEAR (SPONSORED BY ONTARIO INSTITUTE
OF AUDIO RECORDING TECHNOLOGY [OIART])
Shawn Everett "Don't Wanna Fight", "Gimme All Your Love"
SOUND & COLOUR – Alabama Shakes Maple Music/ATO*Fontana
North
RECORDING PACKAGE OF THE YEAR
lyde Henry Productions: Chris Lavis and Maciek Szczerbowski
(Art Directors/Designers/Illustrators/Photographers),
Constellation: Ian Ilavsky (Designer) LOST VOICES – Esmerine
Constellation*Outside
VIDEO OF THE YEAR (SPONSORED BY MUCHFACT, EXCLUSIVELY FUNDED BY
BELL MEDIA)
Hello Xavier Dolan ADELE XL*Select
ELECTRONIC ALBUM OF THE YEAR
The Other Day Pomo HW&W*Sony
HEAVY METAL ALBUM OF THE YEAR
Of Ghosts and Gods Kataklysm Nuclear Blast*Sony
ADULT CONTEMPORARY ALBUM OF THE YEAR
What Love is All About Johnny Reid Johnny Mac
Entertainment*Universal
Check out the Juno Website for more info – http://junoawards.ca