As I was getting ready to head down to see David Hare's play The Judas Kiss when my date for the evening texted me and asked "you know there's nudity, right?"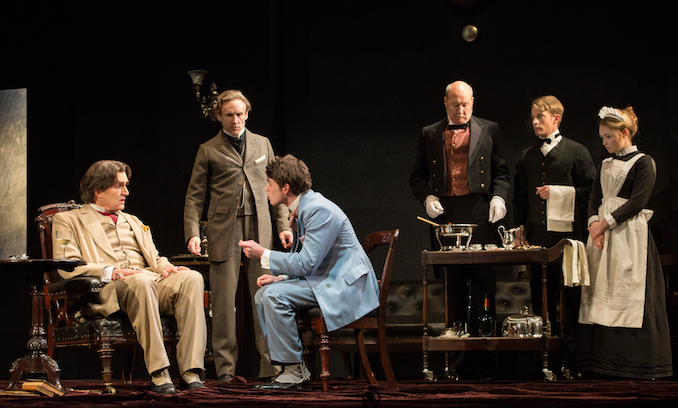 Well, pfffft!  I thought to myself. A few skin flashes aren't anything we haven't seen before. Besides, a crowd that is familiar with Oscar Wilde is quite open minded and would view any nudity on stage as a form of artful expression — not gratuitous, right?
And that's how The Judas Kiss started.
Oscar Wilde was an Irish writer, poet and playwright. Best known for his novel The Picture of Dorian Gray and the play The Importance of Being Ernest. He was known for his sharp wit and someone who entertained the notion that facts must never be in the way of a good story.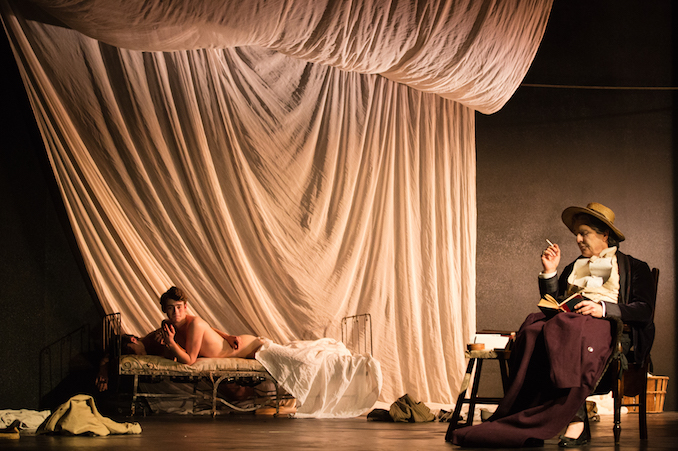 The Judas Kiss follows the life of Oscar Wilde (Rupert Everett) during a turning point in his life. Even though he was married to Constance Lloyd, a wealthy English woman, he retreated to fancy hotels explaining to his wife that he needed that environment to write and be creative. It was during that time that Wilde produced some his best work. It was also a time when he carried his relationship with young Lord Alfred Douglas aka Bosie (Charlie Rowe). Soon, Douglas's father found out about the affair which led to Wilde being arrested for "gross indecency." Wilde was detained in prison for two years.
When his sentence was completed, Wilde moved in exile to France flat broke and living the extreme opposite of the lavish life he had led. He reunited with Lord Alfred but it was an unconditional love. The older and physically deteriorating Wilde accepts Lord Alfred's wandering lust…and Wilde is quite contently. Why Wilde is so forgiving and patient with Alfred? We could only wonder. This quote from the play had us pondering… "Only when we love do we see the true person…love is not the illusion, life is."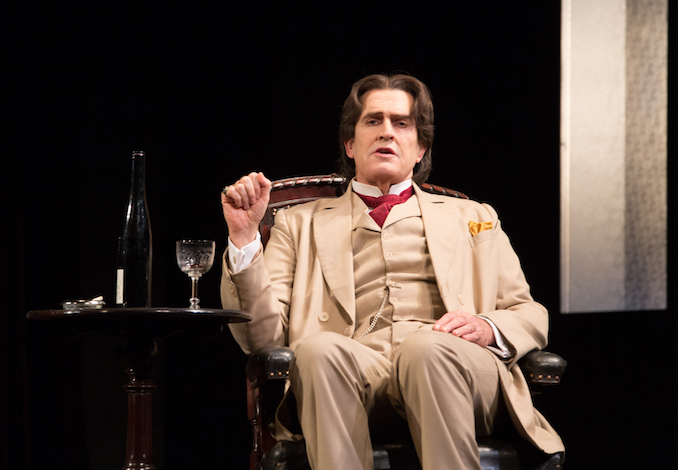 This love wasn't going to last as Alfred tells Wilde that he never intended this to be his life, turning this into a tragic and lonely story with much thought about love, devotion and betrayal.
Rupert Everett plays a very convincing Oscar Wilde (sorry, no nudity from him). If I had met Oscar Wilde in real life, this is who I would imagine he would be. Everett's performance is mesmerizing as he delivers the wit and intelligence quite naturally reminding us of his incredible talent. It's also amazing to see Wilde through Everett's transformation of the character from an energetic larger-than-life man in the height of his career to a tired and shrivelled Wilde in his final years in life. It's hard not to feel great tragedy and sadness for Wilde while applauding internally for Everett's strength in his art.
The Judas Kiss is a well-paced, smart and witty play with a strong cast worth seeing.  Now playing at the Ed Mirvish Theatre until May 1, 2016. Details at mirvish.com
Here's a sneak peek…