This morning, skilled workers from IATSE 58 are picketing Mark Grimes' campaign office – and they brought a giant rat along with them.
The picket line is a  direct result of Mark Grimes cancelling the Exhibition Place board meeting that was supposed to happen this morning, ostensibly due to "concerns about meeting quorum". Councillor Grimes is the chair of the Board of Governors for Exhibition Place. Business Insider reported however that at least two board members were available to meet today.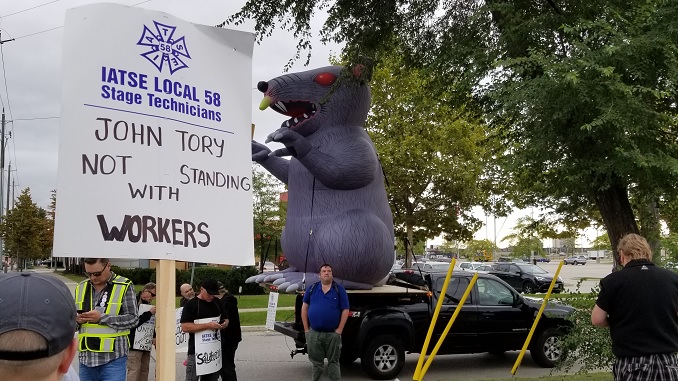 The picket line was a response to not only the skipped meeting but also the ongoing lockout by Grimes and the board, according to IATSE 58 President Justin Antheunis.
"The reason he locked us out is because he wants to union bust," IATSE 58 President Justin Antheunis replied when I asked him about the cause of the lockout. "He wants to destabilize the working conditions for Toronto workers at the Exhibition place."
The lockout has been ongoing for two months, and represents a major break from tradition; skilled labourers from IATSE 58 have worked at the Ex since before World War II.
The picket lines were crowded and certainly got the attention of the neighbourhood. "We're willing to work hard and get our message across to voters about what he does and the negative impact he has on the city of Toronto," Antheunis noted against a backdrop of drumming, chanting, and honking horns from passing cars. "One of the biggest ways [people] can support us right now is at the ballot box. Find out the progressive candidates in the city, find out who the progressive mayor candidates are, and vote for them. There's no place at city council for people who attack Toronto workers."
Mark Grimes currently represents Ward 6 (now known as Ward 3 as part of the province's boundary changes). The Councillor's office did not respond immediately to a request for comment.