Toronto is a big city with big city needs. As a pet owner, and one who doesn't drive, I've had to be resourceful with getting around the city. TTC allows leashed or contained pets during non-rush hour times and GO has recently allowed pets with similar guidelines. If you've ever tried to use a cab, Uber or Lyft, you know that you're suppose to alert the driver ahead of time – and usually will be turned down unless you have a service dog. Well, stress no more! Pet owners in the city can call on Goober Rides, a furry-friend loving car service that is the brilliant idea of Torontonian Aaron Dubros.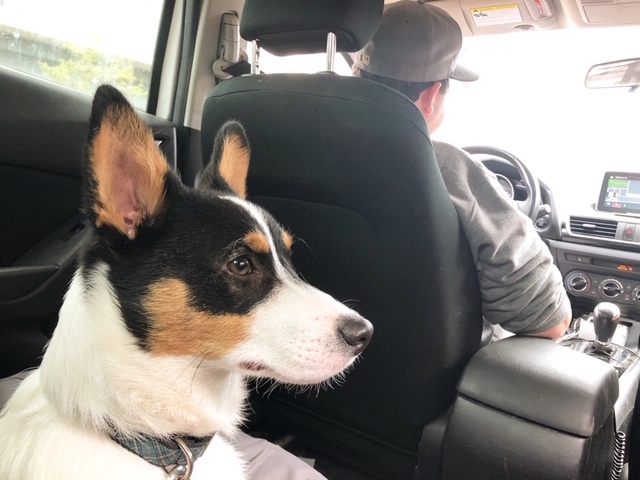 Dubros tells us that he had this idea when he heard stories of people being rejected by cabs and other car services because of their pets. He began to offer rides on BUNZ and soon realized that this was a niche market that should be taken more seriously. He mentioned that his schooling was in hospitality and had a few years of travelling the world working in hotels and also on cruise ships as an assistant cruise director.
It was apparent on our ride that he wants everyone to be happy. Pets and owners alike. He has a steady clientele of private and corporate accounts. Some humans ride with their pets and others trust him to get their lovelies to travel solo.
Dubros was busy the day we had our ride to an event. Before us was a client who needed to get to the vet clinic. He even has clients requesting him to pick up food and pet supplies — "Yep, I'm also Goober Eats" he laughs.
But Goober Rides is not just him. The business is really booming and he's brought on four other pet experienced drivers (men and women) with hopes of bringing on more.  Another bonus? All his drivers are also dog walkers by profession so their vehicles are all insured and like Uber, each driver has their own personal car for use and take the care they need to ensure a safe ride.
The current demand is high so it's best to book in advance. The rates are reasonable at the time we took the ride. Goober Rides has a $15 base pick up fee. Then it's $1 per kilometre. Tipping is at the rider's discretion. If a client requests that the driver waits then it's $20 per hour.
Dubros is entertaining too. Our first ride experience was full of pet puns that seem to naturally work into conversation. He is after all a "ShoFur".
Keep expectations realistic. It's up to the client to ensure pets are secured for the safety of the animal and driver. Kennel? Harness? Muzzle? All your responsibility and definitely give the driver notice. Also, good to let the driver know the temperament of your pet at time of booking– timid, shy, social, calm, motion sick, rambunctious…you get the picture.
Oh, and by the way, the service is not just for dogs and cats. He mentioned that he's driven hedgehogs and snakes in the past few months.
Goober Rides can be booked in advance via Facebook-Goober Rides or by calling 416-893-5460.