Another year has passed for the Toronto founded charity motionball who recently held their 17th annual gala at Liberty Grand Entertainment Complex in Toronto. The annual event is one of many that the organization holds each year to raise funds for the Special Olympics Canada Foundation.
The funds that are received by Special Olympics Canada Foundation go directly to
programs that help the training of athletes and volunteers across the country. Donations are much needed in aiding with:
-Physical fitness, health and longevity of athletes
-Self-esteem of athletes
-Friendship and social skills of athletes
-Employability of athletes and creating a desire for them to excel in other areas of life
-A more enlightened society
We recently caught up with the Etherington brothers Paul, Mark and Sean who started motionball to find out how they are progressing and where you can go to help out this great cause.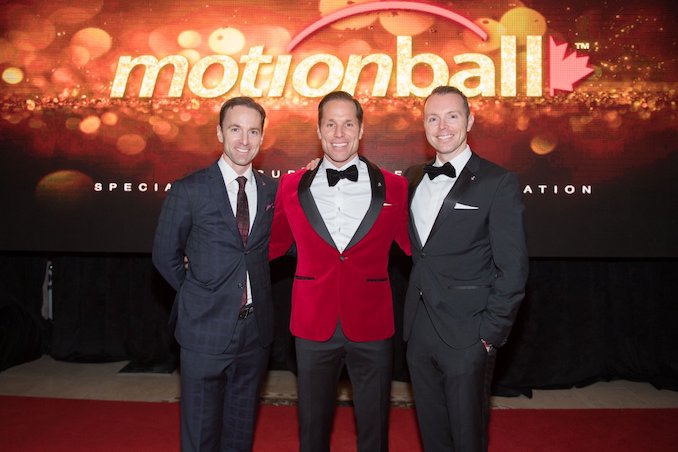 How many events have you now run since inception and how much have you donated to Special Olympics?
Paul: Since inception motionball has donated $9,000,000 to the Special Olympics Canada Foundation. Personally, I have attended 107 motionball events but we have certainly run many more than that. And to date, we are running now 30 annual events in 18 cities within 8 provinces across Canada.
What does the money that you donate go towards at Special Olympics Canada?
Mark: The money we raise is split 70% to the provinces where it is generated; 25% to the Special Olympics Canada Foundation (SOCF) and 5% to our #NoGoodWay awareness campaign. The 70% funds to provinces are directed into Special Olympics sports programs in communities in the provinces – creating grass root sport opportunities for Special Olympics athletes. The 25% to the SOCF is to ensure the long-term financial integrity of the movement and is often redistributed back to provinces via granting programs. The 5% awareness funding is for our #NoGoodWay campaign designed to eliminate the casual use of the "R" word in everyday conversation – this is primarily a social media campaign.
Tell us about some of the other events that happen during the year and in what cities they happen.
Paul: We run 3 Gala events in Toronto; we run over 20 Marathon of Sport events within 18 cities; we now have 10 Universities engaged with motinoball and running Marathon of Sport events for us. We run a Fall Classic Golf Tournament; a motionball Idol event; a motionBowl event not to mention our ever-growing anti-bullying social awareness campaign called #NoGoodWay which is designed to stop the negative and casual use of the "R" word.
What is the Meritorious Service Medal?
Mark: The award is presented by the Governor General's office and recognizes Canadians who have made contributions to their community. The official website description of the award is The Civil Division Meritorious Service Medal recognizes a deed or an activity that has been performed in a highly professional manner, or according to a very high standard: often innovative, this deed or activity sets an example for others to follow, improves the quality of life of a community and brings benefit or honour to Canada.
What are some of the changes that have taken place with your motionball gala in Toronto over the years? (Event Space, # of Guests, amount raised) Include figures if any.
Paul: In March of 2002 we ran our first ever Toronto Gala event. We had just under 600 guests; had 1 entertainment act and raised $48,000. This year's event had 2500 guests; we had 9 live entertainment acts; 6 different activation stations and the event itself net close to $300,000.
Where do you go from here?
Sean: Like the Special Olympics movement, motionball is a grass roots organization and we ultimately want representation in all provinces and territories. We have a great team in Montreal but we also recognize the opportunity and need to grow in Quebec, a province that is only second to Ontario in terms of overall Special Olympic athlete registration and growth. As Paul eluded to, we are also focused on growing the number of Marathon of Sport events in Canadian Universities (MOSU). Our mandate is to Educate, Integrate, Celebrate and our focus has always been on that next generation of supporters, so the MOSU program is a natural next fit.
What is the best part about doing what you do in Toronto?
Sean: Toronto is an amazing city full of young professionals who want to give back. There are 170,000 not for profit and charitable organizations across Canada, many of which are based in Toronto and yet we have never run out of talented individuals who put up their hand and ask to do more for a worthy cause. Our goal has always been to connect our participants with the Special Olympics athletes, knowing that once that connection was made, the athletes would take it from there and truly sell them on the value and need for that engagement.
PAY IT FORWARD: What other Toronto charitable organizations do you respect?
Paul: There are so many outstanding not for profits in Canada that I look up to and respect. However, in particular, I am a big fan of the Canadian Cancer Society; Holland Bloorview; SickKids Foundation; BoobyBall and Me to We.
Be sure to visit their website for more information and to get involved.